Dolly.com Reviews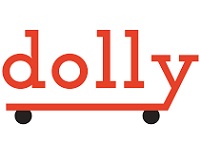 Dolly.com is the online home of Dolly App, a mobile application available in select cities which gives users the ability to get "Dolly Helpers" to help them with micro-moves at an affordable rate.
How Does It Work?
Currently available in Chicago and Seattle, the Dolly App offers their customers the use of "Dolly Helpers," background checked people who own pickup trucks, vans, and large SUVs who live in your local area and are willing to help you with "micro-moves."
Micro-moves are defined as small, manageable moving tasks including moving furniture from one location to another or moving it within your own home, moving small apartments, donating items to charity, picking up Craigslist purchases, taking stuff to and from a storage unit, picking up large purchases from the store, and more.
Once your item is picked up from its starting location, GPS tracking allows you to keep an eye on the progress of your move, and you and your Dolly Helper will be able to message through the Dolly App about all details and logistics.
Dolly Helpers will help carry and transport any items that can easily fit into their vehicle, however they are not required to pack boxes or dissemble or assemble furniture. They will bring straps and blankets, but if there is an item that you want specially protected, you will need to pack it to your personal standards before your Dolly Helper arrives.
Mobile Options
Currently this website does provide a downloadable mobile application for both iOS and Android devices. At this time, there is no information available on whether or not they will expand their mobile offerings in the future.
Cost/Price Plans
The Dolly App will provide you with a price quote that is based on the number of items you are moving, specific details about your item (like size), the distance the item or items are being moved, and whether or not you have chosen Curbside delivery for a discount.
A Curbside delivery is when your Helper picks up the item at the curb and drops it off at the curb of the next location, without any additional moving. Choosing that option will lower the cost of your micro-move, but the minimum cost of your move must be $30 in order for a Dolly Helper to accept your move.
When you make your Dolly reservation, a hold will be placed on your credit card for 20% of your total cost. Once your move is complete, you card will be charged for 100% of the price plus any tip you choose to give your Dolly Helper.
Refund Policy
While there is no information available about requesting refunds, there is information available about what will occur if you cancel your reservation or if something occurs that interrupts your micro-move and makes delivery impossible.
If you cancel your move within 24 hours of the scheduled time, there will be a 20% cancellation fee unless you immediately reschedule your move and your rescheduled move is successfully completed.
If you attempt to successfully complete your move but something happens outside of your control to stop it – like an item being unable to fit through your doorway and needing to be returned to the retailer – the cost of your move will be refunded to you minus a fee for the Helper's time.
Customer Service Contact Info
Customers who would like to contact their Customer Service team with questions, concerns, or complaints can do so at https://dolly.com/support .
Reputation
While this app is limited to the metropolitan areas where it is available, which somewhat limits the reviews, the reviews that exist so far are very positive and people appear very enthusiastic with the concept and very satisfied with what they received when they used this service.
Competitors and Alternatives?
There are not many apps similar to this one at this time, though as one reviewer pointed out, you can always use Craigslist to find people willing to help you move items, though they will not be insured or background checked the way they are at Dolly App.
If you have any experience with Dolly.com or their services, please leave your reviews below.
Dolly.com Customer Reviews

Diana
Do not use it is a scam. Cancellation on day with no movers and still charged my credit card $500. Horrible company

Steve W
Dolly.com takes NO responsibility for damages
BEWARE – use Dolly.com at your own risk.
Dolly.com does NOT take responsibility for any claims against them and has been slow to almost absent in their communication.
On October 16, 2021, almost 1 YEAR AGO, I informed Dolly.com that my car was damaged in a hit-and-run by THEIR DOLLY.COM DRIVER. I was able to access outdoor cameras from the business I work for showing the hit-and-run and was able to identify Dolly.com as the company delivering to our place of business. The video clearly shows their driver backing into my car and getting out to assess the damage he had done. The video shows Dolly.com making its delivery and quickly taking off. No note, no call, no nothing from their driver to take responsibility for this event.
I filed a hit-and-run police report and then forwarded the video evidence to the police, Dolly.com representatives, and my insurance company. Dolly.com acknowledged it was their driver but claimed that their driver has "his own" vehicle insurance and I needed to work with their driver's insurance company. I was willing to do this however Dolly.com REFUSED to give me that information because I filed a police report.
I filed a $1,000 damage claim through my insurance company which had me paying out my $500 deductible. I am still waiting for the Subrogation Department to reimburse me but during my last call, I was informed that Dolly.com representatives were not responding to their communication.
Like I said, use Dolly.com at your own risk.

Rodolfo F
Horrible, unreliable, unprofessional, irresponsible. I lost a whole day of work waiting for these people to deliver my windows.

Sharon
Fantastic! We used Dolly to clear out my parent's basement of lots of stuff - furniture, paint, wood, debris etc. Bernard and his associate were very personable and hard-working. We never could've done it ourselves! I highly recommend this company.

Gigi, O
Never use this company again
This company was so horrible and because of it I lost $500.00 regarding my Queen bed that I had purchased on Facebook on market place, I wish that I knew of this stupid company before today I am so upset regarding the bed that I purchased and now I have nothing because of this scam of a company and I tried calling all of there numbers and emailing them and I never gotten any response back from them.

JAMES G
Undependable, that's what you are
Worst company I have ever had the displeasure to try to hire. No communication, and no way to contact anyone. If you use Facebook Marketplace Community avoid using this service.
Three separate crews today could not pick up one item, even though we started this disaster at 10 am.
First crew had COVID symptoms and could not complete the drive to the location they were so ill. Seller finally gave up at 5 pm and left out of frustration. Still no contact from the company and it is hours later.
They make it seem easy, but it has been an entire wasted day, for both me and for the seller! Run far and run fast away from Dolly

Diana G
***** DO NOT USE DOLLY! It is like an uber for moving and company takes ZERO RESPONSIBILITY FOR THEFT*********
TERRIBLE service and fake insurance. Dolly helpers were initially cancelled, then late, then took my things overnight to a random persons house overnight and then ultimately stole our $400 power washer.
The random persons house they took my things to called us threatening us to keep our things and saying to "call me if you ever want to see your stuff again". Dolly took ZERO responsibility. NEVER USE DOLLY. Terrible business practices and poor business practices.
I only give them a 1 because they do not have a negative number on here!

Cynthia L
Dolly is a scam. They were going to send someone who could not move our appliances safely to our destination. We cancelled the mover and was still charged a fee for it.