Dodow Sleep Aid Reviews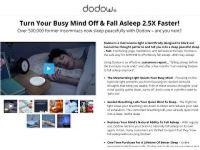 The Dodow Sleep Aid is a light metronome that is designed to help users fall asleep naturally and easily without the use of any artificial aids such as sleeping pills.
Livlab, the product's creator, states it comes as a result of extensive research and development, and combines the benefits of cognitive therapy, yoga, and meditation to help achieve natural restful sleep.
How Does the Dodow Work?
According to Livlab, the Dodow helps you fall asleep by calming your body and mind while helping slow your breathing.
The Dodow utilizes a blue light metronome to lull your body into a mode of relaxation which produces a calming effect and in turn, allows you to fall asleep naturally.
The adjustable blue light from the Dodow is projected onto the ceiling and contracts and expands in size. This allows you to sync your breathing with it and in turn, helps you achieve a rhythm which eases you into sleep. The Dodow comes in 2 sleep modes which alters the metronome patterns depending on what suits you best.
LivLab states the blue color used by the Dodow has been scientifically proven to promote relaxation and helps retrain your brain to fall asleep over the long term.
The Dodow Sleep Aid is powered by 3 AAA batteries which allows it be compact so it can easily be transported you're travelling.
Customer Service
We did not find it straightforward to gather contact information for the company behind this product.
The website GetDodow.io states the website is operated by brand manager GiddyUp and lists its physical address as The GiddyUp Group, Inc., 20 N. Oak St., Ventura, CA 93001, USA.
We found email addresses [email protected] and [email protected] as relevant email addresses for LivLab, along with the physical support address of 4 avenue du Président Wilson, PARIS France 75008.
Additionally, customers can use the chat feature at https://intercom.help/livlab/en/ to reach LivLab.
Online Reviews/Complaints
Considering the Dodow? Check out what everyone else is saying about the Dodow and decide for yourself.
In general, the Dodow does actually get decent reviews from many of its users. This curious little gadget has been praised for being easy to use and effective. In fact, many users admitted to being initially unconvinced but after several attempts, they were pleasantly surprised by the effectiveness of the Dodow.
Users have also praised the Dodow for its simple construction and pleasing shape which indeed does not look out of place in any bedroom. One issue of contention among many reviewers was the brightness of the light being emitted.
Apparently, the blue light produced has been described as being too bright which made it difficult for folks to fall asleep. Even with several options to change the intensity of the light, a number of reviewers complained that it was still too bright.
Overall, the Dodow does seem to be relatively effective as can be seen by the feedback given by reviewers. However, it should also be noted that the Dodow is only effective for certain groups of people.
For example, those suffering from excess stress will find that the Dodow is definitely effective but sufferers of a chronic illness may not find the Dodow to be effective.
Competitors and Alternatives
If you're looking for something else besides the Dodow, there are several other alternatives on the market.
Using the same technology developed by NASA to help astronauts achieve restful sleep, the GoodNight® Sleep Enhancing A19 LED bulb helps you achieve a better quality of sleep.
The Somnox Sleep Robot is a pillow-shaped sleep aid helps you correct your breathing and plays soothing sounds that encourage restful sleep.
The Ebb Insomnia Therapy device is a FDA approved wearable sleeping aid that is designed to help cool your forehead and lets the wearer achieve calmness. Hence, enabling much more restful sleep.
The Bottom Line
Since the Dodow is not intrusive, we can be fairly confident that the device will have no side-effects and can be safely used long-term. Livlab even claims that long-term use can improve sleep to the point where one can fall asleep naturally without having to use the Dodow at all.
Getting enough sleep every night is crucial for both your physical and mental health. If you're looking to improve your quality of sleep and want to spend less time tossing and turning, you may want to try out the Dodow.
If you have any experience with the Dodow Sleep Aid, please leave your reviews below.
You may also be interested in
Dodow Sleep Aid Customer Reviews

Eileen W
Can you buy this product in installments as i cannot afford it outright. I just wanted to know thats all. I have suffered with insomnia all my life so this seems to be a new way of combating my sleeplessness.And bingo it just might work for me. Then I will certainly would reccomend this to everyone I know. How fantastic would that be.I could also let my doctor know that i don't need his help again or his lack of interest in me. I am terminally ill so it would be so much-needed help that i desperately need. So please reply to me as soon as you can. THANKYOU for reading this and I'm sorry if i have taken any of your much needed time.Yours Mrs Eileen Wilkinson.

Sheila W
Dodow Sleep Aid is replacing my 10 mg Ambien. I have been an insomniac for many years. I have had to take so many sleep medicines that my doctor has started having me sign waivers saying that I know that taking these strong sleep aids are hazardous to my health. Then I tried Dodow. Starting the first night I was asleep in ten minutes. You do have to eliminate distractions like noise and other lights so you can concentrate on the light. My only negative is the sometimes the machine doesn't work. The accompanying booklet has some ways of fixing it. If not, you can call the friendly people who make the device and they will get it working again. Try it, you will like it.