Divine Locks Reviews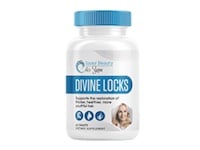 Divine Locks Review: A Detailed Look
Divine Locks is a dietary supplement claimed by the seller to limit hair loss and increase the strength and quality of existing hair.
Kayla Rochin, the creator of Divine Locks, states she has partnered with the company Inner Beauty & You to create a formula specific to slowing hair loss and restoring hair growth.
How Does It Work?
As you age, your hair begins to thin due to Dermal Papilla cells that get pinched as you get older.
These cells reside underneath your hair follicles and are responsible for getting adequate nutrients to your roots.
When these cells get pinched, they are unable to move the correct nutrients to the appropriate areas. This issue causes thinning of hair and subsequent hair loss.
The Divine Locks supplement claims to be able to relax the pinch on the cells and allow the nutrients to move into their correct flow route.
According to them, when this is remedied, hair can take on the proper growth and volume that it previously had.
Product & Ingredients
Divine Locks' complex solution includes a variety of ingredients that help maintain hair growth and prevent hair loss.
Some of the most notable ingredients include:


Pantothenic Acid
Biotin
Vitamin C
Vitamin E
Vitamin B6
Calcium
Selenium
Zinc
Manganese
Hyaluronic Acid
L-Methionine
Methylsulfonylmethane


Many of these ingredients are the foundation of most common hair loss supplements, particularly Biotin, a B vitamin, whose deficiency has been linked to thinning hair.
Pantothenic Acid, Niacin, and Zinc have also been studied in regards to hair loss and regrowth, however more research is still needed to confirm any concrete results.
Customer Reviews & Complaints
Neither Divine Locks nor its parent company, Inner Beauty & You, are recognized or accredited by the Better Business Bureau (BBB).
Being that Divine Locks is only sold through their own company website, there are limited independent review sources available.
Many would consider the lack of transparency and minimal research accounted for on the company website to be markings of a hoax. It is also challenging to find information online for Kayla Rochin, creator of Divine Locks.
Further, when you google search for Divine Locks reviews, the results are filled with spammy affiliate sites echoing the company's promotional materials.
This tactic is often used by marketers to confuse customers while simultaneously burying any negative feedback in the search results. While this doesn't necessarily make Divine Locks a scam, it's definitely a red flag.
FAQ
When making a health-changing purchase, getting as much information as possible on the company before moving forward is vital.
Here are a few frequently asked questions regarding Divine Locks:


Does Divine Locks Have Side Effects?
There is minimal independent information regarding the use of this supplement.
Therefore, it is hard to know for sure if there are certain side effects from the continued use of Divine Locks.
Be sure to check with a health professional if you have any medical concerns prior to starting any new supplement regimen.
If you're on medication or have had previous reactions to supplements, some of the ingredients in this product may not be for you.
For instance, one of the side effects of Zinc supplementation is gastrointestinal distress.
How Often Do I Take Divine Locks?
Divine Locks is recommended to be taken once a day, with two pills per serving. One bottle contains enough of the supplement to last one month.
Customer Service
Divine Locks only provides limited contact information for getting in touch with the company. Although they provide an email address, they do not list a phone number or any social media pages on their company website.
Email: [email protected]
Their website claims to offer a 180 day money back guarantee. If you do not see results within that time you can contact the company to request a refund. Their product return address is:
1140 South Highbrook,
Akron, OH, 44301
Cost & Price Plans
To purchase one bottle of Divine Locks is $39 with a $6.95 shipping fee.
The website offers a discount when ordering multiple bottles at once, along with free shipping.


Three Bottles - $37 per bottle
Six Bottles - $34 per bottle
Competitors & Alternatives
There are several products available on the market that are similar to Divine Locks, including the following alternatives:
Divine Locks vs. Vegamour: Vegamour has a wider variety of hair loss products and solutions instead of just one option.
Vegamour also provides a significant number of reviews on each product the offer.
Divine Locks vs. Profollica: While Divine Locks is geared towards women, Profollica is marketed to men. However, the formulas are similar.
Divine Locks vs. KeepItAnchored: KeepItAnchored, like Vegamour, offers a variety of hair loss solutions.
Instead of only offering a supplement, KeepItAnchored offers hair care products and hygiene options.
The Bottom Line
It can be a very stressful time in a person's life when they find their hair growing thinner or even balding in areas.
Discovering this noticeable change can lead to depression, anxiety, and frustration. One of the natural steps is to research options that will reverse the damage or fix the problem.
With all of these promises and claims, how do you know which is the best option? Having data-driven research to back up all published hopes is the first step. Additionally, seeking out independent reviews is another.
Unfortunately, Divine Locks does not deliver on either of those necessities.
The lack of contact information, limited online presence, minimal data research, and shortage of independent feedback make it hard to trust the benefits Divine Locks claims to provide.
With that, we believe that incorporating Divine Locks into your daily regimen for hair loss and restoration is not worth it.
Many other products on the market promise results and have research and data that support their outcomes. It would be more beneficial to utilize those options instead.
If you have any experience with Divine Locks, please leave your reviews below.


Divine Locks Customer Reviews

Pansy
Once received, I realized I already take all these vitamins. So, I returned all 9 bottles, unopened, 3/3/23. As of today, 3/25/23, I've not received my refund. I will go to my bank and deny charges 3/27/23.
Their customer service is terrible. When I called ClickBank, they sent a message to them. They replied that as soon as they receive from the wear-house, they'll refund. Then they closed my ticket of complaint. They've received the product . I need my refund.
Cannot recommend. Poor service. I'm also reporting to the Better Business Bureau.

Upset C
Bad product and poor customer service
I purchased 3 bottles of this product to give it a try. I used 2 bottles and saw no improvement in my hair loss. However when I opened the 3rd bottle I noticed that the pills were 3 different colors! The product either went bad or was mixed with something else since they did not look like the same product.
I contacted the company, but they responded that I just missed the 180 days return window so there is nothing they can do.
Buyers beware since this is not acceptable to me. They just care about making money and not about your hair or your health. They are selling bad product and don't stand behind their products.
Would NOT recommend.