Diet Doctor Reviews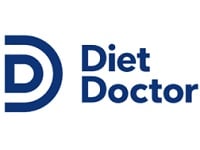 Diet Doctor, found online at DietDoctor.com, is a website which states that their aim is to help people become healthier through making low carb diets simpler.
How Does It Work?
According to their website, the creators of Diet Doctor were frustrated with the fact that people in the United States seem to get sicker and heavier each and every year, no matter how much new health information becomes available to the public.
Their website says that their goal is simply to help people help themselves become healthier and happier, and they believe the way to do this actually couldn't be simpler.
They tell their visitors it's a two-step process: eat real food when you are hungry. Don't eat if you aren't hungry.
They truly believe that this is the key to being healthy, and if you want to lose weight faster or improve any existing health conditions like Type 2 diabetes, then they recommend going onto a low carb diet.
To help you meet your goals, this company promises to help their customers find the best information on low-carb diets, recipes, blood sugar stabilizing foods, and more.
Cost/Price Plans
As mentioned above, this website is very proud to offer their customers the majority of their information completely for free, but their website says that they still need to provide some paid for content, as they have to finance their organization and their team of employees so that they can continue helping people.
Currently it appears that their premium membership is priced at $9 per month, and their website says that this monthly fee keeps them from having to partner with any food or supplement companies or to make money from weight loss advertisements.
Not being affiliated with these types of companies in any way ensures that Diet Doctor only ever has a single motivation for the information they publish – that it helps their members be their healthiest selves. That's all.
Refund Policy
This company does not appear to offer their customers a Refund Policy at this time.
Instead, they do offer their customers a 30 day free trial of their membership so that they can know exactly what this website has to offer before they ever invest in a monthly membership.
Then, when you do decide that you no longer need this membership, you will be able to cancel at any time without penalty or issue.
Customer Service Contact Info
Customers who would like to speak to their Customer Service team about their questions, concerns, or complaints can do so by email at [email protected]
Reputation
The truth is that people have been promoting low-carb diets for health and weight loss for many years now, and if you are someone who does suffer from Type 2 diabetes then a low-carb diet is often doctor recommended for both weight loss and improving your blood sugar.
That being said, low-carb diets are not necessarily for everyone. People process foods in different ways, and people find food satisfaction in different ways as well.
All weight loss journeys will require people to stick to a healthy diet and incorporate activities into their daily plans, but if you find that a low-carb diet isn't right for you, there are other options.
Still, this website does provide so many different free resources to their customers that if you are interested in a low-carb diet already, this might be a good place to go for information and recipes.
Competitors and Alternatives?
Keto diets are incredibly popular these days, and there are countless websites, books, blogs, and cookbooks all dedicated to helping people keep to a low carb diet either to lose weight, to help improve Type 2 diabetes, or both.
Customers looking for alternatives to this website will have no lack of alternatives that they can look to.
If you have any experience with Diet Doctor or their products, please leave your reviews below.
You may also be interested in
Diet Doctor Customer Reviews