Dial Vision Glasses Reviews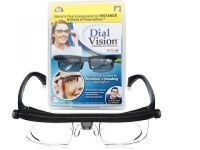 About Dial Vision Glasses
Eye health is incredibly important. Unfortunately, there is only so much that eating carrots and wearing sunglasses can do – eventually, even the most conscientious among us may start experiencing vision problems, especially as we age.
Many people avoid going to the optometrist when issues with vision begin to manifest because a doctor's visit and prescription lenses can be pricey.
The founders of Dial Vision Glasses understand how important it is to take care of eyesight issues properly and promptly. Therefore, they created an innovative As Seen on TV product - adjustable glasses that allow users to customize their lenses for sharp, clear vision without ever having to see a doctor or get a prescription.
How Does It Work?
Dial Vision Glasses are unisex and can be instantly and easily adjusted for both distance and reading needs with the turn of a dial. The glasses are designed to be low maintenance -if you are curious about how to clean Dial Vision Glasses, the manufacturers provide instructions with every product and claim that you simply need to wipe them clean or use their special cleaning brush.&nbsp
&nbsp
Anyone who is on the hunt for a new pair of glasses should keep reading because below are all the details you need to help determine if Dial Vision Glasses are right for you!
Cost and Price Plans
Dial Vision is currently running a half-off sale on their products if you purchase through their website. The sale allows you to grab one pair of glasses for $59.95, two pairs for $89.95, or three pairs for $99.95.
You can also add a one-year warranty to your purchase for $5.95 or a two-year warranty for $9.95. You might also choose to purchase a cleaning brush to use on your Dial Vision Glasses – these come in at $4.95.
Competitors and Alternatives
If you are looking for some high-quality glasses that do not require a trip to your local drugstore optometrist at CVS, Target, or Walmart, there are other brands that strive to help you correct your vision without ever having to visit a doctor.
For example, you might consider ordering a pair of Waller PAA Dial Adjustable Glasses. These eyeglasses allow you to customize strength using a dial, work for both close and far distances, and are designed to prevent eye strain.
A pair of Waller PAA Dial Adjustable Glasses is priced at $15.00 on Amazon but be careful to read reviews before purchasing. Amazon customers give the product only a 2.7/5-star rating, lodging complaints like, "Would not work for my eyes. Made everything out of focus," "Very very poor quality," "Junk," and "Disliked everything!"
A second option is TIJN Multi-Focus Eyeglasses. TIJN creates glasses in many different styles and colors including black, clear and leopard print. Their Multi-Focus glasses are sold on Amazon for $18.99 and allow you to select a magnification strength from 1.0x-3.0x. These glasses provide three different levels of vision to allow comfort during all your activities from reading, watching tv, and working on your computer to walking and shopping.
They also include anti-blue light technology which protects your eyes from harmful blue light and reduces eye strain. These TIJN Eyeglasses earn a 4.1/5-star rating. Satisfied customers rave about the glasses, saying things like "Great computer glasses," "These are well-made and fashionable," "Fits perfectly," "These are by far my favorite," and "The ability to be able to wear them at all times has stopped the consistent searching for my reading glasses."
Finally, you may consider purchasing a pair of EnzoDate Adlens Adjustable Focus Eyeglasses for $19.99. These come in a few different color options including blue, rose, and black.
Amazon customers give the EnzoDate glasses a 3.6/5-star rating. Happy customers praise the glasses, marveling about how "[They] can now focus on just about anything at any distance – pretty amazing," and saying that they are "surprised how well these worked." Unfortunately, there were some complaining customers, who said things like "Don't waste your money on these glasses. Flimsy and impossible to get a clear view on anything."
Customer Service
It seems that the only way to contact a representative to help you with questions about Dial Vision is to contact Ecomerzpro, the platform on which Dial Vision is sold. You can reach out to Customer Service at [email protected]
Online Customer Reviews/Complaints
You can find reviews of Dial Vision Glasses on websites like Walmart and Amazon. Unfortunately, Dial Vision cannot boast many satisfied customers – the product earns only a 2.7/5-star review from Walmart customers and a 2.2/5-star review from Amazon customers.
While some customers had positive things to say about Dial Vision including "They actually work," and "The glasses…did what they said they would," others had many complaints about the product. Dissatisfied customers said things like "They are very cheap quality," "The glasses were broken and unusable after one week," "Dial Vision Glasses are cheap knock-offs," "I would have given these negative stars if possible," and "the cheapest, flimsiest, most ridiculous glasses."
Where to Buy?
You can purchase Dial Vision Glasses from their website sales page, Amazon, or Walmart.
Is It Worth It?
While Dial Vision has a lofty mission and worthy goal, we cannot recommend the product. Most customers have negative things to say about Dial Vision Glasses and were dissatisfied with their purchases.
If you are searching for a good pair of eyeglasses, we suggest that you go with one of the alternatives we have mentioned above – we wish you good vision and good luck on your eyeglasses hunt!
You may also be interested in
0 'Dial Vision Glasses ' Reviews