Derma Prime Plus Reviews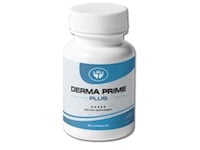 Derma Prime Plus is a supplement that aids bad skin and acne issues. The developers claim that by incorporating all natural ingredients, it rids the body of toxins that create dermatological problems.
According to Dermaprimeplus.com, Ally Ray, a researcher for 15 years at a top hospital in Cleveland, Ohio, developed Derma Prime Plus for individuals struggling to have clear skin.
Ally Ray's theory is that there are certain life changes that you can make to help heal your skin and have a healthy complexion. However, the Derma Prime Plus supplement can help you with the struggle as well.
How Does It Work?
According to the company website, taking steps to increase water intake, getting quality rest, paying attention to the water temperature in your shower, applying sunscreen, and cleaning your phone screen can help you have clear skin on your face and a blemish-free complexion.
However, these steps are not enough for some people. Others need extra assistance to get picture-perfect skin, and adding Derma Prime Plus supplements into your daily regimen will help.
With the specific set of ingredients that Ally Ray has chosen, the website claims that you will see changes within a short period of time.
Product and Ingredients
Derma Prime Plus states that ingredients found in their supplement are organic and GMP certified. They are also manufactured in an FDA-approved laboratory. The key ingredients include the following:
Chanca Piedra
Ginger
Burdock Root
Beetroot
Artichoke
Milk Thistle
Zinc
Dandelion Root
Chicory Root
Berberine
Red Raspberry
L-Cysteine
N-Acetyl Cysteine
Feverfew
Grapeseed
Yellow Dock
Methionine
Turmeric
Alfalfa
Celery seeds
Yarrow Flowers
Jujube seeds
These ingredients have qualities that work to hydrate your skin and expel toxins from your pores.
For instance, Burdock Root has historically been used for acne and skin inflammation. As one of the key ingredients in Derma Prime Plus, it helps calm blemishes and restores smooth skin.
However, in the studies showing its effectiveness it was tested as a topical application, so it's unclear what the benefits are when taken orally.
Despite Derma Prime Plus being manufactured in an FDA-approved laboratory, the supplement itself is not approved by the FDA. Therefore, it's vital to use the product cautiously and consult a doctor before including it in your daily routine.
Cost and Price Plans
To purchase Derma Prime Plus, you can buy in singular bottles or bulk. To get the best cost savings, it is advised to buy the three or six-bottle package.
One Bottle - $69
Three Bottles - $59 ($177 total)
Six Bottles - $49 ($294 total)
There is free shipping on all packages and a money-back guarantee.
Customer Service
Derma Prime Plus' website has specific contact information for product support and order support.
Product Support Contact Form: Dermaprimeplus.com/help/contact-us.php
Order Support Website: Clkbank.com
There is a 100% money-back guarantee if you are not happy with your purchase. Most products sold through the ClickBank platform come with a 60-day money-back guarantee.
However, that is not confirmed on dermaprimeplus.com. So if you're unhappy with your purchase, try to get a hold of customer support as soon as possible.
Online Customer Reviews & Complaints
Derma Prime Plus is not registered on the Better Business Bureau (BBB) website. With their products being sold only through their own website there aren't many independent customer reviews online.
Some customers of the product saw changes after implementing the supplement into their daily facial care routine. However, many purchased Derma Prime Plus and experienced no difference at all.
FAQ
When purchasing health products, it is best to do your research to get a complete picture of the company and its items. Here are some of the top questions asked about Derma Prime Plus.
Does Derma Prime Plus have any side effects?
At this time, there were no online complaints specifically mentioning side effects from using Derma Prime Plus.
However, any supplement can cause negative reactions, even if it's made from all natural ingredients, especially if you have preexisting conditions or are on medications.
Always consult with your doctor before starting a new supplement.
Is Derma Prime Plus Legit?
Many who have used Derma Prime Plus have reported positive changes in their skin appearance after using the product for some time.
Where Is Derma Prime Plus Located?
The headquarters for Derma Prime Plus is in Englewood, Colorado.
Full Address:
37 Inverness Drive East
Suite 100
Englewood, Colorado 80112
Where To Buy?
You can purchase Derma Prime Plus only through the company website.
Competitors and Alternatives
Having a clear complexion is a priority for many. These products are alternatives to Derma Prime Plus.
Derma Prime Plus vs. Hush and Hush: While both products offer the same results, Hush and Hush is created with all vegan ingredients.
Derma Prime Plus vs. Vital Proteins Beauty Boost: Vital Proteins is a well-known brand sold in most retailers. Unlike Derma Prime Plus, Vital Proteins has a wide variety of independent reviews.
Derma Prime Plus vs. Care/of: Care/of acts as a monthly subscription. You input your concerns and needs, and they create a vitamin and supplement combination to get you to your goals.
Is Derma Prime Plus Worth It?
Having poor skin can be stressful and embarrassing, and it is understanding that people look for any way to remedy the situation.
Although Derma Prime Plus has natural ingredients to combat acne and inflammation, it isn't guaranteed to eliminate skin issues and leave you with a clear complexion.
Although natural remedies work for some, the fact that Derma Prime Plus doesn't have much research behind it and isn't sold in stores makes it appear inferior to other brands that are widely available, with many obtainable on Amazon or at Walgreens.
For some, it also gives the appearance of a scam. Overall, due to the lack of research and some poor reviews, we're hesitant to recommend this product.
You may want to try the life change options outlined on the Derma Prime Plus website before considering the purchase of their product.
If you have any experience with Derma Prime Plus, please leave your reviews below.
You may also be interested in
Derma Prime Plus Customer Reviews

Leonie C
Did not see any improvement what so ever.
Have been taking Derma Prime plus for 1 month now and have seen absolutely no improvement at all with my skin. Just feel these people online are throwing these things out there getting unsuspecting people to buy these products and none of them work. I am so disappointed in this product and paid $72+ with shipping.