David Alan Masks Reviews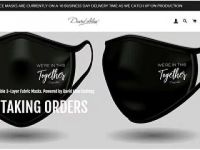 Masks are a necessity right now, not only to protect yourself but also to protect those around you. The times in which we are living remind us that communities need to band together to stay safe and thrive.
That is exactly what David Alan Masks had in mind when they rapidly transformed their luxury custom clothing company into a clothing mask manufacturing business.
How Does it Work?
David Alan masks are a sleek option for fashion-conscious citizens who want to help protect against the dangerous droplets that enter and exit via the mouth & nose. They are made up of three cotton layers, are breathable and can be machine-washed up to 100 times.
Their masks are available in different sizes so that you can keep everyone in your family safe; they make masks for men, women, teens, and kids. Additionally, they take bulk custom orders which allow you to put your company logo and/or an inspiring message on the masks. While the custom orders allow you to have more flexibility with designs & colors, the regular retail masks are only available in black.
Another great thing about David Alan masks is that 10% of their profits are donated to Coronavirus relief efforts.
Cost and Price Plans
David Alan Masks sells their products in packs at different price-points. A 3-pack of masks will cost you $29.97. A 5-pack of masks is priced at $49.95.A family pack of masks which includes 2 adult-sized masks and 2 kid-sized masks costs $39.99. A 10-pack of masks will cost you $94.90. A 25-pack of masks is priced at $237.26. A 50-pack of masks will cost you $474.95.
They are currently running a buy one, get one 50% off sale.
The company does not advertise the price of bulk custom orders, but you can use the 50-pack price of $474.95 as a baseline to estimate what custom orders will cost. Custom orders require a purchase of at least 50 masks.
Competitors and Alternatives
Companies are selling face masks left and right due to current demand. Whether you are looking for a hand-made face mask from an Etsy artist or a fashionable face mask from a company like Rag & Bone, I do not doubt that you will be able to find one that you like. One awesome thing about David Alan Masks, however, is that they design custom face masks. Are there other companies that have similar offerings? Yes!
For example, Snapfish, the photo printing service, has added masks as one of their product offerings. One thing that is different about Snapfish is that they do not require you to purchase in bulk if you want to create customized masks. If you want to wear a mask that has a special picture or inspirational quote, you can easily order it from Snapfish.
They have a variety of templates, designs, and colors to choose from or you can design your own mask. The prices start at $19.99. They are machine washable and come with two optional filters to strengthen protection. However, they only come in one size.
Another option is Flashbay. Flashbay creates branded products including water bottles, mugs, and wireless chargers. They claim that their masks are comfortable & stylish. Flashbay only requires a purchase of twenty-five masks for a custom order.
They are washable and available in black or white.
While Flashbay does not list their mask prices on the website, presumably because they are custom orders, they do have a quick quote function which allows you to fill out a form with some basic information about your order and sends you a quote via e-mail. Most inquiries receive a response in an hour. They quoted a price of $1185.00 for an order of 500 custom masks.
Finally, you might choose Swag for your custom branded face masks. Swag creates a wide range of branded products. Their face masks offer quite a selection of colors and designs to choose from and require a minimum purchase of either 50 or 100 masks depending on the style that you choose.
The price ranges between $5.18-$25.00 per mask. Swag claims that their masks are breathable, offer solid protection, and are machine washable.
Customer Service
You can either contact the company through their website form or by e-mailing [email protected]
Online Customer Reviews/Complaints
You can find a lot of great reviews on the David Alan website. Customers say that the masks are "very comfortable and easy to wash," and that "they did not skimp on quality or finish."
Reviewers on Google also back up these claims, with customers saying things like, "We were very happy with the quality and comfort of this product."
However, some reviewers felt that the masks were not worth it. One reviewer even claimed that the company was deceptive in claiming that they are a local Pittsburgh business because "[David Alan places] an order for face masks from a Thailand company." So, where are David Alan masks made? The website clearly states that while the business is based in Pittsburgh, their American-owned manufacturing facility is located in Thailand.
Their Facebook page features great reviews and even has pictures of people showing off their masks! For example, you can see a photo of grocery store employees from Giant Eagle wearing their branded masks complete with the Giant Eagle logo. They also include a picture of police officers from a Georgia police department proudly displaying David Alan masks that feature a blue line.
Customers seem to be mostly satisfied with this product.
Where to Buy?
You can order David Alan Masks through their website either by purchasing a pack of masks or creating a custom order.
Is It Worth It?
So, is David Alan Masks legit? Definitely. If you are looking for a simple yet stylish mask, you should consider purchasing from them. You may want to try connecting with an associate if you are looking to order custom, branded masks and see how they can help you!
You may also be interested in
David Alan Masks Customer Reviews

Christine F
Love these masks!! They are water-resistant on the outside, breathable and comfortable. I have worn them for 18 months now!