Cutlery Corner Reviews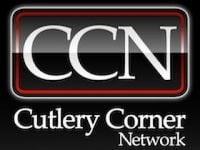 Cutlery Corner is a satellite shopping network which brings interested customers collectable cutlery, bowies, customized pieces, and more through their television and online channels.
How Does It Work?
Customers can find their broadcast schedule on their website, CutleryCorner.net, which is also where they will be able to get access to their "round the clock" online web channel. Customers who see products they like can order them by calling their Customer Service team.
Customers can also search online through the items they have to offer, either by category, like Collectors' Items, Pocket Knives, Swords, Kitchen Sets, or by price, whether you are looking for items $9.99 or less or pieces that are $100 or more.
Cost/Price Plans
Watching their network either on television or online is free, and their products come in an extremely wide range of prices depending on exactly what you are looking for.
Refund Policy
Unfortunately their website does not detail any general Refund, Return, or Guarantee Policy regarding their products.
Items may have different Refund or Return Policies depending on their category or price point, and some items do have warranties that customers can look at before making a purchase.
Customer Service Contact Info
Customers who would like to speak to their Customer Service team can contact them by phone at (423) 894-6079 for Inquiries and (800) 524-4851 for Orders, by submitting questions, concerns, or complaints directly to their website, or by traditional mail at the address P.O. Box 22636, Chattanooga, TN 37422.
Reputation
There are some complaints online currently regarding issues with product shipping and even some complaints regarding quality of their products.
Customers who are concerned may want to check Return and Refund Policies with their Customer Service team before purchasing.
Is It Safe?
There are no complaints regarding safety about this company at this time.
Competitors and Alternatives?
This website sells both kitchen knives and collectibles all in one place, which is probably not common, though of course there are many different stores and sites where you can find these same types of items.
If you have any experience with Cutlery Corner or their products, please leave your reviews below.
Cutlery Corner Customer Reviews