Cutlery Corner Reviews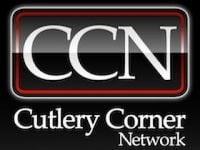 Cutlery Corner is a satellite shopping network which brings interested customers collectable cutlery, bowies, customized pieces, and more through their television and online channels.
How Does It Work?
Customers can find their broadcast schedule on their website, CutleryCorner.net, which is also where they will be able to get access to their "round the clock" online web channel. Customers who see products they like can order them by calling their Customer Service team.
Customers can also search online through the items they have to offer, either by category, like Collectors' Items, Pocket Knives, Swords, Kitchen Sets, or by price, whether you are looking for items $9.99 or less or pieces that are $100 or more.
Cost/Price Plans
Watching their network either on television or online is free, and their products come in an extremely wide range of prices depending on exactly what you are looking for.
Refund Policy
Unfortunately their website does not detail any general Refund, Return, or Guarantee Policy regarding their products.
Items may have different Refund or Return Policies depending on their category or price point, and some items do have warranties that customers can look at before making a purchase.
Customer Service Contact Info
Customers who would like to speak to their Customer Service team can contact them by phone at (423) 894-6079 for Inquiries and (800) 524-4851 for Orders, by submitting questions, concerns, or complaints directly to their website, or by traditional mail at the address P.O. Box 22636, Chattanooga, TN 37422.
Reputation
There are some complaints online currently regarding issues with product shipping and even some complaints regarding quality of their products.
Customers who are concerned may want to check Return and Refund Policies with their Customer Service team before purchasing.
Is It Safe?
There are no complaints regarding safety about this company at this time.
Competitors and Alternatives?
This website sells both kitchen knives and collectibles all in one place, which is probably not common, though of course there are many different stores and sites where you can find these same types of items.
If you have any experience with Cutlery Corner or their products, please leave your reviews below.
Cutlery Corner Customer Reviews

Tammy
Bad customer service and very rude
I have never had such bad customer service with a company, I was trying to order something and the lady was so rude to me and said my credit card started a # which was my bank debit card she was awful rude wouldn't even try to run my card.
Kept saying no it's not no it's not no it's not rude rude rude lady and yes my card is good and my money is good really offended me. I called back and they put me on hold this company does not want my business I will never ever order anything from you guys ever you guys need to hire nicer people.

Stan H
Make sure you're ready when you call
I've made 4 orders with Cutlery corner and I have had a great experience. The knives I've gotten from cutlery corner are just what I wanted. I just placed another order, and I know the 6 knives will be great.

David N
Horrible Customer Service
I ordered a Arno Kudu Squirrel Knife off the website, they called me 3 days later to confirm my payment info, said the knife is being sent out. 3 days later they call me saying the do not have the knife in stock anymore and they could replace it with the crappy blue one they have been pushing on TV.
I found another knife that would work a little more money and they tell me that it is in stock now but could not be sure when the order gets to the warehouse the knife will still be in stock? What the .....? They need the inventory connected to website.
They would not even budge on the price of the other knife by $20 to make me happy. Oh the Kudu knife it was $298 so not cheap. I had one other order I cancelled before I had any other problems. Last time buying from these people.

LeeAnn N
A Reputable Knife Company!
My husband orders from Cutlery Corner! Has for a couple of years! He knows what to order first off! These people are very nice and not rip offs! They sell a variety of knives. You have to know what you are doing! Don't blame them!

Doyle H
Just purchased Earth wind fire collection, nice little skinners. 1st purchase with CCN, wasn't expecting a lot for under $30. Shipped to my house 3 knives, very solid and very sharp. Totally happy.

Ronald
Great Money Making Potential !!!
I had purchased a huge Sword and knife collectors set over 100 knives and swords. Avg price was 50 cents each.I have been to knife and cutlery stores and the mark up on their product was like 100 times that of what I had purchased.The same product, same quality,and same variety.Overall they offer good quality product overall and as far as their customer service, they were friendly, informative and very helpful. They even told me about a alternative to what I was looking for. Great job keep it up. Sincerely a very satisfied customer.

Steve S
I've placed a number of orders with Cutlery Corner and have been completely satisfied. They've got something for everyone - less expensive knives as well as more expensive, high quality brand name knives. I placed an order for a collector item and they called me to advise they only had one remaining that was damaged. They gave me the choice of canceling the order or buying the item at a discounted price. Who does that? I enjoy watching the show and I've never been disappointed with an order.

Jeannie D
Customer service is a joke. They do not stand behind the claims they make on tv. Very unprofessional.

joe d
Dang knives are a bunch of china mass produced crap. I get It you got a buddy in china gets em cheap you buy 50 thousand of em make a grand off that but your making money off us thinking were stupid and blind. I'm thrifty I got eyes when I go to the dollar general if I see a can of tuna that looks like its crap in the store I don't buy it but then again I don't got joe bob behind the counter telling me its caviar. Why u trying to make it seem like it's some Damascus just call it what it is! A bargain we can flip in our smoke shop or flea market. Send if

Nick R
Do these compare with Benchmade, Spyderco, Henkel, Outdoor Edge, Havalon, Dexter?

Sean J
Say what u want but the knives (like in the dealer sets where u get like 168 knives for 168$) I mean they aren't of best quality, most of them have plastic handles which I'm not a fan of but I'll say this much, they will still stab and kill something of a given size, you won't kill no bear or deer with the lil flip blades but only morons would say "these knives r crap" cause they probably compare it to a bear killing knife, no those lil flip blades r not meant to kill a bear or big game, but a raccoon attacks u or possum u can do damage to those animals, even with the lil plastic handled flip blades, so all the bad reviews, people r just pissing n moaning cause they're retarded and they don't know nothing, but if u r trying to carve wood or cut wood with a lil flip blade, u need to get your brain checked if u complain cause it doesn't work or broke!! I'm just saying, even the crappier flip blade plastic handle knives can maim and/or kill an animal of appropriate size for the knife!!! U could even kill a human probably but it'll take a hell of a lot of stabs (not saying to do it) but as far as knifes go, it'll do its job if u r not a complete idiot

Mitchell Z
I ordered 3 knives during a promo if you spend $30 or more get a free fixed blade. When I received the knives only the three I ordered came. I called them up and they tried to tell me the promo had ended the night before. Yet they were still showing the promo on the show the day I ordered it and was showing it on the website. When I chose the ones I wanted it showed up on my order as the free knife but I didn't receive it. I called them up and they insisted the promo was over. They were rude and didn't even want to try and help me. They were just telling me you don't get the knife and nothing they would do about it. This was the first and last time I order from them they are a rip off.

John L
I have been ordering from them for years. You have to know something about knives before ordering and that comes from experience, or you should be buying in person. Even pricey knives can be of poor quality. But unless you know knives well, you get what you pay for. Cutlery Corner offers some very good quality deals at great prices. I don't sell my knives, but I do collect nice knives, and constantly get great deals. Some knives have not been as good as expected, but I'm surely not going to return them. Just like I'm not going to send them more money if they send me a product that is definitely worth more. I think they are good people and don't try to cheat people. Most folks in the knife business buy cheap to sell cheap and only expect to make a few bucks on each sale. I ordered several more for Christmas.