CrepeErase.com Reviews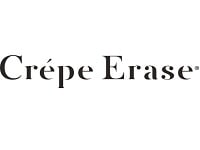 Crepe Erase is a brand of anti-aging skincare products intended to address the most visible signs of aging, notably 'Crepey Skin'.
Crepey Skin is a normal condition that occurs over time as skin becomes thinner and loses elasticity, resulting in "dry, crinkly, crepe paper-like skin."
The skincare industry is full of creams, devices, and procedures that claim to address these issues, with some costing small fortunes.
Crepe Erase has been at the forefront advertising their products on TV and online ads even using famous actors as spokespersons.
Below we take a closer look at the Crepe Erase System analyzing their ingredients, customer support, and customer reviews and results.
How Does Crepe Erase Work?
CrepeErase.com states their creams and treatments are designed to be bought in bundled packages and used as targeted solutions to address every area of the body experiencing visibly poor skin.
Crepe Erase products combine their proprietary formulation, called TruFirm+ Complex, along with a variety of hydrators and moisturizers to create a system that they state has been clinically shown to achieve results.
They also make use of 3 key skincare ingredients:
Dill - Dill is actually a powerful tool in any skincare routine. One of its main uses in topical applications is to improve the skin's elasticity and firmness and for its antioxidative properties.

It has also been shown in one study to have wrinkle reducing effects.


Sage - This plant has been widely used in traditional medicines in a variety of applications, from aromatherapy to topical creams and oral supplementation.

Sage has strong antibacterial and antioxidant properties and studies have shown its potential in skincare use for anti-aging and anti-wrinkle applications.


Apple - This fruit has many health benefits when eaten and has properties that have shown to translate to topical skin care applications from fighting acne to moisturizing the skin.

Its derivatives like apple cider have also been used to exfoliate skin and studies have shown it can help protect skin from harsh environments.
Products and Ingredients
One of the most popular products sold on CrepeErase.com is the Ultra 3-Step Essentials System that addresses the neck, arms, and legs.
It consists of three separate products intended to be used in sequence.

1. Body Smoothing Pre-Treatment
The process starts with the 'Body Smoothing Pre-Treatment', which provides gentle exfoliation to prep your skin for the next product application while also removing dull and dead skin for a more youthful appearance.

In addition to the Dill and Apple extracts, this formula also makes use of known exfoliators like Salicylic Acid (a beta-hydroxy acid "BHA"), commonly used in acne medication for its ability to unclog pores and penetrate oily skin.
This formula also makes use of AHA acids such as glycolic acid and lactic acid as additional chemical exfoliants.


How to use: CrepeErase.com states that the Body Smoothing Pre-Treatment should be used once a day in the shower on target skin areas by massaging it in to the skin using soft circular motions and then rinsing away with warm water
Full Ingredient list:
Water, Sodium C14-16 Olefin Sulfonate, Hydrogenated Castor Oil, Cocamidopropyl Betaine, Glycerin, Propanediol, Acrylates Crosspolymer-4, Sodium Chloride, Peucedanum Graveolens (Dill) Extract, Malus Sylvestris Flower Extract, Lactic Acid, Glycolic Acid, Salicylic Acid, Ursolic Acid, Niacinamide, Polydextrose, Dextrin, Amylopectin, Caprylyl Glycol, Sodium PCA, Butylene Glycol, Disodium EDTA, Xanthan Gum, Sodium Hydroxide, Sodium Sulfate, Phenoxyethanol, Chlorphenesin, Fragrance.
2. Advanced Body Repair Treatment Ultra
Crepe Erase states that this rich formula uses 12 hydrators and a patented peptide blend to support collagen production, reducing fine lines and wrinkles.

The ingredient list contains many popular moisturizing ingredients such as olive and coconut oils, as well as a Polyglycerides blend that has emollient properties, which can help soften or soothe skin.
It's unclear the role their "patented" peptide blend plays in this formula as the two listed peptides, Palmitoyl Tripeptide-1 and Palmitoyl Tetrapeptide-7, are listed last on the ingredients list, meaning they make up the smallest portion of the total formula.
Peptides are popular with skin care manufacturers as they may promote collagen production in the skin. However, there are many different types and only some have shown documented effects.


How to use: CrepeErase.com states the recommended usage is twice daily, simply apply in upward circular motions until product is absorbed.
Full Ingredient List:
Water (Aqua), Olea Europaea (Olive) Fruit Oil, Glycerin, Hydroxystearic/Linolenic/Oleic Polyglycerides, Dimethicone, Palmitic Acid, Stearic Acid, Bis-Diglyceryl Polyacyladipate-2, Theobroma Cacao (Cocoa) Seed Butter, Cetearyl Alcohol, Cyclopentasiloxane, Butylene Glycol, Glyceryl Stearate, PEG-100 Stearate, Cocos Nucifera (Coconut) Oil, Squalane, Vitis Vinifera (Grape) Seed Oil, Dimethiconol, Ceteareth-20, Phenoxyethanol, Acrylates/C10-30 Alkyl Acrylate Crosspolymer, Caprylyl Glycol, Ethylhexylglycerin, Hexylene Glycol, Dipotassium Glycyrrhizate, Sodium Hydroxide, Tocopherol, Peucedanum Graveolens (Dill) Extract, Disodium EDTA, Carbomer, Sodium Lactate, Pyrus Malus (Apple) Fruit Extract, Polysorbate 20, Xanthan Gum, Ursolic Acid, Palmitoyl Tripeptide-1, Palmitoyl Tetrapeptide-7
3. Ultra-Smoothing Neck Repair
This cream is activated by the Crepe Erase Trufirm+ complex along with a patented peptide blend and encapsulated retinol.
CrepeErase.com state that the cream can firm and tighten sagging skin and improve lines and wrinkles.

This formula includes the Crepe Erase blend of Dill/Sage/Apple extracts with known moisturizers, another peptide, and the powerful anti-aging ingredient retinol.
Retinol is a form of Vitamin A, also known as retinoic acid, and has been popularized in cosmetic use due to its potential anti-aging effects and role in stimulating collagen and elastin production.
Neck Repair also includes an interesting peptide called Acetyl Dipeptide-1 Cetyl Ester, whose manufactures claim can prevent wrinkles and lines due to its muscle relaxation properties.
Acetyl Dipeptide-1 Cetyl Ester is also used in cosmetics for its skin calming effects.


How To Use: CrepeErase.com states that a thin amount spread around the neck area can be applied up to twice per day.
Full Ingredient List:
Water, Glycerin, Cetearyl Alcohol, Dicaprylyl Carbonate, Butylene Glycol, Sorbitan Olivate, Boron Nitride, Helianthus Annuus (Sunflower) Seed Oil Unsaponifiables, Cetearyl Olivate, Dimethicone, Hydroxyethyl Acrylate/Sodium Acryloyldimethyl Taurate Copolymer, Bis-Diglyceryl Polyacyladipate-2, Menthoxypropanediol, Butyrospermum Parkii (Shea) Butter, Salvia Officinalis (Sage) Leaf Extract, Tetrasodium Glutamate Diacetate, Peucedanum Graveolens (Dill) Extract, Pyrus Malus (Apple) Fruit Extract, Ceteareth-6 Olivate, Caprylic/Capric Triglyceride, Sorbitan Laurate, Caprylyl Glycol, Sorbitan Isostearate, Polysorbate 60, Retinol, Polysorbate 20, Sodium Hyaluronate, Hydroxyethylcellulose, Cetyl Palmitate, Laureth-23, Acetyl Dipeptide-1 Cetyl Ester, Caproyl Sphingosine, BHA, Trideceth-6 Phosphate, Ursolic Acid, Sodium Hydroxide, Xanthan Gum, Phenoxyethanol, Chlorphenesin
Crepe Erase also includes bonus products when placing orders.
Customers can also order the 5 piece set which includes the following 3 products in addition to the ones listed above.
Refining Facial Scrub
Overnight Facial Plumping Treatment
NightFade Hydrating Cream.
Potential Side Effects
There are some ingredients that require a bit of caution within the Crepe Erase System.
First off, retinol used in large or frequent doses may cause some irritation or potentially more serious side effects.
If you notice any issues while using the Neck Cream monitor the area or discontinue use immediately and consult with a dermatologist.
Furthermore Retinol is not recommended for use while pregnant or lactating.
Dimethicone - A silicone that smooths out cosmetic products is sometimes cited as a potentially problematic ingredient because it can be an environmental toxicant.

It has been deemed safe for use in cosmetics and cleared by the FDA - it does not penetrate the skin and is non comedogenic (won't clog pores).


Cocamidopropyl Betaine - Has a high warning score from the environmental working group.

However, that score is based on usage, and in products designed to be washed off such as Crepe Erase Body Smoothing Pre-Treatment, where it's found, it is not of concern and meets their protocols.

This ingredient is also found in over a thousand other shampoos, body washes, soaps, and cleansers.
Overall Body Firm products are on par with most modern skin care treatments, following the trends of novel active ingredients and common base ingredients used as moisturizers, humectants, and collagen boosters.
Cost & Price Plans
As mentioned above, you can purchase Crepe Erase products as part of a bundle or individually. It's also important to pay attention to the prices listed on CrepeErase.com.
When you are purchasing you will be given the option to buy the product as a one time purchase or to become a member and receive it at a lower price.
If you go the membership route you will be enrolled in their auto-ship program and have the same product sent and billed on a recurring schedule until you cancel.
Refund Policy
Crepe Erase claims to have a no questions asked 60-day money back guarantee.
If you're not satisfied with any Body Firm products that you purchased, simply send them back with a copy of your invoice to:
Crépe Erase® Returns
6 Commerce Way
Arden, NC 28704
Customer Service Contact Info
If you have any questions about Crepe Erase products or need to cancel your subscription you can reach customer service by phone at 1-888-708-2042, or use their online chat feature.
Customer Reviews & Complaints
Since Crepe Erase began advertising their products on television there has been a lot of feedback from professional dermatologist, cosmetic blogs, and thousands of customer reviews.
The reviews are mostly positive. The consensus from both experts and users is that these product work, albeit primarily as a strong moisturizer.
Many caution not to expect dramatic results, like those that you may get from a procedure at a skincare clinic.
Crepe Erase points to its own research that found, in a small sample size, that 80% of users "saw instant reduction in the look of crépey skin on the body."
On CrepeErase.com, customers have given Crepe Erase a 4.5/5 star rating. The company also posts negative reviews on their own website, something that many other sellers won't do.
You can find some Crepe Erase products being sold through Amazon, where the brand has the 'Amazon's Choice' designation and their ratings range from 4-4.3 stars out of 5 from thousands of customer reviews.
While the brand does have a majority of satisfied users, there are some customer that rate them poorly.
The most common complaint being that they simply saw no difference in skin appearance after using the product.
This type of complaint could be found for most of their products, regardless of whether customers were using a neck, face, body, or under eye application.
The parent company, Guthy-Renker, LLC, has a profile setup with the BBB. They are accredited with that platform and have an A+ rating. However their customer rating on the BBB is 1.05/5 from 74 customer reviews.
The majority of complaints filed there have to do with the nature of the auto-ship program, with many customers not fully understanding the terms that they agreed to.
Crepe Erase representatives are active on that site offering resolutions to customers and explaining the origination of any fees.
Again, if you choose the lower priced membership option you will be billed immediately for a 30-day supply of product.
The next month your 90-day supply shipment is sent and then billed in installments over 3 monthly payments. This happens again every 3 months until you cancel.
Is Crepe Erase Worth It?
There are a lot of things to like about this brand and their formulas. They use research backed ingredients and for the most part have positive customer reviews.
On the other hand, the products are expensive and the temptation to save money on them can tie you up in a prolonged auto-ship subscription program.
Further, experts who've reviewed these products were not convinced that the creams would have any significant effects on deep wrinkles outside of providing powerful hydration.
If you're curious about Crepe Erase we'd recommend having reasonable product expectations and a clear understanding of how their billing plan works. It's reassuring that they have an active custom support team and issue refunds to unsatisfied customers.
If you have any experience with Crepe Erase products, please leave your reviews below.
You may also be interested in
CrepeErase.com Customer Reviews

Angie
The website is confusing - you cannot order just one round of the product without having it mailed every 3 weeks. Can't even use what they have sent you before they start sending you more. They ship it out then notify you rather than the other way around like most reputable companies. BIG SCAM. Do not fall for it.

Never a
Automatic auto ship please beware!,,
Do not sign up for auto shipment. My purchase was for a one time shipment. I checked my credit card and realized they were going to charge me another $99 so I called and was told the auto shipment would be cancelled.
When I received the message about my request to remove me from auto ship I learned that I may still be charged and additional $227 .
This is definitely a scam and I hope others are aware of what they are doing.

rhonda g
Refund not sent back as ad says
After three weeks no improvement in my skin, called to cancel next order. Sent order any way and charged my account again. Sent new box and old containers back by mail for refund. They have ha package since 12-9-22 and no refund yet????

C W
Shame on me for believing
Here's another example of "It's too good to be true" and well.....it is.
Shame on me for thinking this would be any different than other products. Sure, the creams feel good on the skin. Does it help the crepey skin? Of course not. Save your money. Beautiful skin begins on the inside(good nutrition, plenty of water and stay out of the sun).

Michelle R
relieve crepe skin with items in your own home
I caution you not to buy this product...you can get the same relief from crepe skin by exfoliating and moisturizing with these home products that are available in the market for a lot less I do and my skin looks great. Products claiming to be in Crepe Erase.
Olive oil
Coconut oil
Plus I have had friends who have had issues with Gunthy Renker regarding returns, charging your account and refunds.

August M
what I have read elsewhere
What I have read, is that they charge your credit card WAY more than they say, and its so so, with a LOT of rubbing. I wouldn't order it, due to the problems with your credit card,