Credible.com Reviews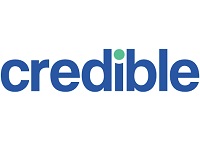 Credible.com is a website that describes themselves as "the easy way for graduates to reduce their student loan payments," by giving them the ability to compare multiple different lenders who are interested in consolidating their loans for them.
How Does It Work?
Students with loans can simply go to their website and begin by using their specialized tool which allows them to quickly compare their student loan interest rates to other students across the country, so they can know right away if they are paying more than they should be on their loans.
Students who are interested in making a change on their loans can then fill out a single form, which takes about ten minutes, and submit it.
This submission will share your information with a variety of lenders, who will then offer you different loan terms, allowing you to compare offers and choose the one which is best for you.
Cost/Price Plans
Using this website is completely free, and there is no obligation for users to accept any loan terms if they do not like what they see.
Refund Policy
Since Credible.com does not charge any fee for their service, they do not offer a Refund Policy.
Some of the lenders you work with may offer cancellation terms, allowing users to back out of the deal within a short window of time if they need to, but this is only allowed by some lenders.
Customer Service Contact Info
Customers who have questions, concerns, or complaints they would like to direct to their Customer Service team can contact them by email at [email protected] or by traditional mail at 576 Sacramento St, Level 4, San Francisco, CA, 94111.
Reputation
While there are not many user reviews available for this company, there are many different independent reviewers that seem very excited about this concept and the service they are providing to people.
Competitors and Alternatives?
There are many companies that claim to help borrowers of student loans with various student loan forgiveness plans, but this company may be unique for providing a loan comparison service specifically for student loans.
If you have any experience with Credible.com or their services, please leave your reviews below.
You may also be interested in
Credible.com Customer Reviews

Jodee
Hidden Credit Hit Permission
BE CAREFUL if you are just looking to shop around for rates. Somewhere hidden in their initial account creation small print is permission to run your credit. A hard credit run can negatively affect your credit score resulting in worse loan terns. If you really want to use this company, maybe it's fine but call them on the phone or online chat first and state clearly you are not yet ready to have your credit run until you know for sure you want to go with them. Most places put much more obvious sections that tell you you are about to consent to have your credit run. I don't respect companies that hide important terms in their small print. Having several credit hits in a row can drop you an entire credit tier.

Michael F
Finally, a service that makes student loan refinancing easy, convenient, and fast!
I had a tremendous experience with Credible. Although I had already refinanced my student loans one year ago, I was still unsatisfied with my rate considering my credit worthiness and income. Moreover, that process took over three months. One year later, I come across your site – a fantastic aggregator of banks willing to refinance student loans. After putting in very basic information regarding my loan and income, I was presented with dozens of options to refinance my loan within seconds. I ultimately decided to go with one of their lenders. Their rate was great and the terms were even better. Within three weeks of visiting Credible, I had refinanced my loan. No hiccups, no delays. I will save at least $1,000 a year and that's after I had already refinanced my student loan to a much lower rate. When compared to my original federal student loan, I estimate that will save over $40,000 over the life of the loan. That's $40,000 more I can now put into my daughter's 529 college savings account.

Sandeep C
The service from credible was great. I saved $12,000 on my student loan

User1
I have already refiniced my student loan last year and was lured into a low rate they've been advertising. I've filled out a preliminary application and was shown something like 3% which was low enough for motivate me going through the process.
Next day, I've started receiving text messages, phone calls and emails from a bunch of different lenders on my app. I thought it was very unprofessional as the expectation was that Credible would solicit my application on my behalf and present me with the rates available. Further more, when I logged into my Credible dashboard there was the list of lenders listed who supposedly were part of the bidding process. Which would fine, if it was't for the lack of the information provided be neither of them. Each of the lenders required me to go to their site and fill out the application yet again! This is unspeakable. I'm especially frustrated that I've given out my credit information to this scam service for something I could have done with a simple google search in 2 seconds.
I wished I've never wasted the time dealing with them.