Craftsy Reviews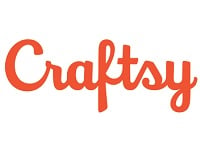 Craftsy is a company that states their goal is to "bring creativity to life," giving customers the ability to learn new and advanced crafting skills in their own way, whenever and however they like.
How Does Craftsy Work?
Customers are invited to go to their website and search through their inventory of classes by category, including quilting, sewing, knitting, cake decorating, art, photography, cooking, and many others.
Once you choose the course you are interested in taking, you can also use their website to find the necessary kits or supplies you will need to successfully complete that course and the associated projects.
Mobile Options
At this time, mobile access to Craftsy.com is only available through applications on iOS devices, including the iPad and iPhone, though this availability may expand.
Cost/Price Plans
The online classes available through this website range in price from free up to about $39.99, though customers should expect to invest more money into the products and supplies needed to successfully create projects and master their crafting.
Refund Policy
The website says that class fees can be refunded within the first 30 days if you are unhappy for any reason.
In addition, any supplies and goods sold through their website for the purposes of helping with your crafts are eligible for return and refund if they are defective, or if it is within 60 days and the goods are still in like new condition, in the original packaging, will all necessary paperwork.
Customer Service Contact Info
Customers who would like to speak to their Customer Service team about their questions, concerns, or complaints can do so by submitting them directly to the website after you have signed into your account.
Reputation
This website seems to have mixed reviews, with some customers really happy with their classes and supplies, and other customers feeling as though the quality of what they received was not as high as they had hoped.
Competitors and Alternatives?
Local craft stores often offer classes, as do community colleges and community centers. If you are looking for more video based, online courses, you are likely to find some of those available as well, for varying prices.
If you have any experience with Craftsy or their products, please leave your reviews below.
You may also be interested in
Craftsy Customer Reviews

ASH
Buyer Beware - Scam Business Practices
You sign up for a $0.99 membership and they automatically renew your membership to a tune of a whopping $171.72 membership fee. They do not send you any notifications that they will be billing your credit card for the drastically increased membership fee, they just quietly submit the charge without informing you of the new charges. What a scam!

Yasmin
Please do not become a member! I`m warning you. They are the worst. I became a member a year ago and I didn`t even use it. And this year my membership supposed to renew this month, which is May, but they charged me for $89.99 without notice on APRIL for some reason. I can`t even delete my bank info from my account. It is not acceptable. Please DO NOT BECOME A MEMBER EVEN IF IT`S FOR FREE, DON`T DO IT!

Judy
Great Customer Service Experience!!!
Have not used the site like I had fully intended to do. Seemed like a great concept and did a trial offer of $5 for a few months.
I, like so many of us, forgot that it auto charges at the end of this trial and I received a charge that put my account in the negative.
I called, completely expecting for it to be a hassle, but the representative was so pleasant and helped me with a refund immediately.
Hands down, based on THIS experience alone, I will be trying Craftsy again when we are settled in the new place.

heidi
Won't give my money back after stealing for renewal
Did not send a renewal notice. Charged $95 and now won't give back money, they say it is their policy. So they steal your money by not doing a refund.

Jill H
Beware before signing up with Craftsy.
I'll revisit this review when my complaint is resolved. I purchased one of their patterns and it was great, but after a year of constant email bombardment which I then sent to spam, they charged my credit card $79.99 for a premium account which I NEVER signed up for. This feels very fraudulent to me

Marion P
An organization that pressures you daily to spend money.
To be honest I can't remember how these people got my email address in the first place, but there is no method offered to unsubscribe and I have been bombarded every day - many times a day - by emails trying to get me to pay for their services.
Good luck trying to opt out - nothing in their FAQ's to help on that subject. They have become a complete and utter nuisance but worst of all, I have no idea what they are doing with my data. My advice is to steer well clear.

Monika R
I paid for this and it would not even let me log in. Total scam do not do this

joan c
That joining craftsy just get you to a place where you can buy lesson on what you want to learn
When I put down the cash to join craftsy, I was under the impression that there would be lessons that I could learn things from as it turned out everything I wanted to Learn I had to buy a class for that cost from 30 to 40 bucks well we now know who the crafty ones are.

Patrucua M
Buyer be ware
Have been annual member for years but no mire.
Original Craftsy great. It then changed to blueprint, which was ok.
Now Craftsy again but very poor. Only was able to get some of my classes and all my patterns are now gone. Want them back. Costly
No confidence in Craftsy Anymore.
Very upset.

Super N
I have quite a few classes on craftsy, now that it has opened back up, my profile doesn't exist and customer service can't find it either?! Very disappointed! What a waste of money for classes I can't even use.

Sharon F
I have purchased at least a dozen classes, before it changed hands.I was originally leary about not having a dvd copy, but they are always there when needed. The classes are great! Detailed, at a pace you can follow, with downloadable patterns and quick response to class questions. Now that it has changed hands, I will wait to see how long it takes to get my paid for classes back in my library.

D.g. B
Customer Nd Tech Support are Useless
I've wasted 3 months now trying to have Craftsy FIX the problem they created with my account when they "fixed" my account to enable the video option. Dozens of calls have not been returned, emails detailing the problem are only answered with the "Please take our survey and tell us how well we addressed your problem" emails and the chats-I've dealt with 5 years that knew more about website issues than Craftsy's support team. RUN from these con artists. DO NOT give thrm any money.