Course Hero Reviews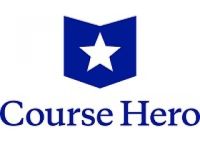 Students are often reluctant to ask their teacher for clarification of class material. There are some teachers who don't make themselves available for help outside of the classroom. Course Hero is a website that offers help to students spanning over an array of subjects, 24 hours a day, 7 days a week.
On Course Hero there is an array of information to search through. There is general information on hundreds of school subjects as well as a collection of college course documents. This collection of documents includes class notes, syllabi, study guides, practice quizzes, flashcards and much more. It is even possible that you will be able to locate materials from the course at the school you are attending.
CourseHero.com also offers full course lessons in a variety of subjects. While some of these courses have been developed by its members, there are others which have been submitted by college professors.
There are two memberships for Course Hero. The first option is a free membership which is limited to the flashcards and the tutor help desk. However, payment is required when using the tutor help desk. Students determine the price they are willing to pay for an answer to a question. As soon as the question is replied to, the payment transaction is completed.&nbsp
&nbsp
The premier paid membership gives members full access to all of the platforms on the site including flashcards, documents, and are even granted $100.00 of credits for the tutor help desk. Each submitted question or reply back to a tutor will deduct $5.00 in credits. The cost for one year of the premier membership is $95.40. They also offer a three month package for $59.85 or a one month subscription for $39.95.
Since so many students are tight on cash, Course Hero created an exchange program; they will give you a month of their premier membership in exchange for documents. After uploading 40 course documents, all of which have to be approved by their team, you will be awarded with one free month of complete access to the site.
Professors who discovered their course materials could be accessed through CourseHero were very upset. Besides the fact that they hadn't approved it, they felt that they were being exploited because the company was making money off of the materials they created and the time it took to do so.
These professors also believe that the site was taking away from the overall learning process. Not only were their students not learning the material but they were also being deprived of the intrinsic rewards that accompany a successful learning experience.
Students who used the tutor help desk were disappointed with the tutors' lack of effort and ability to provide them with a response in a timely manner. Not only did the tutors barely meet the deadline, but they also did not provide valid answers. Some of them even responded with a question instead of an answer.
Overall, online reviews displayed negative feedback on the services provided by Course Hero. If you are paying for an education it is probably best just to do the work yourself or join a study group.
You may also be interested in
Course Hero Customer Reviews