CompleteCase.com Reviews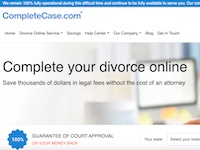 CompleteCase.com is a company that helps divorcing couples navigate the divorce process. The company states that they provides step-by-step instructions on how to file for divorce in your state and offer unlimited phone and email support along the way.
How does it Work?
The end of a marriage is never easy to navigate. Outside of the high emotions that each party has, some technicalities have to be addressed and finalized. Not only can this be time-consuming, but it can also be quite expensive.
Founded in 2000, CompleteCase.com state they help struggling couples file for divorce without the financial strain that often accompanies these life events.
Whereas the average cost of a divorce in the United States is around $13,000 (this cost includes legal representation for both parties), Complete Case state they offer the proper documents to file for divorce for much less.&nbsp
&nbsp
The company offers a 100% court acceptance guarantee on their forms. They also offer the following:
No additional fees due to a couple having minor children
No additional fees for assets
No additional fees to complete minor alterations
What Is The Process?
CompleteCase gathers the necessary information from the account holder and provides the official paperwork. Once all of the documents are completed, they can be sent off to the courthouse.
The process is complete in these basic steps:
Select the state in which you are filing in
Fill out Complete Case's brief questionnaire
Print off the provided documents or request Complete Case to send them to your home.
File all the required forms with the court.
If there are any errors on the documents or changes need to be made on any of the forms, this can be done for no additional cost. Complete Case state they provide unlimited phone and email support to help file the documents correctly.
What Does It Cost?
CompleteCase offers their standard service for $299. The company states there are no additional fees for children, assets, or minor alterations. Continued service past thirty days costs $24.99/month, and includes changes and unlimited storage of documents.
CompleteCase provides a 100% refund policy guarantee which states that officials will accept your forms in court. If for some reason the forms are not accepted, the company states they will refund 100% of your money.
CompleteCase.com Customer Service
Complete Case offers several forms of contact for any issues you may encounter or questions that you have.
Customer Service Number: 1.877.282.0944
Fax: 1.617.340.8350
Physical Address:
CompleteCase.com
701 Fifth Avenue
Suite 4200
Seattle, Washington 98104
Additionally, you can reach them through and online contact form, Facebook, Twitter, or YouTube.
Online Customer Reviews/Complaints
CompleteCase.com states that their services have been featured on many prominent media outlets, including:
Good Morning America
NBC Today Show
USA Today
Time Magazine
Los Angeles Times
The company has mixed reviews from online customer reviews, and an A- rating with the BBB.
One common issue customers have expressed is that the company does not clearly articulate its services on its website.
For example, the website doesn't explicitly state on their main page that they only work with uncontested divorces, which some customers found unclear initially. Within the FAQ, though, the company confirms that they do only provide services for uncontested divorce.
Also embedded in the FAQ section, there is a clause stating that a monthly fee is added on if your service by CompleteCase extends past thirty days.
Some customers have expressed difficulty getting their promised refunds and have stated that they continue to get charged a monthly fee after ending their service agreement.
There are also some online customer complaints as to the quality of the documents that they received through CompleteCase, with some customers stating that their forms were rejected in court, or were in the wrong format.
Finally, some customers were under the impression that they were getting service for an online divorce in full, not just the documents to file for divorce.
Competitors and Alternatives
Several companies are similar to Complete Case in what they provide, including the following:
CompleteCase vs. Legal Zoom: Legal Zoom has higher ratings online from customer reviews. They assist in various legal disputes, including prenuptial agreements, business services, and bankruptcy.
CompleteCase Vs. 3 Step Divorce: 3 Step Divorce promises instant receipt of documents with no waiting period. They have a similar cost as Complete Case and generally favorable online customer reviews.
Is CompleteCase Worth It?
Going through a huge life change like a divorce can be incredibly stressful. Finding avenues to help you navigate such an emotional roller coaster can be a lifesaver.
While we appreciate the services that CompleteCase offers and how they provide them at a reduced rate, we do have some hesitation. Although customers get to take advantage of a reduced rate that is much less than what a lawyer would charge, a few areas could be spelled out more clearly.
For instance, it is not clear on their homepage that CompleteCase does not work with contested divorces. To find out this information, you have to navigate to the FAQ portion of the site. This scenario is the same for the monthly fee. Although it is on the website, the company lists it in an area that not all customers go to unless they have further questions.
Competitors of Complete Case have these items displayed prominently where everyone will see them. Having the information listed in this way allows for less confusion during an emotional and stressful time.
Outside of those concerns, we believe that Complete Case is legitimate and a good resource for those looking to file documents for an uncomplicated divorce independently.
If you have any experience with CompleteCase.com or their services, please leave your reviews below.
CompleteCase.com Customer Reviews