CollegeVine Reviews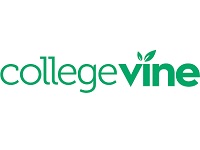 CollegeVine is a company founded in 2013 by three passionate young men, Zack Perkins, Johan Zhang and Vinay Bhaskara.
Their vision was to make the best college admission guidance available for all high school students.
The inspiration for this venture came from their own personal struggles with the admission process. They had the realization that the competition each year is getting tougher and the differences between public and private school guidance have become dramatic.
That is why they gathered a team of men and women who shared their passion of providing valuable information to every high school student, no matter his or her background.
As long as they are striving to get into their desired college and are willing to work hard for it to happen, the CollegeVine team commits to providing guidance to these students, supporting them through all of the steps of the application process.
Products
CollegeVine helps students and their families navigate through the college admission process, offering various services they are able to choose from. They are approaching the problem from three different aspects – mentorship, consulting and professional guidance.
The mentorship program is organized through pairing high school students with experienced college mentors. These mentors have gone through the admission process recently and share the same interests and ideas as them.
As a result, they are able to connect on a personal level and use their experience to create more inspired, effective and passionate future college students. In addition, the company offers college application assistance, in the form of College Apps and Elite Apps programs.
That way, you will be able to decide on the best college for your situation, receive guidance through the application process and write an outstanding resume, thanks to the data-driven approach and many experienced associates.
Furthermore, you are able to sign up for the assistance with your college essay and SAT prep classes. This is very important, as these two will ultimately decide whether you will be admitted to the desired school or not.
How Does It Work?
Through the services it provides, CollegeVine will guide you through the admissions process by assessing your qualities and helping you choose the right college accordingly.
On top of that, as we mentioned earlier, they have gone through the application process themselves very recently and are able and willing to share their personal experiences with you.
They are trained by the company's representatives to recognize your unique needs and problems and find adequate solutions.
Cost and Price Plans
You are entitled to a free consultation with the company's representatives. All you have to do is to fill out the form on CollegeVine's website and wait for your session to be scheduled in the next 24 hours.
Then, you will be exposed to a simulation of a real college admission interview during a half an hour phone call. This will help pinpoint your general strengths and weaknesses. After, you will receive some preliminary advice and recommendations based on the results of the interview.
Also, the company offers a free blog where you are able to find information on various subjects concerning the life of a college student. There's also the Zen Digest section, which will help you relax during the stressful college preparation process.
For the rest of the services CollegeVine provides, you will have to pay a certain amount of money. However, the company does not provide information on the pricing options and any fees until you start negotiating the service plan - according to your specific needs.
Customer Service
If you have a question or a suggestion, you are able to share them with the company's representatives by filling out an online contact form found on the CollegeVine official webpage.
Another option is to reach them by phone on the number 1-877-789-8463 or via email at [email protected]
Online Reviews/Complaints
The company is focused on mentoring high school students and helping them with their college applications. The feedback from their clients are positive and the company offers you insight on their testimonials on the website as well.
However, some of the downsides are also mentioned in the reviews. For instance, you are not able to receive any writing services other than essay editing. Some of their clients also claim that they didn't get value for their money as well.
Competitors and Alternatives
If you are like many other 9th, 10th and 11th graders, you wish to prepare for college the best you can. That said, if you weren't satisfied with CollegeVine, here are three more companies with similar services.
To work with a counsellor online, visit the CollegeWise website. For independent college counseling, go to CollegeCoach. Lastly, if you are aiming to get into the best colleges in the country, visit the IvyCoach website.
Where to Buy?
To apply for your free consultation as well as the other services the company provides, go to CollegeVine's official webpage at CollegeVine.com.
The Bottom Line
To get into the college of your dreams, you will need all the help you can get. Visit CollegeVine, ask for a free consultation and research your options.
If you have any experience with CollegeVine or their services, please leave your reviews below.
You may also be interested in
CollegeVine Customer Reviews

Rebecca C
Don't trust their algorithms!
Don't trust their algorithms! Similar to another review I read, CollegeVine provided guidance to my daughter for many "Safety" and "Target" schools with LOTS of "Hard Targets". She only got in a SINGLE Safety school that was at the bottom of the list. After talking with her high school counselor (after the fact), she emphatically said that the "Safety" schools they recommended were in fact NOT Safety schools. Her Safety schools had ~25% acceptance rate... that is not a Safety school. All CollegeVine could say is "Sorry" and "her profile fits these schools, so It's just a weird fluke". This has been devastating.

Charles M
Over promising leads to poor results
I would strongly discourage anyone from using College Vine because they over promise and under deliver. The danger is they lead you to rely on them, then let you down. If you falsely believe they are competent, you will find that you have missed deadlines. In our case, our "PM" quit or was fired in mid November after letting us miss major deadlines. I would recommend people either find a better service, or do the work yourself. In our experience, College Vine is dangerously incompetent. Do not trust them. You will regret it.

Kathy K
Parent of Student Oct 2018
Here's the details from a real user, who was dumb enough to pay for such "online" only service. So I bought the full plan $3400 that provides unlimited access to work with college counselor for all college prep needs.
Horrible service - yes they do hire current college students from top notch schools, but because of their lack of experience, they only seem to speak from a protocol of things to say from a training material, like a CSR person would repeat generic things back to you on a call. There is no customization to your students needs, they make you fill out a profile - which is what's already asked on a typical common app. Also college pairing process is a joke, you can go onto Niche.com and get this free college pairing process that will give you the same listing that College vine does. There's no insight as to what they do. Also returning phone calls - ridiculously hard, because everything is online and via email - they can simply choose to ignore you for days during crunch time. Essay reviews, this can be done by hiring any decent tutor even from Wyzant. I would NOT recommend CollegeVine/College Vine/Canopy Education for college prep needs. As a parent of a high achieving student who needed the extra insights on how to really have my student stand out in pool of applicant'ts, this CollegeVine process did NOT help. Save your money and go with a local rep who will take the time out to get to know your student, because the reason we parents are paying such high price is to find that extraordinary counselor who can bring out the best of my student when he didn't even know he had these capabilities. Its frustrating but what a lesson, and at the end they made me pay for 75% or $2,565 for about 6 hours of online talking over essays.