CogniBoost Reviews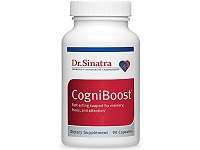 CogniBoost is a nootropic supplement by Dr. Stephen Sinatra who states that it is an all natural product and can significantly improve attention, focus, and memory in as little as 1 hour.
What is CogniBoost?
Dr. Stephen Sinatra, an integral medicine cardiologist specializing in bioenergetic psychotherapy, is the creator of the Cogni Boost supplement.
The compound, taken in pill form, is a combination of supplements and ingredients intended help your brain operate at total efficiency.
Some of the claims that CogniBoost makes about its product are:
Promote Brain Nerve Growth
Support the Building of Brain Cell Walls
Supercharge Crucial Brain Neurotransmitters
Deliver Vital Nutrients, Vitamins & Amino Acids to Bloodstream
Increase Blood Flow & Oxygenation To The Brain
Protects Brain From Neurotoxins & Free Radicals
Influences Brain Energy and the Ability To Use It
Creates Ultimate Brain Boost By Stimulating Brain Plasticity
CogniBoost is not tested on animals and is tested as safe and effective.
How Does CogniBoost Work?
The company that produces Cogni Boost recommends that adults take three pills each morning to achieve optimal results. The ingredients support complex brain functions and allow the internal components of your brain to operate at a higher level.
CogniBoost utilizes ingredients that cater to brain development and provide nutrients to the body that impact brain function. The combination of supplements and nutrients, the company claims, allows for better concentration and lightning-fast thinking.
What Ingredients Are In CogniBoost?
CogniBoost is a nootropic that utilizes naturally occurring ingredients. These include:
Gingko Biloba
Bacopa Monnieri
Acetyl L-Carnitine
Blueberry fruit extract
Cereboost American Ginseng extract
Meriva Pythosome
Curcumin
Microcrystalline Cellulose
Silicon Dioxide
Gelatin
Magnesium Stearate
These ingredients can cause some side effects, including:
Diarrhea
Itching
Insomnia
Headaches
Nervousness
Stomach upset
Nausea
Dizziness
Additionally, the ingredient turmeric found in CogniBoost may interfere with blood clotting in adults. It's best to check with your doctor before taking if this is a concern.
Cost/Price Plans
First-time buyers of CogniBoost are eligible for a risk-free trial of a month's supply of CogniBoost. All that the consumer needs to cover is the shipping and handling fee of $6.95.
It's essential to cancel within 14 days if you do not want your membership to roll into a subscription.
The cost to purchase CogniBoost outside of the free trial, you can buy one at a time or in bulk sets. If you decide to buy a larger quantity, there is a discount associated with the purchase.
One Bottle - $29.99
Four Bottles - $89.97
Seven Bottles - $149.95
The company also offers a 100% money-back guarantee on your purchase.
Customer Service
CogniBoost offers various methods of contact via its website for customer service needs.
Email: [email protected]
Phone Number: 1-877-705-0278 (24/7 availability)
Return Address: PO Box 152212, Tampa, FL 33684
CogniBoost does not have a significant online presence outside of its website and Amazon. The reviews that buyers have left, which are not plentiful, do not speak directly to the company's customer service.
Online Customer Reviews/Complaints
Although there is no sizeable online presence for CogniBoost, including a lack of visibility on both review sites and the BBB, Amazon has a small number of reviews on the product.
To begin, Amazon ratings have a 3.7-star average. Although many customers declined the option to leave a written review, those who did state that either the product worked well for them and their family or that they saw no difference.
Competitors and Alternatives
CogniBoost is only one of many brain-boosting nootropics and supplements on the market. Here are how some of its competitors stock up against it:
CogniBoost vs. Absolute Focus - Absolute Focus has a much higher rating than Cogni Boost and a more significant online presence. They also carry a Google Guarantee.
CogniBoost Vs. Neuro Boost - Neuro Boost is sold through Walmart for a similar price point as Cogni Boost. It fulfills the exact needs as the other brands as well.
CogniBoost Vs. Vital Plan Brain Boost - Brain Boost comes at a higher cost than the other available options. The company has an A+ rating through the BBB and is accredited.
Where To Buy CogniBoost?
There are only two ways to purchase Cogni Boost. The first being through their company website, where you can take advantage of the risk-free trial and 100% money-back guarantee.
Secondly, you can purchase through Amazon. Although this comes with perks for those who are Prime members, it does not allow for a risk-free trial.
Is CogniBoost Worth It?
Although we appreciate the disclosure regarding potential medical conflicts (blood clotting) and side effects, it is hard to put a large amount of trust in a product that can cause harm and isn't FDA certified.
We don't argue that the ingredients within CogniBoost are beneficial to brain function. Our concern more lies in not knowing how it will interact with other deficiencies in our bodies. However, this is also a risk that you take with most vitamins and medications, even those that are FDA certified.
What it boils down to with us is the lack of a suitable online presence. We don't have a lot of feedback to account for the success of the company's claims. We have a handful of written reviews, but nothing substantial. To make an informed decision, we need more credibility.
Although the product's creator is a doctor, we don't get a lot of information on him unless we search for it. In our searches, we see that he has engaged in methods that were seen as unconventional by others in the medical field.
This information gives us pause when considering the use of CogniBoost.
Therefore, we do not believe that Cogni Boost is worth it. Although it has been helpful for some, we think that there are other options available that have credible references and are more transparent in their reviews and online presence.
If you have any experience with the CogniBoost, please leave your reviews below.
You may also be interested in
CogniBoost Customer Reviews

pamela b
As I've aged I have seen my cognitive slipping. I ordered this thinking what a waste right. Well the surprise is on me. With Cogniboost I find my self thinking sharper, clearer, not forgetting things important. Kids and grandkids birthdays as examples. I would highly recommend this product.

Svetlana S
You'll be charged for two bottles shipping first, even though you want to order only one. And in two weeks, you'll find two $90 charges on your credit card. Scammers.

Diane B
Can't say they are harmful, but the sales efforts really stink and feel like fraud.
This stuff may be great, but the hype and trick of continuing to send and charge for them feels like a scam. I guess the best boost I got from them is the ordeal of trying to cancel the ongoing charges. It's like that story of the kid who asked what those pellets on the ground are; grandad said they are 'smart pills'; kid ate a couple and kid asked where they came from saying he didn't feel any smarter. Grandad said he found them on the ground in the goat pen and said to the kid "see, you are smarter now".

Mary H
I started CogniBoost and OmegaBoost (I HAD to buy them together, no option not to) about two weeks ago and I'm not satisfied. I've been having lots of GI upset including, nausea, stomach pain, diarrhea, and constipation.
I've also been having headaches. When I called the number listed at the bottom of your review of the product, it was easy for me to cancel. I guess I got sucked into a "membership". Good thing I called within the 14 days so I don't get charged again for something I definitely won't take.
Also, I didn't see any benefit from taking them for almost two weeks. I'd rather be slow and dim-witted than sick all the time...