Clothing Under 10 Reviews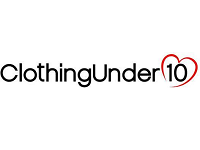 Clothing Under 10 is a Florida based online clothing retailer. Despite their name, not all clothes sold are priced below $10, although a lot of them do fall into that category.
They achieve this through close relationships with business partners and buying in bulk to help sell at the lowest price possible.
A benefit to shopping at this website is their partnership with an international shipping service, allowing you to purchase their products from anywhere in the world.
However, do keep in mind that they do charge a shipping fee and that it isn't free even within the US.
Products
Clothing Under 10 specializes in women's clothing. They have products for almost any kind of women's fashion that you can think of. In their catalog, you can find the typical tops, bottoms and dresses.
However, they also have options for career wear, activewear, shapewear and swimwear. Fortunately, Clothing Under 10 is aware of all the different shapes and sizes that women come in, so they have supplied plus size pants as well.
However, they do not have tops or dresses in plus sizes. On top of that, although they cater towards women's fashion, they do have a section for menswear. However, the selection isn't nearly as extensive as the women's section.
Cost and Price Plans
The products at Clothing Under 10 come at a very reasonable price, as they come under the usual retailer price. At this apparel shop, you can make use of some sales they have on their website to save you some money.
You can save 5% off your first purchase if you sign up with them. Another way to save money on shopping is by looking through their sale catalog, which is available on their main menu.
You can also save by purchasing through the pack deals catalog, which is also found in the main menu. If you purchase something from Clothing Under 10 that doesn't meet your expectations, they do have a return policy.
You can return your items within 30 days of the receipt in which you will either get a full refund or store credit. There are some exceptions though: sale and shapewear items cannot be refunded as well as items with signs of wear.
Cancellations are possible within 24 hours of purchase.
Online Reviews & Complaints
Reviews on Clothing Under 10 are rather difficult to pinpoint. They seem to be more of a hit and miss sort of situation. You might be asking "is Clothing Under 10 safe?" or "is Clothing Under 10 reliable?" It depends.
First off, there aren't a lot of reviews about this website to start with, which may generate some skepticism among new buyers. The reviews about this website on BBB have been fairly mixed too - it's either a 5-star review or a 1-star with no in-between.
Those who had a good experience with them mentioned the products being of high-quality, fit well and were comfortable to wear. However, the complaints did seem to have a specific pattern.
Clothing Under 10 seems to often make mistakes when sending their products, such as sending 2 of the same items rather than 2 separate products. Their shipping tends to take at least a week if not more and customers are only given a 30-day time span to return the item.
Some customers have complained that they were not able to return their products on time due to the lengthy time the shop takes to send their products in the first place.
Where to Buy?
As Clothing Under 10 is an online store, purchases are to be made online. Upon completion of the purchase, your items will be shipped to the address you have specified, within or outside the US.
Clothing Under 10 has also taken the liberty to accept orders by phone. You can place your own order through their phone number at 305 944 1616.
Competitors and Alternatives
Clothing Under 10 isn't the only business setting low prices on retail items. Here is how they stack up against some of their competitors.
One alternative is 5DollarFashions and as the name suggests, a lot of the product options available are about $5 after being discounted on their webpage. This online store does have the same target market while providing lower prices.
However, Clothing Under 10 does have a larger collection of items to choose from, even if at a slightly higher price. 5DollarFashions does have plus-sized items though that are not limited to pants.
As Clothing Under 10 only has plus-sized pants, this is a good alternative for some plus-sized tops or dresses.
The 10DollarRack is one of the few online businesses that aren't playing games with their branding. All their products are exactly 10 dollars at full price and they rarely feature discounts.
However, this brand has a very limited number of products to choose from at any given time.
They do not feature many plus-sized items and do not feature any menswear.
Lastly, 6DollarShirts is a business in the same pricing category, but of a completely different style. As their name suggests, they specialize in tee-shirts for both men and women, but also feature other tops such as hoodies or sweatshirts.
6DollarShirts does not sell any other type of clothing other than tops. However, they do provide some discounts on special deals or clearance items.
The Bottom Line
Thanks to their good business relations, Clothing Under 10 is an online business that can provide customers with a variety of women's clothing options at a very competitive price.
Their main mission is to satisfy their customers, so you can always return or cancel your purchase if you feel the need.
When compared to its competitors, Clothing Under 10 has a firm stand in its position due to its large variety of options within the same price range.
If you have any experience with Clothing Under 10 or their products, please leave your reviews below.
You may also be interested in
Clothing Under 10 Customer Reviews