Clatterans Reviews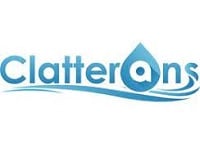 You may also be interested in
Clatterans Customer Reviews

Garry C
same filter you can buy on ebay for a fraction of the price
Just received my order, same exact Chinese manufactured filter they sell on Ebay just with a different sticker, same color same everything,,just changed the wrapper. Contacted them and they explained their filters were made in China just like the others.. I assume they work ok,,have no reason to doubt that but their website makes you believe you are getting a high quality product instead you get the Chinese filter same as every one else sells

Lucy
Works great for our fridge
Already ordered the second filter! Works great for our fridge! This Frigidaire Ultrawf filter makes our water fresher and tastier. Happy to find it online.

Mcardle
I purchased this in November and finally installed my first filter yesterday replace the original. So far I am ver6 impressed. The water taste was my main concern and it tastes great. My family also seems to be happy with the taste. It actually seems to be more refresening if that's possible. The original water filter was only yielding four months and that was squeezing the last month out of it. So I will be back on life quality. So far everything that I researched seems to be accurate and I couldn't be happier.

Christine R
This water filter replaced my original factory installed filter on my Whirlpool Gold Series french door stainless steel fridge and there was NO noticeable difference in water taste, noise, or dispensing water pressure. Installation was easy. The quality of the filter didn't feel like a cheap knockoff. I will buy again.

Anne
Clatteran's replacement water filters are an exact fit! I was skeptical before buying, now I'm convinced. Clatterans also has unbeatable prices! I will be a returning coustomer, again and again! I give 5 stars~!!!

Belinda
We're on our second filter now. It's easy to install. Pop the old one out, push the new one in (after removing the two plastic covers on the end). It comes with instructions for simple installation and running the water through for up to 4 minutes before use. The water tastes fresh and cold. Very pleased with this Kenmore 9999 water filter.