Circa Knee Sleeve Reviews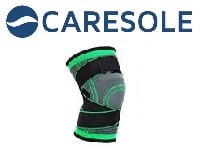 The Circa Knee Sleeve is a brand of knee compression sleeve that the seller claims is an affordable way to relieve chronic knee pain while allowing one to live a full active life.
The sleeves have been aggressively advertised online through the company's website and a large number of affiliate marketers.
How Does it Work?
Knees are among the largest joints in the human body and play an important role in supporting body weight and allowing daily functions like walking, sitting, and standing.
Compression clothing works by increasing blood flow to the body part on which it is worn, which keeps your body warm while still allowing you to move freely.
There is evidence that keeping your knee joints moving rather than avoiding activity completely may be beneficial to pain relief and recovery.
Studies have also shown that wearing compression clothing can reduce swelling after physical activity.
The Circa Knee Sleeve is made from neoprene, a fabric that has several advantageous properties including heat retention, which allows you to keep your knee joints warm, and good elasticity, which Caresole claims allows for full range of motion and comfort during wear.
The Circa Knee also offers a non-bulky, sleek design which permits you to get knee support while wearing any outfit, as it can be worn underneath clothing.
So, are Circa Knee Sleeves legit?
While compression clothing certainly offers benefits, the Circa Knee is not the miracle cure it may appear to be at first glance.
Customer Reviews & Complaints
If you are searching for positive customer reviews of the Circa Knee, you will find them only on Caresole's website.
If you search elsewhere, you will find customers that are dissatisfied with the quality of the product, long shipping times, and the lack of customer support provided by Caresole.
Many customers were disappointed in the fit of the Circa Knee, while several others claimed that the product did nothing to alleviate their knee pain, and others were distressed to find that the sleeves cut off their circulation.
Some also noted that the fabric was thinner than expected and that the packaging was disappointing. The complaints only continue from there.
Many customers were unable to get a response from the customer service team and several complained that they had not received their orders due to long shipping delays.
Customer Service
If you need to get in touch with the Circa Knee customer support team, you can send an e-mail to [email protected].
Be warned, however, that Caresole receives an F rating from the Better Business Bureau.
Based on the experiences of previous customers, you should expect to wait a long time for a response if you receive one at all.
Cost & Price Plans
Currently, the price of one Circa Knee brace is discounted from $62.38 to $24.95, although it is not clear how long the sale will last.
We should note that the offer page claims this 40% discount is a one-day-only deal, but the same offer has appeared for the past several days which is certainly misleading.
Where to Buy?
You can purchase a Circa Knee Compression Sleeve only through the company's website at BuyCircaKnee.com.
The Bottom Line
Unfortunately, about 25% of adults suffer from chronic knee pain that disrupts their daily lives.
Many who suffer from knee pain fear that their only options for relief are expensive, addictive pain medications or knee replacement surgery, the rate of which has risen in recent years.
The market for compression therapy through use of garments like stockings and sleeves is growing and provides a non-invasive treatment option for those who suffer with knee pain.
However, we are confident in warning against purchasing the Circa Sleeve.
Customers have complained about everything from the poor quality of the product to the terrible customer experience.
If you're looking for a solution to debilitating knee pain, it may be a good idea to look elsewhere.
If you have any experience with the Caresole Circa Knee Brace, please leave your reviews below.


You may also be interested in
Circa Knee Sleeve Customer Reviews

cat m
Go to Amazon where the sizes are up to XXXL & there are several vendors & manufacturing styled & prices start at $10, free shipping, easy returns.

Val
Women's Curca Knee Sleeves
Had it said anywhere in the advertising that it was an American company and the $69.00 was US Dollars I would not have ordered them. I was happy to try them out at $69.00 to see if they could assist me but I would NEVER HAVE ORDERED THEM at the $145.49 that was the charge that came up on my NZ Visa card immediately. Pretty Poor Promotion I think.

Gary L
Do Not Buy Anything From Buycirca
Do not buy any product from this sham of a company!! Buy your product from Amazon. 24 hour cancellation policy no where is that visible on the website!! Takes weeks to get product after you are told 48 hours. Amazon will deliver free in less than 48hrs along with other Vendors. One star for me being an idiot and buying from Buycirca!!

Scott R
Total scam! Run don't walk from this company!
Worst company ever! Refused to give me shipping information. It's been weeks and I have not seen product. Had to contact my credit card company to refute charges.
Total scam don't waste you time or money.

John
Caresole customer care experience.
I bought two Circa Knee supports, the Product appears to be well made but unfortunately the XL size is too small for me. Having read some reviews criticizing Caresole Customer Care Dept.
I was about to just accept that I had paid for something that I wouldn't be able to use - but I did contact Caresole by email, my email was answered in rapid time and an acceptable agreement was reached immediately regarding a refund.
My experience with Caresole Customer Care couldn't have been faster nor more satisfying. All praise to them.
John.

Gary M
I ordered the knee wraps March 9th 2021 from the company Caresoul, and they lied. Said I ordered March 25th 2021, and I contacted Amazon to get help. What they did, is send two sizes too big - on purpose a month later, without telling me where it came from.
They don't realize I have paypal confirming it is Caresoul. They know I know they are crooked and they didn't send the right size, after all this trouble with them. They know if I have to pay to ship back the wrong size they would never give back my money.
I'm writing this not for you to start another legitimate inquiry into Caresoul. I take it as a loss, but think it would be wise for people to stop doing business with this awful cheating lying company.