Checks Unlimited Reviews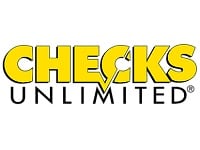 Checks Unlimited describes themselves as one of the nation's top direct check manufacturers, as well as the first major direct mail check printer to offer exceptional, high quality checks.
How Does It Work?
According to their website, while they understand that consumers can simply go to the bank that maintains their checking account for them to order more checks, the pricing of those checks can often be higher than what you will find on their website, and the designs on those checks are often boring, standard, and limited.
Checks Unlimited states that when they initially introduced their service, they offer 13 different check designs but have since grown to offer more than 70 different kinds of designs for personal checks.
In addition, this company also offers Business Checks, Accessories, Special Offers, Best Sellers, Photo Products, and more. The website says that they are licensed to print checks that include "many of America's favorite icons and characters."
When you go to this website to order your checks, you must have your bank information ready, including the number of your checking account and the routing number where the account is located.
Cost/Price Plans
The prices of the products on this website will certainly vary, as it depends on the type of product you are getting, the type of design you may order, and the volume of product you choose to order.
The cost of their products also depends on another factor as well, which is whether or not you are a first time customer.
The website states that first time purchasers have access to low introductory pricing, while customers making repeat orders will become "valued customers" who are eligible for special reorder deals and offers.
Refund Policy
This website does not provide any information regarding a Refund Policy.
Because of the highly personal and customizable nature of this product, it seems as though the only way to get a refund would be to cancel the order before it is printed, or if the checks are misprinted as a result of the company's error, and not of your own.
Customer Service Contact Info
Customers who would like to contact Customer Service with any questions, concerns, or complaints can do so by phone at 800-210-0468 or by submitting them directly to their website through their Contact Us link.
Reputation
Unfortunately it appears that Checks Unlimited does not have the best reputation online, for a few different reasons. The first and most frustrating reason appears to be their billing policy, which is briefly mentioned above.
This policy states that all their low, discounted prices are available only to brand new customers who have never ordered from their website before at any time.
This means that returning customers – even if they are return many years later – are actually penalized for ordering from the same website again.
But perhaps more bothersome was that the website itself doesn't seem to have the ability to inform people of this.
Instead, people's checks simply never arrived and only when they called to check on their order were they told the order could not be completed unless they paid the company more money, resulting in a very frustrating experience for the customer.
Competitors and Alternatives?
Customers are always able to order checks through the financial institution where they currently have a checking account, and there are also other independent checking printing websites that are partnered with financial institutions if you are unable to find the product or price that you want from this website.
If you have any experience with Checks Unlimited or their products, please leave your reviews below.
Checks Unlimited Customer Reviews

JT
I wish a negative rating option was available however I doubt the number rating would be low enough. I ordered ONE box of duplicate checks in Jan 2023. Never got the order and apparently untraceable.
I have called/emailed multiple times about a refund for $21. I've sat on hold a minimum of 20 minutes each time because of "high volume calls" bs. Initially I was told refund would show up in my bank acct in about 2 weeks, that was in Feb. My 4th call in March I was told the refund was showing it should have been processed but it never went out and "she" was going to look into it.
That same day I emailed them AGAIN and the only reply I got was a generic "We apologize that we are unable to assist you with your billing inquiry" and to pleas contact their CSR.
When I do call I get put on hold forever and the feed me some BS about how the financial place that does the refunds is separate from their company and is literally in another state (about which I do not care), is having "issues" and nothing can happen until "April 19th".
Also, I'm supposedly not the only one this has happened to. A week after that call I get a credit memo in the mail with an envelope for payment. I'm pretty hot at this point and call for answers and get more scripted BS.

Paul L
Service is Secondary to Adding Unneeded Fees
I attempt to reorder checks from Checks Unlimited. Their website is poor and is focused on adding unneeded charges to your order. I called in and received the same attitude with their staff. I went elsewhere.

Peggy
I wish there was an option for a no star rating. These people are fraudsters.
Buyer beware. This company is very crafty at gouging you double the price of check order. There was an on line promotion which I fell for. Charge for checks was $15.99. They charged my account $75.00. And the customer service supervisor could have cared less to retain me as a customer.
I found a more reputable check ordering service.
Checks.com.
$22.00 for 200 checks. This price includes taxes shipping/handling.

Joy H
I recently ordered some checks with these people thinking it would be about 26 or so dollars like always in the past, I then notice in my bank statement later that they removed 129.74 dollars from my bank account! They charged 72.00 dollars for apparent checks, and all the rest for tax, shipping blah, blah, blah!!
When I contacted their manager by phone, she would not admit I was never informed of this high amount of money that I NEVER would have ordered if I had heard that total on the phone that day!!!
Do yourself a huge favor and order your future checks from a much more reputable business (unlike Checks Unlimited), in the future. Don't let them burn you as well.

William F
Fraudulent business Practices! Should be put out of business!
Should have a negative number. I had used these guys for checks for over 30 years! So I order 2 BOXES of checks. The last boxes had 250 checks in each with 5 packs of 50 per box. I receive only 4 packs of checks, not even one full box. When I call I get a very rude woman telling me that now I get only 100 per box. However, note that they send me the "box" which still hold 5 packs! So what they sent did not fill ONE box. This is mail order Fraud pure and simple. Don't ever use them!

Soo B
Don't buy from Checks Unlimited
I ordered and sent a check to pay, I check marked "NO" to all the upsell items and included the fee for shipping. They sent me my order fine no 3 months later I have a $12.00 bill from a collection agency from them. Horrid cheater company DO NOT USE THEM.