Cheapflights.com Reviews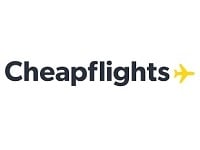 Cheapflights.com is a travel search engine which states its dedicated to helping their customers find the best possible travel deals, whether you are searching by flight date or by location.
Cheapflights.com was established in 1996 in the United Kingdom; their website says they were the first travel search engine and flight comparison website. In May of 2003, the website expanded their business into the United States.
This website does not sell tickets. Rather, Cheapflights is a search tool that aims to simplify the search for airfare tickets, as well as providing their customers access to deals and travel guides.
Their search feature allows you to look for airfare and deals in multiple different ways. First, they have a location based search feature, which allows you to find special deals and the best airfares out of your home airport and to a specific location, rather than tickets based on the date of travel.
This search feature is excellent for travelers who are flexible with their travel dates and are simply interested in the best overall deal for their vacation plans.
If your dates are not flexible, you can search for airfare based on the dates of travel and the location to which you are traveling. You can even include which airlines you wish to travel on, which benefits travelers who belong to frequent flyer clubs.
When you search, all fares and deals will include taxes and fees, so the prices you find will be reliable. However, Cheapflights.com does not actually sell the tickets themselves. Rather they will redirect you to the airline or hotel to finalize your purchase.
This means that if you have any complaints or issues, or need to reschedule your travel, you must contact the merchant that you actually purchased your ticket or reservation from. If you cannot remember, you can contact Cheapflights.com with your confirmation number to receive assistance or contact info.
If you have any experience with Cheapflights.com or their services, please leave your reviews below.
Cheapflights.com Customer Reviews

simo t
never again this is a joke don't do it lax to sydney cancelled my ticket had to call some on in india , cost 899 $b no refund, lernt my lesson
DON'T DO IT

Joanne C
Do not stand buy their products
Do yourself a favor. Don't buy from this company. I paid an additional $30.00 to chose a regular set( get that free online with airline ) only to find out I don't have the seats.
Went on airline website to check on things to find out seats I paid for months ago I don't have and now there are almost no seats left. Called them to be told sorry we'll refund your money asked for supervisor told same thing. I said that doesn't help me with seats. She hung up on me.
My husband is recovering from knee surgery and needs an aisle for his knee. Which is why I paid the extra money he also needs my help. I'm now two rows ahead of him. I can't believe how badly I was treated. American Airlines said you have to deal with company you bought the tickets from. That leaves me no where. Can't believe the total lack of responsibility and customer service. Zero rating for them!

Kodi K
Do not share any personal information with them.
Scam! Not to be trusted with any of your personal information. Keep claming that credit card was declined but credit company has no information of any transactions being declined.

Perla
Not to be trusted and headache dealing with them
Don't book through them. Couldn't go on my flight (thank god maybe I would have had more issues with them). But 4 months later I'm still trying to get my refund back. Every time I call it's a different reason as to why I can't get my refund back and that they are working on it. Their site shows they issued my full amount back and I haven't gotten one ticket refund back. Such a mess, tried to dispute through my credit card company, no luck. Also had different charges appear on my credit card after purchasing my tickets...

Delilah B
Would rate below 1 if I could.
Total RIP off. Add 100.00 to your fare. Every thing is nonrefundable even in emergency and won't exchange. You get charged for carry on at airport. Liars. United ended up helping us on ticket this fraud sold us. They deceive you. Use any company but this one

Sahil C
Worst! Worst! Worst!
The worst experience of flight booking on internet till date.
I booked a flight on 18-09-2018 today morning from Bangalore to Delhi for November. They sent the 'order mail' after the payment was done. Now they call in evening and say your booking is cancelled due to Fare Fluctuations, we will refund the amount.
When your processes are so slow why the hell are you in this business even?
And How can a trusted airline like Vistara trust these fraudsters?
Over this, their Supervisor- Mr Gurpreet from Gurugram office has the audacity to say that ticket will not confirm what so ever happens.
P.S.- 1 star because it's mandatory to give rating.
NEVER EVER think of booking flights from CHEAPFLIGHTS. Bloody CHEATFLIGHTS.

L Z
Horrible - in fact, total scam
Do not use!
They sell you the tickets on one price, take your money, and a few days after new charges will appear on your card - they call it "post-flight " (!????!!!!???) charges. Therefore your ticket will become more expensive that if you buy it from a reputable place or carrier.
And then they had an audacity to call and ask how happy was I with the experience!!!!!!
Totally shameless lies. If there would be negative rating - they would get -10 from me

Edmond M
DO NOT USE THEM!
Not reliable at all, so far I had a dismal experience and I am still not sure I will get my money back. Just one day before the flight is schedueled, I discover that my booking was cancelled, that supposadly my credit card payment did not go thru! While I was charged and received an email confirming my reservation 45 days ago.
If I haden't called them to check on the status, I would not even know that my reservation was not valid any more!
I had to rebook at double the price through Expedia and now I am checking the initial payment issue with my bank.
DO NOT USE THEM!

Prince V
ITS TOTALLY FAKE... FIRSTLY THEY LOOK LIKE EFFECTIVE AND CHEAP[ IN COMPARISON. VERY SMART WAY TO MAKE FRAUD. ONLY TO SAY BEWARE PLEASE.

Wanda
Can't Trust Their Prices Book Directly with Carrier
If I could rate less than zero I would.
Horrible customer service and very unprofessional.
I booked a flight for a business trip and waited 4 days for the confirmation email. I did have the reservation number and had been checking daily for any updates. I finally called because no payment had posted against my account.
I was told by the rep that my flight plans had been canceled. I asked why I had not been informed and why had the reservation been canceled. The rep could not provide an explanation. I had to insist that he verify my email that was on file.
He finally indicated that the price I paid was no longer available and that he could place a new booking. I did not feel comfortable with that and so I declined.
I then went right to the carrier and received the confirmation email and the payment was processed in less than five minutes.
I paid 25.00 more because of the delay. Lesson learned is to cut out the cheap flight middle man and deal directly with the carrier.
CheapFlights.com is completely useless.

Mike
Absolutely useless....and depending on whether I get a refund for the 'holding' deposit, possibly fraudulent. Booked a 'deal' flight, only to be told that I would not actually receive the ticket until 2 months down the line.....after they took the holding deposit. Their agents Luke and Edwin are untrustworthy and basically liars. Apart from that they are great!! Would not touch them with a double barge pole!!

Donna A
Be aware that the total fare may be higher than if you book directly with the carrier. Although the fare was posted as "Cancel or change at no charge", you must change/cancel within 4 hours otherwise there is a hefty charge. I am sure that is probably imbedded in the fine print somewhere on their website.