CharmDate Reviews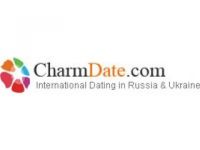 CharmDate is an online dating website which states that they are the most popular international dating platform for men around the world to meet women from Russia and the Ukraine.
How Does It Work?
According to the website, CharmDate.com has a very simple mission, which is to provide their members with "safe, easy-to-use, and language-and-cultural-barrier-free services" to meet and date women from Russia and Ukraine.
Once you have signed up for their service and created your own member profile, you will be able to search through other members for free.
Whenever you are ready to begin interacting with other members, you will have access to a variety of different services including Live Chat, Love Call, Video Show, EMF Mail, and more.
Their website says that in order to provide one of the largest international dating platforms available, they have partnered with a huge network of local dating agencies, which they say makes "meeting a perfect match" as easy as possible.
Cost & Price Plans
Unlike other websites, this company does not charge their customers monthly fees for using their service. Instead they rely on selling their customers credits for the features on their website.
Their website does not openly publish the prices of these credits to the public; you will need to sign up as a member to see all relevant pricing.
They do say, however, that the more credits you purchase at a single time the more affordable they will be. Credits will also be good for 180 days from the date of purchase.
Refund Policy
This website says that the money their customers pay for credits will be considered non-refundable, except in cases detailed in their Terms & Conditions.
Customers that refer to Terms & Conditions to see what circumstances will result in a refund will see that problems with a lady member of the website can sometimes justify a refund, though the website does not mention what kinds of problems they are referring to.
They do say that in order to receive a refund customers will need to be able to provide them with "the service provider ID or lady member ID and any other supporting information or proof that may be available."
The bottom line appears to be that customers should not expect refunds except in extreme cases where they are able to prove misconduct on the part of other members.
Customer Service Contact Info
Customers who would like to contact Customer Service with any questions, concerns, or complaints can do so by submitting them directly to their website through their Contact Us link.
Reputation
This website has many, many angry critics out there who believe that the women who are on this website are actually paid employees and not "real" women who are looking for international dating and relationships.
This hasn't been verified, but there are many customer reviews that lay out why they believe this is the case, including some reviewers who claim to have set up multiple different profiles to "test" this website and who say that they received basically the same emails and communications from female members, nearly word-for-word.
Customers can make the choice for themselves about whether they are just interested in some fun entertainment and would still like to use this website, or if they are genuinely interested in pursuing a real relationship and will need to find another website for their needs.
Competitors and Alternatives?
There are actually many, many different online dating sites that customers can use to meet people internationally so if CharmDate.com does not meet your needs for whatever reason, there are many other options available that may meet your needs better than this website.
If you have any experience with CharmDate or their services, please leave reviews below.
You may also be interested in
CharmDate Customer Reviews