CeraLift Reviews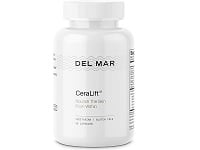 CeraLift is manufactured by Del Mar Laboratories, the same company behind products like HydraGlo and NutriTress.
All of the company's formulas are designed by an award-winning plastic surgeon, Dr. Paul Chasan.
Through his work, Dr. Chasan realized that most moisturizers and serums do little more than provide superficial benefits and do not address underlying causes of aging.
Del Mar Labs states that CeraLift is formulated to deliver nutrients required for youthful, beautiful skin from within. Those, in turn, are intended to boost collagen production, improving skin elasticity and overall health.
How Does CeraLift Work?
The science behind CeraLift is the same as that behind other vitamins and supplements taken orally.
Creams, serums, lotions, and other topical products might address short-term dryness, but they do little to increase the body's production of collagen and other elements required for healthy, youthful skin.
CeraLift includes a patented, proprietary combination of 10 different ingredients that work in tandem.
The formula is intended to replace the skin's failing Ceramides – waxy lipid molecules (fatty acids) naturally found in the skin.
In healthy skin, ceramides make up about 50% of the skin's outermost layer. There, they promote healthy cellular function, create a barrier that locks moisture in the skin, and is thought to protect the skin from environmental damage.
However, over time, ceramides are lost. The result is dry, dull skin, as well as wrinkles and lines.
Taken regularly, CeraLift is intended to replace lost ceramides, strengthening the molecular bonds within the skin and improving its appearance and health.
CeraLift's ingredients include:
Vitamin C
Vitamin D
Copper
Manganese
The proprietary anti-aging blend, which includes:
MSM
Grape seed extract
Turmeric extract
Ceramosides phytoceramide extract trans-pterostilbene (from wheat seed)
CeraLift Side Effects
Most people taking CeraLift experienced no side effects at all. Some did note a minor rash, as well as hot flashes and night sweats, but there is little evidence those stemmed from taking the supplement.
Del Mar Laboratories states that CeraLift has been formulated to be safe, without side effects, and non-addictive, and that they are not aware of any potential food or supplement interactions.
With that being said, you should always consult with your doctor before starting a supplement regimen to make sure it is safe for you.
Is CeraLift Safe for Vegans?
Yes, CeraLift is manufactured without any animal-derived ingredients. This includes the MSM in the product, which is sometimes derived from shellfish.
Del Mar Labs uses a non-shellfish version called OptiMSM, which makes it vegan-friendly. It's also Halal certified and Kosher.
Cost and Price Plans
CeraLift's cost varies depending on the number of tablets you purchase. Currently, there are three options available:
Single bottle - $49.95 + shipping – This is the best option for those who are attempting to determine whether CeraLift is effective for them.
3 Bottles - $39 each w/free shipping – If you have tried the product and are happy with the results of the age-erasing CeraLift capsules, this is a good option.
6 Bottles - $33 each w/free shipping and a FREE bottle of HydraGlo – If you're a confirmed fan of CeraLift pills this is the best choice.
Note that each bottle includes 30 capsules and the serving size is one capsule. It is also possible to "subscribe and save", which not only reduces the cost by 10% but also eliminates the hassle of having to reorder.
Customer Service
Every purchase of CeraLift is backed by Del Mar Labs' iron-clad, one-year guarantee return policy. If you are not satisfied with your purchase, simply return it for your money back.
You can reach Del Mar Labs by phone, email, or by snail mail.
The company's customer service phone number is: 1-888-361-8645
The company's customer service email address is: [email protected]
The company's physical address is:
Del Mar Laboratories
1111 6th Avenue, Suite 300
San Diego, CA 92101
Customer Complaints & Reviews
CeraLift has generally positive reviews. However, there are a few common complaints found within Amazon customer reviews, including:
CeraLift is not FDA approved. However, as a supplement, it is not subject to FDA approval in the same way that other supplements are not.
Some customers did not notice a change in the appearance of their skin within two to four weeks.
However, positive customer reviews far outweigh complaints, with most customers happy with the results and the timeline, and expressing the sentiment that CeraLift is a good product that is safe to take and effective.
Where Can You Buy CeraLift?
You can purchase CeraLift through the Del Mar Laboratories website, but you can also find it through Amazon and other retailers.
Competitors and Alternatives
As with any beauty product, CeraLift does have several competitors and alternatives. Vital Proteins Collagen Peptides Powder and Collagen Beauty Glow are just two examples.
For direct alternatives, you might consider Life Extension Skin Restoring Ceramides or Nature's Way Hydraplenish. Tru Niagen® offers similar results but uses a different active ingredient blend.
The Bottom Line
Based on the number of positive reviews, before and after pictures, and genuine consumer reports about its effectiveness, CeraLift is worth trying.
While it may not be effective for everyone, it is a worthwhile consideration for those who are seeing dry, aging skin, particularly on the face and neck.
It's an alternative to serums, lotions, creams, and other topical products that just do not seem to work.
If you have any experience with CeraLift or Del Mar Laboratories, please leave your reviews below.
You may also be interested in
CeraLift Customer Reviews

Juliet M
Ceralift has been the best that has happened to me.
I wish to meet Dr. Chasan in person so that I can thank him for his wonderful work.