Carvana Reviews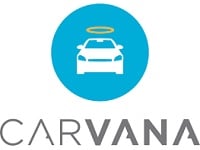 Carvana is a company that states their goal is to help people in the southeastern United States with a convenient way to find and purchase a high quality used car.
How Does Carvana Work?
According to their website, the goal of Carvana is to help people find high quality used cars at lower prices because this company eliminates all unnecessary spending, choosing to operate their used car business entirely online.
Customers can use this website like any other online used car finder website, searching by Make, Model, Year, Mileage, and other features of their desired car, with one important difference: on Carvana, when you find the right car for your needs you can buy it directly from their website, with no need to ever visit the dealership.
All cars for sale on Carvana have been evaluated by their inspection team and are only sold through their website if the car is accident free and can pass a 150 point certification process.
Currently this service is only available for customers living within a 100 mile radius of Atlanta, Nashville, Charlotte, Raleigh, Birmingham, Dallas, Houston, San Antonio, Austin, Miami, Orlando, Jacksonville, Tampa, Richmond, and Washington D.C.
Customers living outside of these areas are welcome to use their service, but they will be required to fly in to pick up their car themselves or they will be required to pay a substantial delivery fee.
Cost & Price Plans
Using this website is completely free of charge, and it is up to each individual buyer to determine whether they would like to pay for their car with cash, credit, or any kind of available financing options that they either arrange for themselves or that they can request be arranged by Carvana's financial partners.
Customers should keep in mind that all rates, down payments, and other associated fees are based on your credit history and other factors.
Refund Policy
After you pick up your car or have it delivered to you, you immediately begin the Carvana 7 Day Test-Own period, where customers are able to drive their car and even take it to a mechanic for an inspection if they choose.
Customers who determine during this time period that they are unhappy with what they have received can contact and arrange a date and time for their company to retrieve the car from you and to refund your payment in full.
Customer Service Contact Info
Customers who are interested in contacting Customer Service with questions, concerns, or complaints can do so by phone at 800-333-4554, by email at [email protected], or by submitting them directly to their website through their Contact Us link.
Customer Reviews & Complaints
Carvana actually does seem as though they have upset some customers in the past as it is fairly easy to find reviews from people who were really unhappy with their experiences, and even customers who say they believe that Carvana is a ripoff.
The most significant complaints had to do with the trustworthiness of this website and their employees when it came to providing customers with a fair and accurate understanding of both the car they were purchasing and the financial terms of their purchase.
Customers complained that when they picked up the car they purchased they found damage that wasn't disclosed on the website, and other customers said that the price they were initially promised on the car was changed before the sale was finalized. Both of these types of complaints are very concerning for prospective customers.
Those who may still want to use this company to purchase a car should make sure to take advantage of the time period in which they have to try the cars for themselves and return it if they are unhappy with what they find.
Competitors and Alternatives?
This concept of purchasing used cars online is actually growing in popularity and is becoming available through a few different retailers at this time, including Vroom.com, so buyers and sellers will have multiple options if it turns out that this company doesn't have what they need for any reason.
If you have any experience with Carvana or their services, please leave your reviews below.
You may also be interested in
Carvana Customer Reviews