CafePress Reviews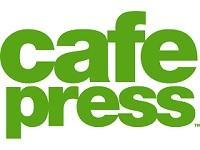 CafePress is an online retailer of stock and customized on-demand products including t-shirts, mugs, shower curtains, posters, hats, iPhone cases, greeting cards, clocks, bedding, and more.
Customers can customize stationary, stickers, invitations, and calendars with your very own designs. It is easy to setup and view through their user friendly design platform. For on the go orders, you can download the smartphone application for the iPhone or Android.
Prices are based on the product, the image and the quantity of the item ordered. CafePress.com offers bulk discounts which are great for schools, businesses, organizations and special events. Each order comes with a 100% satisfaction guarantee and you can return the order within 30 days for a full refund.
Artists are afforded an outlet to sell their own design work through CafePress online shops. There are no upfront fees to open a storefront and you can offer as many designs as you wish. There are approximately 3 million virtual shops accessible through CafePress.com.com, each one having numerous designs to choose from.
Each design is marked up to ensure the artist will earn money when their artwork is selected for print on an order. Since CafePress.com does all of the printing and handles the payment and shipping, there is very little work for shop owners to do.
Even though CafePress.com has a good reputation, the competition has grown fierce. Many other websites have taken away from their customer base.
This has had a significant impact on the artists' earnings and consequently they have not been making as much money as they once had. Another pitfall that artists are succumbed by is the number of other designers and shop owners on CafePress.com.
Most of the customers' comments online were positive; they found the products to be of considerable value, the customer service to be helpful and the site easy to navigate. Many customers' reviews also displayed their contentment with the speed and efficiency of their transaction. The products were printed and shipped in a very short amount of time.
Of course there were a few online complaints from customers who experienced issues with their products ordered through CafePress.com.
While some of them were not pleased with the image others were not happy with the quality of the product. Additionally, it seemed that customers outside the U.S. had encountered issues with shipping and delivery; this is somewhat common when shipping internationally.
If you have any experience with CafePress or their products, please leave your reviews below.
CafePress Customer Reviews

Kevin E
These guys are scammers. First they tell you that you earn 15% commission on all sales but then months later you find out it was a lie and they're only giving you 5%. Then I find out that you also have to pay a monthly "shop fee". There is no way to make any sort of profit under these circumstances. Also, when you call to inquire about your earnings they're very, very cagey about telling you anything and the mysteriously can't find your information. They're either complete scammers or totally incompetent at business, and I believe it's there former.

Karen
Horrible company! Do NOT order!
I ordered a pug ornament. It was delivered late. It was a cheap ceramic piece of crap that was not even printed correctly -- was printed off-center. It looked nothing like the picture of the product online. I paid $18.39, so I expected something with at least some type of quality. Forget about it. They should be ashamed. This is a horrible company! Do NOT order from them!!!!!

Brittany P
Good except for shipping issues
It's good they have lots of items but my most recent order i am having shipping issues, my latest order the shipping has been updated by dhl and a week+ has passed, i don't want is going if the package is missing or it's just taking a long time.