Cacao Bliss Reviews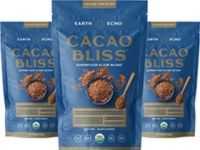 Did you know chocolate is actually good for you? Although, not the way most of us eat it.
Modern processed chocolate is widely known as an unhealthy food and something to either indulge in or turn down if you're trying to lose weight.
However, the cacao bean, which is the raw ingredient for chocolate, is one of the world's best sources of antioxidants and can actually improve your health.
After discovering these benefits, Danette May created Cacao Bliss so everyone can enjoy chocolate without the negative side effects.
What is Cacao Bliss?
Cacao Bliss, by Earth Echo, is a cacao based nutritional powder that's been infused with superfood extracts.
You can drink it like hot chocolate or add it to your coffee, smoothies, or baked goods to incorporate the delicious flavor of chocolate with none of the guilt.
Danette May, a certified fitness professional, created Cacao Bliss to help people with uncontrollable sugar cravings, especially for chocolate. She set out to create a treat that can actually support health and fitness goals rather than sabotage them.
The idea came to her after trying tejate, a traditional healing raw cacao drink, while on a spiritual retreat. Realizing that modern chocolate lacks these same benefits her superfood version was born.
What are the Ingredients of Cacao Bliss?
In addition to raw cacao bean powder, Danette has created a blend of several other superfoods to really drive home the health benefits.
The ingredients include:
Cacao bean
Coconut nectar
Cocoa bean
Turmeric root
Himalayan sea salt
Cinnamon bark powder
Monk fruit extract
Lucuma fruit powder
Mesquite pods powder
Black pepper
If you are at all familiar with health foods, you'll likely recognize these high quality superfoods and their major health benefits.
Turmeric, for example, is one of the best spices to promote a healthy anti-inflammatory response, joint health, and relieve sore muscles.
Cinnamon is also loaded with antioxidants and helps you maintain a healthy blood sugar level, which makes it easier to lose weight. These are just two of the power-packed ingredients in Cacao Bliss.
Cacao Bliss is 100% USDA certified organic and vegan, vegetarian, paleo, and keto friendly with no soy, dairy, or gluten.
The back of the pouch includes the nutrition facts, and you'll find that Cacao Bliss is also only 35 calories per serving with less than 1 gram of sugar. This all means Cacao Bliss is a great fit for anyone with restrictions that typically prevent them from eating chocolate, even if the restriction is simply limiting sugar intake.
Additionally, there is less than 1 percent caffeine per serving, which means it won't keep you up at night, and there are no known side effects from ingesting Cacao Bliss.
How Do I Eat Cacao Bliss?
Now that you know about the health benefits of Cacao Bliss, you may want to know how to incorporate it into your diet.
All orders from Danette's site include a free cookbook for digital download, giving you dozens of recipes for delicious, healthy, and easy desserts, all using Cacao Bliss.
Some of these recipes include healthy decadent brownies, cacao energy bites, and low-sugar chocolate cake. This superfood blend can also be simply prepared as hot chocolate for a cozy night.
Cost and Price Plans
Because of the high quality of the ingredients, Cacao Bliss is fairly expensive. One pouch (30 servings) retails for $59.95 through Earth Echo's site. Users can subscribe to recurring monthly orders for a discount.
That comes out to about $2 per serving if ordered through the site, which many would consider too expensive for a cacao supplement, especially when a similarly sized bag of organic cacao powder retails for under ten dollars.
That said, regular cacao powder does not include the additional superfoods of Cacao Bliss and subsequently has far fewer overall health benefits.
You can also get Cacao Bliss Travel Packs if you prefer single-use packets. These are $29.95 for a box of 15, so approximately the same price, though more convenient if you are travelling.
Customer Service
If you order Cacao Bliss directly from the Earth Echo site, there's a 60-Day 100% Money Back Guarantee if you don't like the product.
If you're not satisfied for any reason during this time, just send back your order - even if it's empty - and the customer support team will give you a prompt and speedy refund, so there's virtually no risk for new customers.
You can contact Earth Echo Foods customer service team by emailing [email protected] or calling (888) 321-0405.
Online Customer Reviews & Complaints
Cacao Bliss has tons of happy customers – nearly 1200 reviews on Amazon with an average 4.3 /5 rating. On Earth Echo's site, there are almost 600 reviews with an average 4.6/5 stars.
Customers love the health benefits of this chocolate superfood powder and are excited to incorporate it into their daily rituals. People seem particularly fond of adding it to their morning coffees.
The Bottom Line
While it's on the expensive side, Cacao Bliss allows consumers to indulge their chocolate cravings with only the highest quality ingredients and none of the sugar and other detritus that comes with traditionally processed chocolate.
If you have any experience with Cacao Bliss by Earth Echo, please leave your reviews below.
You may also be interested in
Cacao Bliss Customer Reviews

K S
Earth Echo recieved my package back but never gave credit
I ordered the sample package of Cacao Bliss and a big pack also. After tasting the product and not being impressed I sent back the product as per instructions from company. There was very little product for the price even considering it is a premium product. It make a very watered down drink.
But worse yet I decided to check on my refund after 3 months and they had not credited me even though they had received my shipment back! That is just plain dishonest and had I not pressed the issue they would have just kept my money. Bad company.

Michael S
Great Product, Lousy Delivery Service
I love this product but their shipping vendor is terrible. I ordered my product on June 20, 2021, for my monthly subscription for July and today is July 13th, and still no product. The need to drop DHL and use Federal Express or UPS.

Frank T
Everyone knows how a good Dark Chocolate is Good for Us. But ask your self who needs improvement in their health? Older people and I do not doubt that's a great product. Also in these times there are so many people out of work and cannot afford anything more than necessities.
Honestly I agree as I was reading the advertisement until nearing the end then saw the price. I for Instance am retired with Parkinson's and Florida Is Loaded with us. Wish I could buy your product, but for now I can only read about it. Wish you overwhelming success.
Regards
Frank Teodosio

Betty A
I love this product but when I received my order I didn't receive the free cookbook that was offered. I ordered the family package. I would appreciate it if someone would contact me and send me the free cookbook I would love to continue purchasing this product. My email is
[email protected]
please respond ASAP I. I don't want to stay disappointed. Thank you Betty

Janet
Disappointing & so not worth the cost. Flavor's ok, but nothing special. Bliss--no. The addition of cinnamon, MCT, etc. is unnecessary & just marketing hype. Far less expensive to buy raw cacao powder elsewhere or cacao nibs.

Robert
Great product but too pricey for Seniors
I have used the product and love it. It has only one negative side effect. Seniors living on SS run into too much month at the end of the money. A reduction in cost would help people like me to afford the product at least occasionally.

Anita
Pop up ads are disturbing
Although I am a huge fan ( try it mixed with slow churned vanilla ice cream or in smoothies) I won't buy it again due to the pop up ads trying to get you to buy more! I'd rather get my raw cacao from my own cousins growing it in Honduras!! It did enhance my mood and decrease my appetite and since trying this brand, I am hooked on it. The taste was powdery and too much cinnamon but if you try out the recipes it's good. I'd rather eat a small raw amount and mix it myself with honey than go through the trouble though.

Susan W
I couldn't wait to try this product after reading all if of the wonderful reviews on Danette May's Facebook page, even though it is very expensive. Was expecting a great chocolate taste and instead mainly tasted cinnamon. It is also very chalky and doesn't blend well. I did not like it at all.

Monica
Awful taste pasty texture
I was swayed to buy this by all the good reviews. I tried it making hot chocolate and it is horrible 5 minutes after drinking it I am getting a bad headache. It tastes very processed and chalky.