Cabinets.com Reviews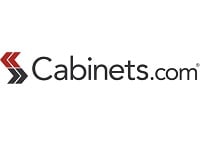 You may also be interested in
Cabinets.com Customer Reviews

Don
Finish good, construction needs work
First off. the delivery was missing two cabinets and two were damaged. So right off the bat I was four cabinets down. Customer service was great in getting replacement cabinets I must say.
Since the damaged cabinets were no good... Of course I needed to take apart and junk. That turned out to be relatively easy since there was zero glue in the dado joints. The dado was a very loose fit and the glue was run down the inside seams were it held nothing. This made pulling them apart by hand Childs play. Construction was 1/2 inch plywood except for the back which was 3/16 inch not their stated 1/4 inch which itself is insufficient since the back supports the whole weight of wall cabinets
. Handle carefully or you may pull them apart.
I also must give the overall painted finish an excellent rating. If only they were built better. Their people are staple crazy... nearly plowing apart joint.

Patricia M
Do Not Buy Anything From This Company
I have been dealing with them trying to correct issues for almost three months. You don't save much money using them, but even if you did, you end up spending much more in the long run.
My kitchen was supposed to be done in mid-December. We're in February and we're not done. My contractor has (very understandably) moved on, so I have to hire a new contractor once I get all the replacements at an additional cost.
The cabinets I purchased, were not cheap. Roughly $24,000.
(LACK OF) CARE OF DELIVERY. It appeared as if the cabinets had gone through a war. My contractor said in over 30 years of business he has never seen anything like it. There was damaged to almost every cabinet
QUALITY CONTROL. In addition to the damages:
o A screw gun had been left in the lazy susan, which caused interior nicks and damage
o A large pantry cabinet was delivered that was not part of my order
o Five items were missing
o The sink cabinet was supposed to be a tilt front and it was not
o A pantry cabinet opened the wrong way
"WORKMANSHIP". This is the biggie. Of about 35 cabinets, only two did not have issues. One cabinet was a different height on each side. The majority of cabinet doors are either different heights on the bottom and top, or the same on the bottom and top but a different width in the MIDDLE. The drawers are multiple widths and do not line up. Most of the larger doors are bowed. These measurements were off by as much as 1/4 of an inch in some cases.
Since there was an issue with the entire kitchen, I tried to speak to a supervisor in customer service, but I was told my only option was to document everything and submit pictures online. This was not a typical case of finding a few issues. There were too many to count. No one would talk to me. I have since written letters and left phone messages with multiple people at the company. Crickets.
So, I'm going to end up with a roughly $50,000 kitchen that I do not want to be in.

Carl
They are the best, in value, construction, design help, customer support and and satisfaction. I have previously bought from the internet and been disappointed, but not here, would buy from them again!!!

Doug D
I had my cabinets delivered and unboxed 3 pieces of the order this morning. I'm very disappointed in the quality of the first three and debating whether to even open the remaining boxes. I have pictures to show the glue seams where the glue is not even close or in the seam but simply adhered to the panel a half inch off the mark. I have one panel that is entirely detached and loose because the nailing and glue missed. I have my base sink cabinet with a back panel that has a 3/8 inch gap to the frame for the same reasons and apparently it is out of square.

Travis
Terrible Customer Service
The buying process is quick and easy but beware if you have any problems with your order and try to have damaged or missing parts you may wait weeks or months for replacements.

Cliff T
Amazing cabinet design help
We just ordered our cabinets and I can't wait to be able to install them. Working with designer Brooke Albright was amazing! We had to make a million changes, but she was nothing short of supporting, encouraging and patient from our initial discussion to what seemed like our millionth change.
Her patience was unending, and her advice or insights were always sound. She was such a joy to work with, each discussion with her left us feeling confident, encouraged and thankful for dealing with someone so knowledgeable and patient. She makes me wish we had another kitchen to renovate just to work with her on another project! She not only cared about the success of our kitchen, but we could tell she cared about us too! She's definitely someone we're going to keep in touch with.

Laura G
I purchased 5 Maple Select Denmark Cabinet doors.
The door panels do not look like natural maple but the style and rails do. The panels have the same exact wood pattern on them and a grey hue. And the grey is so bad my professional painters cannot match the stain on the panels to look right either because of the opaqueness of the door panel. They look fake/cheap. When I contacted customer service for my issue I sent pics of all 5 doors showing the grey hue, the exact same pattern in the wood, and a stained one. They first told me it was what natural maple looked like and that's why the grey hue. But when I pressed the issue and asked about the duplicate patterns and told them my entire house had all maple in it with all the possible variations in my doors, cabinets, base, trim and even plywood on a bar they then changed the story and said I should have ordered a different door and that the one I ordered was stain grade.
The professionals that attempted the stain match who do this all the time knew the panels were not right and I sent pics to a decorator and she said to send them back.

joe
I purchased over ten grand of their cabinets for a kitchen remodel. I had so many quality control issues that there is not enough space here to tell them all. I had two internal roll-out drawers that were scuffed with some kind of black stuff and had never been finished. I had a cabinet that came with the wrong door sizes on it. I had a sink drawer front that they put the little plastic sponge trays on without pre-drilling the screw holes and so the screws left big cracks in the wood on the inside of the drawer face. The 36 inch stove top base cabinet is not designed to fit a 36 inch electric stove top and they do not sell a larger stove top base cabinet that will actually fit one. The 'real' wood corner braces are hot glued and stapled, so they are no better than cabinets with plastic stapled corners. The hot glue does not work at all on wooden cabinets, it comes loose while the cabinets are simply being moved around. The plywood construction of the cabinets is a big plus, but if the cabinet falls apart when being moved around, what good is a stack of loose plywood? The finish on my painted cabinets was good but they use their own 'proprietary' lacquer (which yellows with age) paint blends and will not sell matching paint so I had to do the best I could to paint trim work by color matching at the big box store.The good news is that I was able to make these cabinets much stronger by using the existing corner braces and drilling and installing screws on every corner brace, which made the cabinets much stronger. The cabinets have a polyurethane coating inside and out and that is a very nice feature. Overall I think the company is on the right track but the hot glue and staples just does not make for a sturdy cabinet even if it is made of all plywood construction.

Teresa B
Cabinets.com Read Prior to Ordering
I'd like to share my experience so that you can learn from my mistakes.
The Positives:
First off, the cabinets are STUNNING and amazingly high quality- they far exceeded my expectations for the price. I ordered the Shaker cabinets (a simpler style) in Storm grey stain. Beautiful! Can't say enough about that. The price was also extremely affordable- and they beat all my local competitors by a large margin. The customer service was outstanding. I made several ordering mistakes (I'll get to that in a minute). They were gracious to waive shipping costs and combine orders, which saved me more money. The lady that answered sounded as if she was working in person at a small company- which felt good.
The meh:
These are custom made cabinets. So, they take a long time. It took 3-4 weeks to get to me, and then were custom delivered which took another week. Overall, I can overlook this for the price. They also do not take excess cabinets/pieces back. Again, custom build prevents this. I get it. Don't love it, but I get it. Also in this category is the website. Don't love it, but don't hate it. It was challenging to find things, never did find out how to leave a review there, no search button and no install directions/tutorials. All of these things would make the website great. They also do not have true to life pics. You have to guess, or order samples (which I was too lazy to do).
The bad:
Let me start by saying almost all of the bad is on me... I post it so you can learn from my mistakes. First off, READ CAREFULLY. The cabinets do not come with end skins- meaning they will be unfinished on the sides. This is unacceptable, so you must order these! Second, they do not come with any trim or crown moulding. You must order this. Order enough to make mistakes... I didn't and had to re-order... twice. OUCH. Each time you re-order it takes another 2-5 weeks and lots of shipping costs. Frustrating. I ended up ordering the cabinets. Then the skins. Then the trim. Then extra stuff. Ouch, and embarrassing. (I also ordered another cabinet in there- because they were so amazingly gorgeous, I wanted the wine rack.) all in all, I cost myself about $500 in extra shipping. You can avoid this by PLANNING your entire project from the start, double checking for all trims and skins, then ordering a touch more than you need!!! You can also save this trouble by ordering with a representative- which I did not know.
Overall, stunning cabinets, good price. Order carefully and completely the first time and you will have cabinets you love, that are high end, for a long long time. After all is said and done, I would order again. I love my cabinets that much.

M.J.
I can't speak for the quality of cabinets.com's cabinets because we have not yet received ours. After wondering where our cabinets were, we called to inquire, and only then did we receive a call from the shipper. They "haven't been in the area to bring us our cabinets". My reaction is, well, you should GET in our area and bring us our items that we paid pretty good money for. Right now, very disappointed in the situation and if we could have foreseen this problem would likely have made another choice.

Patsy F
Terrible customer service.; Ordered over eleven thousand dollars of cabinets. Needed to order three more to finish job. It will take three weeks to get the three cabinets. This time line is awful. I have talked to them to see if they could rush the order because the customer needs to move out of her rental. No was the answer. I took less time to get 20 cabinets than three. I have ordered cabinets for cabinet kings which gave me much better customer service. I would never order from cabinets.com again