BullyMake Box Reviews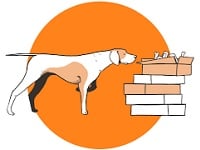 Bullymake is a subscription box that is designed for so-called "power-chewers."
If you have a dog that likes to bite - and likes to bite hard - then these toys are the ones you should know about.
Designed for shredders, rippers, and all-around destroyers, these dog treats are durable and made out of ingredients like hardened nylon and dense rubber.
How Does Bullymake Work?
These toys will help clean your dog's teeth but they won't break unless they are exposed to incredible force.
The company offers a warranty in which you can receive a replacement toy if your dog destroys it in less than 14 days.
Wondering what exactly a subscription box is - or even just what's in a Bullymake box? Subscription boxes are delivered regularly to make sure you always have dog treats on hand - even without reordering.
In the case of Bullymake, you get a variety of products- you never know exactly what you will get.
When you get your Bullymake box, it will likely include one or two toys, both of which are made out of strong materials. You will also get four or five high-quality, high-protein treats.
These treats are tested by the FDA and made in the USA out of 100% natural ingredients. They don't contain antibiotics or additives, and they are vacuum sealed to prevent spoilage until they are opened.
Every box will be different. Some potential ingredients include the popular apple chicken bars, the Bullymake Dentastix, and the Bullymake Quick Tenders.
If you receive a subscription box and find that your dog loves a certain product, you can order it from the website by itself instead of hoping to find it in your next subscription.
Bullymake offers a variety of products in addition to the subscription products.
For example, the Bullymake dog beds are designed for big dogs and crafted with high-end memory foam. These come with a waterproof liner and an impressive 20-year warranty.
When ordering, you can't customize based on the breed, age, or size of your dog, but you can choose various options for your subscription.
Cost and Price Plans
Because it is a subscription option, the longer you stick with Bullymake, the more savings you will enjoy.
The company offers a one-month package that starts at $39, with a full-year price reduced to $31 per month.
Free shipping is guaranteed to all states within the continental United States. There is no international shipping at this time.
If you want to purchase products separately, the prices of these individual items will vary. Most start at around $9, but depending on the product, you may pay a little less or a little more.
There's no free trial option for people who are hesitant about trying Bullymake, but there are substantial warranty options available.
While Bullymake dog toys are slightly more expensive than other alternatives, they come with a guarantee that ensure your dog will always have a toy.
This 14-day guarantee promises that if your dog is able to break its toy, the company will provide you with a new one in no time.
You can get your Bullymake box on the next business day after ordering, meaning you can get your first box almost immediately.
Competitors and Alternatives
Think Bullymake is your only option if you have a dog that likes to chew - and likes to chew hard? Not so fast. There are quite a few other subscription boxes and products for you to choose from.
Bullymake vs. Kong - The main difference is that while Kong offers super-indestructible dog toys, the company does not do subscription boxes.
The KONG is a nontoxic rubber toy with a hollow center that you can stuff with food - it provides dogs with a natural way to get out their energy as a result.
Bullymake vs. BarkBox - BarkBox, like Bullymake, is a monthly subscription box that includes toys, chews, and treats for your dog. You can choose a 12 month, six month, or one-month subscription plan, but these aren't exactly designed for voracious chewers.
While all treats are made in the United States and Canada and comprised of natural ingredients, the toys are not guaranteed to last when exposed to an aggressive chewer.
Bullymake vs. Super Chewer - The main thing you need to know is that Super Chewer is just a themed collection from BarkBox.
This subscription comes with two tough toys, two full-size bags of treats, and two meaty chews. This subscription box comes with a 100% satisfaction guarantee as well.
Customer Reviews & Complaints
Bullymake has positive customer ratings across a variety of interfaces. Customers claim that the products are durable and built to last, even when given to destructive dogs.
The biggest complaint you will find is that there aren't multi-dog discounts, but the company counters this by allowing you to add an additional toy to the monthly subscription box for $9 per month.
You can even select a toys-only box if you don't want to give your dog treats.
Customer Service
You can email at [email protected] or use the live chat feature to open up a ticket if you have questions or need a refund.
The company does not have a phone number listed on its website at this time but does maintain active social media profiles on Facebook, Pinterest, Instagram, and Twitter.
Where to Buy?
To purchase a Bullymake subscription box, you should visit the company's website and set up an account.
From here, you can build an order and update your subscription settings. This is also how to cancel your Bullymake subscription if you need to at any time.
The Bottom Line
If you find that you are spending tons of time trying to find the perfect dog toy for your destructive pet, then Bullymake might offer the perfect alternative.
These toys are built to withstand the pressures produced by a larger, more chew-happy pup, and with warranties designed to suit the most finicky of pets and pet-owners.
If you have any experience with Bullymake or their products, please leave your reviews below.
You may also be interested in
BullyMake Box Customer Reviews

Joe E
Horrible company and inferior product
My Belgian Malinois destroyed the toys from every box they have sent me within an hour. Neither of my dogs will even touch the treats. I tried to cancel the box because it did not live up to what was advertised, and they told me I had to pay them $30 to cancel. They have ignored my request to cancel and continue to charge me monthly. Nothing in there subscription details said that I had to stick it out for an entire year with unsatisfactory products. DO NOT RECOMMEND, COMPLETE RIP OFF.

HR
Toys poor quality, treats are great
I personally would not recommend the 'tug' toys. They resemble a thin, flat backpack strap and my dogs had no interest in it. My pit bull chewed the rubber toy into small bits within 20 minutes of receiving. They loved the treats though. I reached out to customer service (they have been very responsive and helpful through the live chat on the Bullymake website). They said the rubber toy might qualify for a replacement after they view photos of it that I emailed to them, so fingers crossed. The only toys my dog cannot destroy so far are the Goughnuts brand toys. If your dog is like this, I wouldn't recommend ordering this subscription box.

Ken A
Stay far away from BullyMake
I have never had a dog or even heard of BullyMake Box until I noticed my card was charged for it every month. I have never subscribed or received anything from them, yet they've been charging me for months now.
I have emailed them and contacted their support services but they say they can't cancel my subscription because I don't have a subscription, yet they charge me for it each month.
In order to charge my card, they would have to have my address yet nothing has ever been mailed to me.
I strongly suggest you stay away from this company. I will be contacting the FTC theft division.

Jessica M
STAY AWAY - unauthorized opening of account
My dog doesn't really like their toys or treats. I reached out to cancel in mid-December as I had a month-to-month subscription. They claimed that January 5th I actually signed up for a 2nd subscription with a 12 month commitment, and refuse to cancel without charging me for the whole thing. I've been working with their customer service for 2 months, and am now resorting to going through my credit card's fraud process. STAY AWAY.

R A
They only have smaller to toys for dogs up to 40-50 lbs
When you first sign up for the dog toy and treat box you must fill out a questionnaire. One of the questions is what kind of dog breed do you have. I replied a Great Dane. I received small dog size toys.
They will not refund your money. they did offer to replace the toys I was unsatisfied with, but could not guarantee what size toys I would get. I received two small toys for a dog up to maybe 40 lbs. I would not recommend this company!!!!!!!!
Awful, Awful Experience. Will break teeth.
This company is absolutely horrible and incredibly dishonest. The nylon toys are far too hard. If you have a dog that is truly a chewer, they will crack they're teeth. They're teeth will fall out.
Bullymake knows this is a problem. You can see plenty of people on this page supporting that experience. My dog was you, healthy, 70 lbs, and 2 years old. He is now missing two teeth. When I contacted Bullymake to let them know about the issue and cancel my subscription, they ignored me, decided not to comment on my dogs damaged mouth, and had the audacity to sell me another box with different toys.
I tried to place a review on their Facebook page. They're page doesn't allow reviews, probably because they know they've gotten a ton like this one. I tried to comment my experience directly to users under advertisements. They comb their page for negative comments. They delete them. Then, they block the user that wrote them.
It is awful. It is not worth it. They don't care about you or your dog. Do not buy from this dishonest company.

Kathy
BullyMake is terrific! It saved our home from complete destruction!
I am so surprised by all of these negative reviews! Our experience with BullyMake was fabulous. Our 1 year old stray is small, only 45#. However, she chewed everything in the house -- including destroying all Kong toys -- and I was desperate. Then I found BullyMake and our problem was solved. Only problem we had was that sometimes she chewed the nylon toys to the point that small pieces of nylon were being torn off. We learned to smooth off the edges when this would begin to happen and: problem solved!

Cheryl L
Expensive, will not cancel, destroy dog's teeth,
Do NOT subscribe! They will not cancel your account even though the website says to just email customer service to cancel. Their toys are terrible and destroy your dog's teeth. I should send them the bill!!!!
Be very careful about ordering the nylon toys. I thought they would be a good idea for my dog. They are such dense nylon that they're stronger than your dogs teeth. My 2 yo pup has lost two teeth as a result of damage from chewing the toy. It may be indestructible…. But your dog's mouth isn't.

D. K
Misleading, too good to be true.
Interesting it's very hard to find reviews on Bulleymake. I cancelled after receiving the first box. There were four items for $45 USD/mo.
One item I wouldn't even call a toy. It's a strap of material. The hard plastic toy my dog wont touch. The third toy lasted about an hour. So, one toy still survives after 12 hours. One toy for $45? That's not a value and shipping took two weeks.
Neat concept, but way over priced for what you (or the dog) get. Website and product descriptions are inaccurate and misleading to their true quality. Love how the website claims indestructible and will allow for returns and when you get your box the sad note included in the box that their toys don't last.
Save yourself the effort and wait, buy a $20 toy from the local store and call it good.

Kelly
Beware, I like the nylon toys because they take my dog a long time to destroy; however, if you order a 3 month subscription (or any other amount of time for that matter) they will continue to send you boxes and charge your account. Apparently it is in the small print....... Additionally, the other types of toys were destroyed within minutes of giving them to my dog. I was told they would be replaced, but I never received the replacements.