Boxed.com Reviews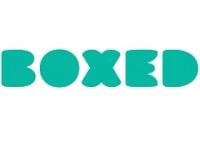 Boxed.com is the home of Boxed, a company stating it is dedicated to bringing the affordable bulk wholesale shopping experience to people in their homes, so they can afford the hassle while still enjoying the savings.
How Does Boxed.com Work?
According to their website, though many people love the affordability of purchasing products from large warehouse stores and wholesale clubs, they don't appreciate the problems that come with it – the time and energy to get there, dealing with the gigantic parking lots and the crowds inside, the membership fees and potential to forget your member card, and more.
Boxed Wholesale tries to address all these problems by providing their members with all the benefits of a price club without the problems. You can simply go to their website, order all your chosen non-perishable items, and have them delivered directly to your door.
Members who live in certain areas will also have access to their Express service, which provides the delivery of fresh groceries to your door, which will be shopped for you at a local Costco store by a Boxed Shopper.
If you live in a qualifying area, you can order your Express groceries and regular Boxed items together at one time, and they will simply be delivered separately.
They also provide all members with a Rewards Program that automatically gives you one point for each dollar you spend on their website. When you reach 500 points, you will be given a $5 credit which can be applied to future orders when you choose.
Reputation
Though there are not many reviews of this company from their actual customers, there are a few reviews from websites and third party publications about this service, all of which are very favorable and positive.
The bottom line seems to be that this is a very useful and beneficial service, but not that it has such amazing prices or product selection that it is likely to completely replace actual wholesale stores like Costco, but might be very helpful as a convenient addition.
Customer Service
Customers who would like to contact their Customer Service team with questions, concerns, or complaints can do so by phone at 646-882-3522, by email at [email protected], or by submitting them directly to their website through the Contact Us link provided at the bottom of their home page.
Mobile Options
Currently Boxed does offer a mobile application for both iOS and Android devices.
Cost & Price Plans
Boxed Wholesale emphasizes that their membership is completely free – anyone is welcome to come to their website and create an account.
They also say that 95% of orders placed on their website qualify for free shipping by meeting the minimum order amount for your state of residence, which will be clearly displayed on your cart summary page.
If you do not meet your minimum, delivery charges will range between $5.99 and $9.99. All Express service orders that exceed $59 will ship for free, otherwise delivery is $7.99.
Refund Policy
Their website states that any item customers are not 100% satisfied with can be returned within 30 days from the date of purchase either for a full refund or for Boxed credit, as long as they are unused and not yet expired, and all returns must be in their original, unopened box and packaging.
Competitors and Alternatives?
There are many different grocery and delivery services, including Instacart.com, Postmates.com, and others, though they do not specialize in delivery bulk wholesale items like Boxed does.
If you have any experience with Boxed.com or their products, please leave your reviews below.
Boxed.com Customer Reviews

Mary

Alicia
I received a gift card from Coke.com for $15 off a purchase of coke products on Boxed. I was a new customer so I qualified for free shipping. I ordered a 24 pack of Sprite, a 24 pack of Coke Zero and 3 free items. I placed the order on May 1 with 1-3 day shipping estimate. I received shipping confirmation on May 3 which listed all items in my order in the shipping summary. On May 7 my order finally arrived. The Coke Zero and 2 free items were missing. The packing list indicated ALL items were included. The handwritten thank you had no information about the missing items either. I never found a phone number to call and tried to message Boxed on Facebook for help; they still haven't responded. Eventually I emailed them about my problem and got a relatively fast response. I was offered a refund or store credit. Sidenote: in the time from when I placed my order and it finally arrived my credit card was lost, so I had to cancel it. As such, I did not want a refund. I wanted my items and told them that. I eventually got another response that said I had received a partial refund (to the canceled card) because the items were out of stock, which meant I lost part of the gift card used to make the purchase. I have emailed them again to ask about the rest of the gift card and give more feedback about their overall poor communication, but they haven't responded, which kind of supports my point. Another issue I have is why partner with Coke to offer a specific promotion of their products if you cannot support the demand you are encouraging? Boxed may have good ideas, but the practice is very poor. I will never order from this company again unless my order is completely free, and even then I won't have high expectations to actually receive what I order.

Anon
A lot of food items are Expired or Expire before you can eat them. I don't think I'll be back.
Cannot Fulfill an Order Correctly
Where to start: Order is send to the wrong address, even though address was corrected on the site. Order stolen. Given store credit and reordered. First reorder package has damaged goods and wrong items.
The total purchase was near $400. I have had nothing but issues with their CSRs and getting canned responses. Now I know why Jet is in business.

Robert
Disorganized and bordering on incompetent
First they lost my order. Then they ran out of stock on half of it, but guaranteed immediate shipment and credit on the balance. Still waiting for them to act on both two days later!!

Mista
Boxed employees are hired threw temp agencies. They are over worked and under paid.. They will fire you for No reason. Most of the workers are high and really don't give a crap about your orders. Its bad management there staff talks crap about each other and the temp agency workers. Boxed is a bunch of liars. Their complete address is 750 union ave union n.j

Lisa
Scammed me. Order arrived and was missing the Valentine promo they advertised online and in mailer they had sent to me. The item was listed on the packing slip included in the box. I emailed them and was told they would give me a $5 credit on my NEXT ORDER. No thanks. I replied that I would expect better customer service. No response. I then posted a negative review on another site and they replied to that saying they ran out of the item. Maybe they could have substituted something or contacted me? Put a note in the box explaining? A few days later I received in the mail another flyer offering Free Samples with every order.
What a scam.

Katrina
I ordered Live Better coconut water (24pack/8oz each) from Boxed because coconut water is absurdly expensive in supermarkets and farmers markets. On Boxed it is $13.99. So, the pricing is great! I placed my order on a Wednesday and it got to my house on Friday but that could be because I live in NY and it shipped from NJ. when it did arrive all of the cans were dented in some fo but the aluminum cans the water is packaged in are so strong that it didn't even matter. I also ordered a 24pack of Fig Bars and those were fine-no tears in the package and no crumbly bars. I just placed another order. Hopefully I will be satisfied with the next! They also offer $15 off $60 if you refer a friend so if you want to place a big order, I highly recommend making use of this offer

Kathryn
HORRIBLE CUSTOMER SERVICE. WON'T RESPOND.
I am so frustrated with this company. I placed an order with Boxed on September 10th. The next day I received an email saying my items had shipped and I realised I hadn't updated my address, as I had just moved. I immediately contacted the boxed support team(if you can call it that) with the correct shipping address and they assured me my address had been updated, but my order might take a little longer than the projected 2 business days to arrive. After waiting about a week I decided to track the package to see how much longer we were talking about. It said my package had been delivered to the original address that they assured me had been updated. I have now been emailing them for days practically begging their "support" team to either help me locate my package or to issue a refund. THEY WILL NOT RESPOND. I even gave them a heads up today that if they were not willing to respond to me by the end of the day I would be posting detailed reviews regarding the situation. I didn't want to post a review if they were willing to help me resolve this, but it seems that even that could not persuade them to respond. DO NOT ORDER FROM THIS COMPANY. They have definitely lost a customer. I will be deleting my personal as well as my business account with Boxed and I will be sure to let anyone and everyone know of my experience.

Alex
Placed an order with Boxed.com for the first time last month and realized a few days later that I ordered the wrong items. I quickly emailed Boxed.com to ask about processing a return and received a response the next day which included a pre-paid shipping label. The day I received my package, I promptly taped the return label to it and shipped it back to them. According to UPS tracking, they received it roughly 2 days later (Sept 2). On their website, they state I would receive a refund within 7 business days. By Friday (Sept 9th), I had yet to receive any refund/email or any activity on my Boxed.com account indicating that I submitted a return order. I emailed Boxed.com again and did not receive a response until Sept 13th stating that a refund has been processed. As of yet, there is nothing reflecting on my credit card account yet, and no refund showing on my Boxed.com account when I log in. Even the credit that was applied to my order which was suppose to credit back to my Boxed.com account is not showing.
I would think that a simple refund in which all items are returned exactly the way it was received wouldn't take 2 weeks or more to process.
Great Idea, Great Selection - Awful Execution
Having made 3 orders, I do believe I'm in a position to call them out. My first order contained nothing but physically light produce (e.g chips, cookies etc.). It arrived in a timely fashion and, most importantly, unscathed. I happily place my next order with heavier items, including canned seltzer. The box came, the bottom of it soaking wet; half of the cans of seltzer had been punctured/crushed. They packaged it poorly and when I wrote to customer service, they responded saying they'd work on the problem. I decide to give them another chance and once again, half of my order was crushed. I love the idea, and I'd be a regular customer, but they show how little they care about the consumers.

Cassi
I ordered a box of Cliff bars. Since it was my first order the shipping was free. I paid $21.99. Originally it was to be 2 day shipping, it took 6 days to get to me. UPS claimed they delivered it and when we got home a half an hour later it was not anywhere to be found. We have never had any problems with items being stolen. I immediately contacted boxed and UPS. Boxed said they were sorry and would credit my account so I could reorder. UPS is still invrstigating. It has been over a week since I first contacted boxed and I still haven't received my credit. I sent another email 2 days ago and they have yet to respond. The first email was responded to within 10 minutes. Guess I am out my money and boxed is out a customer.

Theresa
Products came and my boxes were all smashed up and my cans bent. Box it was in was not damaged so I take it must have been package this way. I feel that a product should not be paid for and come damaged this way and that the company needs to improve in this area.

Crystal P
Currently I rate 1 star because I purchased total 5 items with 2 days shipping. I only received one out five item due to other two products were damaged during the shipping. FedEx guy told me I will get the call from boxed warehouse but 10 days pass, I got no call or email regarding my damaged delayed order.
When I log into my account, it shows my entire order was completed and FedEx showed the item delivered. I try to search online and find no phone number on their website. The number I did find out from other sites are not working number.
I sent them an email, will update my review once my problem get solved but an online company don't have their phone number and address on their website seems very questionable and suspicion.