Bluvys Glasses Reviews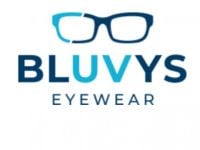 About Bluvys Glasses
The blue light generated by digital devices contributes to serious health issues including eye strain, headaches, macular degeneration, and trouble sleeping. Experts recommend that we decrease our exposure to blue light, but unfortunately, this is a nearly impossible task in today's world of computers, smartphones, and tablets.
The company, Bluvys, has a great solution...
How Does It Work?
Bluvys makes a variety of products to help get around the blue light causing so many health issues for us in this day and age. These blue light-blocking glasses can protect you from the dangers of blue light.
They claim that their special eyewear allows you to use your devices without worry about eye damage. Bluvys glasses work by filtering out blue light and come in a variety of colors like black, clear, pink, and aqua.&nbsp
&nbsp
If you are looking for a way to reduce the health risks associated with blue light while still enjoying screen time, keep reading because below is all the information you will need to decide if Bluvys are right for you.
Cost and Price Plans
If you are thinking about purchasing a pair of Bluvys, you are probably wondering about price. These glasses are currently discounted 50%. This means that you can buy one pair for $39.95. You can buy two pairs for $69.95.
Alternatively, you can buy three pairs for $99.95. Finally, you can buy four pairs of glasses for $129.95.
Competitors and Alternatives
If you are looking for a good pair of blue light-blocking glasses to help you protect your eye health, there are other companies that create eyewear for this exact purpose.
For example, the company TIJN, sells glasses designed to protect your eyes from the dangers of blue light. You can buy one pair of TIJN blue light glasses on Amazon for $15.99. Over 30,000 Amazon customers have given the glasses an overall rating of 4.3/5 stars.
Satisfied customers call the glasses "stylish," "fashionable and practical," and "a great product for the price." They also note that the glasses "make [them] feel healthier," and "have helped [their] eye fatigue."
A second option is ANRRI glasses, which were created as a way of helping people avoid issues associated with exposure to blue light including eye strain, dry eye, headaches, and blurred vision. ANRRI glasses cost $19.00-$29.00. Almost 15,000 Amazon reviewers have given these glasses rave reviews and a rating of 4.6/5 stars.
They say things like "These glasses have put an end to my dizziness," "well-designed and tasteful," "comfortable to wear," "These glasses have been the best item I have ever purchased," "These glasses are something else," "These glasses made my eye stop twitching," and "They seem to look good on everybody."
Finally, you might think about buying your blue light-blocking glasses from the company, Foster Grant. Foster Grant is an eyewear company that makes sunglasses, reading glasses, and of course, blue light glasses. The company claims that their line of blue light glasses is perfect for anyone who spends lots of time in front of a screen.
You can order a pair on Amazon for $26.75, where the product earns mixed reviews and a rating of 3.8/5 stars. Happy customers offer great praise for the glasses, saying things like "good for combatting digital light," "reduces the glare," and call them "stylish, comfortable, and protective." Unfortunately, it is important that you look at the negative reviews as well.
Dissatisfied customers lodge complaints about the glasses, including, "The lenses are horrible," "The frames broke within a week of purchase," and claim that their purchase was "a complete waste of time and money."
Customer Service
If you have questions for the customer service team, you can contact them by e-mailing [email protected] or calling 1-800-457-1310.
Online Customer Reviews/Complaints
We eagerly searched the internet for reviews of Bluvys' glasses, and while we did find some satisfied customers, the only place we could locate any reviews was on Bluvys own website. It is always somewhat suspicious when the only source for product reviews is the company's own website. However, we should note that, based on the company's Facebook page, it appears that Bluvys is a relatively new company as the page was created less than two months ago. Perhaps Bluvys simply needs more time to develop a customer following.
The reviews on the Bluvys website were overwhelmingly positive. Satisfied Bluvys customers heaped on the praise for the glasses, saying things like "Works well! It feels like I do not have any glasses on which is amazing," "WOW, they really do help…they are phenomenal," "These are gorgeous," "I highly recommend these for anyone using a phone/iPad/computer for long periods."
Again, we are not sure how much stock you should put into these reviews, as the only source for reviews is the company website itself and only a limited number of reviews are available.
Where to Buy?
You can buy a pair of Bluvys glasses from their website.
Is It Worth It?
Bluvys strives to help people protect their vision, eyes, and overall health from the negative effects of blue light. Unfortunately, since we were unable to find a significant number of positive reviews for the product, we cannot recommend it at this time, especially when other brands sell similar products that have earned great reviews from thousands of satisfied customers.
Perhaps Bluvys will be able to boast more happy customers once their product has been on the market for a longer period. Until then, we hope that you will remember that carrots are not the only way to protect your eyes and invest in some blue light glasses today!
You may also be interested in
2 'Bluvys Glasses ' Reviews

Cmick #
I agree with the other review here!!!
I also ordered a pair of the aqua about a month ago - finally got them and they were 'clear'!??- but decided to keep them and try them anyway. While I haven't used them a lot!??-- I haven't really noticed them making a large amount of difference!?? - and have seen other options on Amazon starting at $15.95!!??
Also upon opening the package, - I noticed that other than the return address on the outside of the package--there was absolutely'NO'!!-' information on the inside as to an 800 number, contact information - or even any kind of directions on how to use them'!??-' Gave me the impression of it all being kind of a scam outfit'!??
Would avoid this outfit like a plague!

J.J.
I ordered an Aqua" (Blue) pair of Bluvys, paid almost $50 in all (yes, after the 50% off), but they kept sending me the CLEAR colour frames!! For some reasons, they can't send me the "Aqua" colours, every time I called their c/s number twice.... ended up got 2 pairs of the clear ones.
I got suspicious about the "quality" of Bluvys after using them to play games on my phone at night, they didn't seem to do what they claimed their glasses would, my eyes were still blurred, fatigued, couldn't focus after wearing them for a while, my eyes were just fine before I put Bluvys on though.
So, I decided to find out if there's any reviews about Bluvys online, and I came across your site.... seems to be the only review outside Bluvys own reviews (like you said). They didn't bother to ask me to return those 2 pairs (the clear frames) they sent me, wouldn't give me return label, and I asked for it. Guess, the return would cost them more than their glasses?!?!! Makes you wonder, doesn't it??
I bought a pair from Amazon after that, and they are much.. much.. better than Bluvys, can feel the differences wearing them instantly... AND a heck cheaper too!! Since I can't seem to find any reviews to convince me that these Bluvys glasses are nothing but glorified cheap reading glasses disguised as high quality Digital-Eye-Strain glasses (aka Blue light blocking glasses), in other words... SCAM!!
One thing positive was that their c/s refunded my money quickly since they couldn't promise that the Aqua (blue) pair could be sent to me.