Blinkist Reviews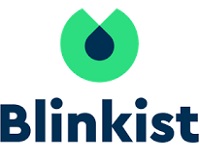 Blinkist is an app that takes works of nonfiction and boils them down into powerful 15 minute audio and text 'blinks' that convey key concepts of the work
How Does Blinkist Work?
According to their website, the concept of the Blinkist App came from four friends who regularly broke up reading assignments in college and gave each other "the big picture" of the different books they read in order to stay successful in their courses.
And though this is common form of dividing and conquering used in college, they said there was no real way to do this while working in the professional world, and they wanted to change that.
To do this they took more than 1,500 nonfiction titles and transformed them into powerful short pieces which can be read or listened to in just 15 minutes. This gives people an easy way to learn the essentials from the best books in your professional field and to discover subjects you didn't know you loved.&nbsp
&nbsp
Their books are available in a wide variety of topics, including Relationships & Parenting, Entrepreneurship & Small Business, Economics, Technology & The Future, Biography & History, Marketing & Sales, Politics & Society, Management & Leadership, and much more.
Cost/Price Plans
Blinkist offers their customers a Blinkist Free account, where users will be able to read one pre-selected book per day and to discover what's new. The Blinkist Plus membership is priced at $49.99 per year and gives users access to more than 1,500 titles each month, the ability to highlight important snippets, and the ability to read your whole library offline.
They also offer a Premium membership, which is priced at $79.99 per year and gives users all the features of the Plus Membership along with the ability to listen to "books-in-blinks" audio, to synce all their highlights with Evernote, and to send any of your reads directly to your Kindle.
Finally they also offer a Blinkist for Teams option, which will have custom pricing based on the size of your team, and this membership has all the Premium features along with instant access to teach insights from more than 1,500 of the books available.
Refund Policy
Their website offers their customers a few different options. First they provide people with 3 days of unlimited access to all their Premium Membership features with "no strings attached" so that customers can really see what this membership has to offer.
In addition, their website does say that any customer who signs up for a year subscription and chooses to cancel their membership within the first 30 days of the date of purchase will be eligible for a refund, but their website does not provide customers with full details of this particular policy.
Concerned customers may want to contact their Customer Service team to discuss the full explanation of this policy before they commit to a year's subscription.
Customer Service Contact Info
Customers who would like to contact Customer Service with any questions, concerns, or complaints can do so by email at [email protected]
Reputation
The reviews of this app appear to be very consistent, in that the app performs well and people appreciate being able to get short and efficient reviews of more than 1,500 different books. That being said, many reviewers said that as much as you try, not all books can have their big ideas taken down to a short summary and have their information still be as useful and helpful as it would be if you read the entire book.
But customers generally felt confident that they could use this app as a tool that could help them get the main idea from some books that didn't have as much important information, as well as giving them an excellent introduction to books they would actually want to take the time to read all the way through.
Competitors and Alternatives?
There are many different audiobook and e-reader type mobile applications available on the market, so customers who feel like this isn't exactly what they are looking for should be able to find other options which may better meet their needs.
If you have experience with Blinkist or their products, please leave your reviews below.
You may also be interested in
Blinkist Customer Reviews

Danny
And getting better. Keep up the good work!