BioTrust MetaboGreens Reviews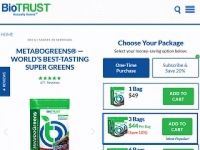 BioTrust MetaboGreens is a product from nutritional company BioTrust, which promises people a way to fight the environmental aging factors and negative health impacts they face every day from a modern day diet.
How Does It Work?
According to their website, most Americans suffer from a "glaring lack" of fruits and vegetables in their diet, as well as an overabundance of foods which produce acid, all of which create something they refer to as "toxic acid overload."
In order to be providing your body with the vitamins and nutrients that fight this overload, they say that people should be incorporating their BioTrust MetaboGreens into their diet every day.
They claim that they offer the only green supplement which is backed by science, because they only include fruits and vegetables which have been shown in human research to provide benefits like increased energy and immune system.
In order to get all the benefits of this supplement, all you have to do is mix one scoop of their powder with eight ounces of cold water or any other beverage of your choice that you believe goes with the berry flavor of their product.
This product can be taken at any time of the day to feel its benefits, which include fighting free radicals, curbing cravings and suppressing appetites, boosting metabolism, improving your immune system and digestive health, eradicating "brain fog," fighting toxic overload, and much more.
Ingredients and Side Effects
BioTrust.com will actually provide customers with a full list of its ingredients so customers can look at their full product before deciding to make a purchase, or to see if it contains anything to which you know you are allergic or have had previous negative side effects.
They do mention that all of their products are made with natural ingredients and completely free of gluten, dairy, wheat, soy, egg, fish, crustacean shellfish, tree nuts, and peanuts. They are also gluten and GMO free, and never include sugar or artificial sweeteners, flavors, colors, or preservatives.
Cost/Price Plans
Currently this company offers three different options for purchase. The first is their single bottle, which is priced at $49.00, their three bottle order has each bottle priced at $42.00 per bottle, and their six bottle order is priced at $34.00 per bottle.
Regardless of which order you place, however, the website says that you will never be enrolled in an autoship program – all their orders are placed on an individual basis, so you will only ever be sent or billed for a product when you specifically request it.
Refund Policy
All BioTrust products are backed by a 1-Year Money Back Guarantee and a 1-Year Exchange Guarantee. This means that any time during the first year of purchase, customers are welcome to contact their Customer Service team for a Return Merchandise Authorization Number and to arrange to return your remaining supplement or even just the empty bottle.
Returns will not be accepted if an appropriate amount of time has not passed for you to fully try your product. For example, if you have ordered a six month supply of a product, you will not be able to return it only four months after you placed your order.
Customers should also know that all shipping and handling charges are their own responsibility.
Customer Service Contact Info
Their Customer Service team publishes a phone number, 800-766-5086, for customers to use, as well as an email address, [email protected], and the ability to submit any questions or concerns directly to their website.
Reputation
Unfortunately this supplement does not have many reviews written by companies or websites that aren't currently acting like partners or affiliates of this company, making it difficult to determine how biased or unbiased these reviews may be.
This company does provide a one year Return Policy for their customers, however, so if you decide you want to try this product for yourself, you will be protected.
Competitors and Alternatives?
BioTrust has a long list of different wellness supplements they provide to their customers, including their BioTrust Joint 33x, but most people are aware that there are also many, many different health and wellness supplements on the market to choose from.
So if you are uninterested in this particular brand for any reason, you should be able to find something at your local health food store or online that better fits your personal needs.
If you have any experience with BioTrust MetaboGreens, please leave your reviews below.
You may also be interested in
BioTrust MetaboGreens Customer Reviews