BioTrust Joint 33x Reviews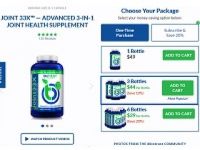 BioTrust Joint 33x is a product from nutritional company BioTrust, which the company promises can improve joint mobility, decrease discomfort, and revitalize joint health, with just one capsule per day.
How Does Joint 33x Work?
According to their website, there are currently 52 million people in the United States that suffer from achy joints, including 43% of all adults over the age of 45, and 80% of adults over the age of 65.
Joint pain can easily occur in your hands, knees, hips, ankles, feet, and back, and the worst part is, that this pain will only get worse unless you directly address it.
The BioTrust states their Joint 33x supplement has the ability to reduce joint discomfort by 300% while increasing joint mobility four times, and doing it all 33 times faster than the next leading supplement.
To use this supplement correctly, you simply need to take a single capsule once each day for a minimum of five days before you may begin to feel benefits, but the website does say that you will experience more significant results the longer you take this supplement.
Ingredients and Side Effects
This supplement relies on three different proprietary ingredients, which means that this company has created their own patented ingredients from a combination of other ingredients, and they are not legally required to publish what these ingredient combinations may be.
That being said, the website does say that their UC-II ingredient is "the most potent, most effective form of undenatured collagen available anywhere," and that it is 250 times more potent than regular collagen supplements which are recommended for rebuilding worn out cartilage.
Hyal-Joint is another ingredient which they describe as the most potent natural form of hyaluronic acid available, making 5 times more effective than other form, and able to restore synovial fluid within the joint, which reduces friction.
Finally, their AspresFlex ingredient inhibits collagen and cartilage degrading enzymes, and has been shown in clinical studies to help improve joint discomfort after just five days of use, and to significantly reduce discomfort after thirty days of use.
Cost/Price Plans
One bottle of BioTrust Joint 33x costs $49, while three bottles will be discounted to $44 per bottle, and six bottles will cost you $39 per bottle. It is unclear if orders of multiple bottles will result in free shipping at this time.
Refund Policy
All BioTrust products are backed by a 1-Year Money Back Guarantee and a 1-Year Exchange Guarantee.
This means that any time during the first year of purchase, customers are welcome to contact their Customer Service team for a Return Merchandise Authorization Number and to arrange to return your remaining supplement or even just the empty bottle.
Returns will not be accepted if an appropriate amount of time has not passed for you to fully try your product. For example, if you have ordered a six month supply of a product, you will not be able to return it only four months after you placed your order.
Customers should also know that all shipping and handling charges are their own responsibility.
Customer Service Contact Info
Their Customer Service team publishes a phone number, 800-766-5086, for customers to use, as well as an email address, [email protected], and the ability to submit any questions or concerns directly to their website.
Reputation
Unfortunately this supplement does not have many reviews written by companies or websites that aren't currently acting as partners or affiliates of this company, making it difficult to determine how biased or unbiased these reviews may be.
In addition, this company does not publish the full list of ingredients included in their product, so people who have known allergies or sensitivities to certain ingredients may want to contact their Customer Service team before finalizing an order.
Biotrust provides a one year Return Policy for their customers, however, so if you decide you want to try this product for yourself, you will be protected.
Competitors and Alternatives?
BioTrust has a long list of different wellness supplements they provide to their customers, including their BioTrust OmegaKrill 5x.
There are many other joint supplements available, even at your local drugstore, but customers who are suffering from significant discomfort should always begin by speaking with their physician.
If you have any experience with BioTrust Joint 33x, please leave your reviews below.
You may also be interested in
BioTrust Joint 33x Customer Reviews

Lori R
The Only Supplement That Really Works!
I have severe joint pain in most of my body from injuries and arthritis. I have tried all joint supplements over the years without getting much relief. Then I found BioTrust's Joint33x. I have been taking it for 2 years and it works! My pain and inflammation seems to have reduced and in some areas gone!
I have run out of it once and since it is rather expensive I tried another supplement that claimed to do the same thing. LIES! The pain returned quickly. So I went ahead and bought more. Again, the pain subsided. I just ran out of it again. I better get my order in soon!

Walter K
Am on my 3d bottle of Joint33x and am experiencing diarrhea in the morning after taking it. Will discontinue use to see if it improves