Better Mortgage Reviews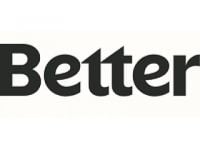 Better Mortgage is a mortgage lending company that states they wanted to change the way Americans get a mortgage by replacing the old process with thoughtful technology.
How Does Better Mortgage Work?
According to the company, the current mortgage process is broken. The fees they charge their customers are not transparent and can be outrageous in size.
The commission structures of lending brokers incentivize sales and the entire system is designed to make sure that people other than the home buyer are getting the most benefits.
Their service promises customers rates quotes in just three seconds, initial approval in just three minutes, 100% online application process, a team that specializes in support and not sales, and 0% commissions for their loan officers.
Better Mortgage is using their advanced technology to make the loan process easier and more accurate for their customers. To apply, you will have to provide your ZIP code, a credit score range, home value, and down payment or current mortgage balance if you're refinancing.
Their mortgage tool will match accurate interest rates with potential borrowers so that you will be provided with a list of the loan products you qualify for, along with an estimated monthly payment and annual percentage rate, as well as the fees or credits available with each option.
If customers like what they see, they will be able to lock that loan in place in just 15 to 30 minutes, and it can all be done online.
Cost/Price Plans
Using this website to receive a quote is free of charge and they promise to offer customers a variety of products, including 3% down loans for first time buyers to 10% down jumbo loans with no mortgage insurance.
In addition, they offer their customers their "Better Price Guarantee," which states that they will beat a competitor's offer by at least $1,000 or they will pay you $1,000.
If you believe that another lender has a more competitive price, they ask that you send them the competitor's Loan Estimate within three business days from the date listed on the Loan Estimate.
Refund Policy
As a loan provider, there is no such thing as a Refund Policy for a mortgage loan.
Often, however, there may be windows of time when customers can cancel their loan and return the principal without any financial penalty. Customers will need to speak with a company representative to see if they loan they have chosen qualifies for one of these policies.
Customer Service Contact Info
Customers who would like to contact Customer Service with any questions, concerns, or complaints can do so by phone at 888-501-3186 or by email at [email protected]
Reputation
This company appears to have a really positive reputation at this time, with many customers being excited about how quick, accurate, and beneficial this process can be for borrowers.
Unfortunately this service is not available in all fifty states yet. Customers will need to go their website to see what states Better Mortgage is operating in to see if this service is an option for their loan process.
Competitors and Alternatives?
Certainly there are many different mortgage lenders and loan matching companies that claim their primary goal is to give people the best mortgage rates available, like LendingTree.com, and those that are using important technology to better streamline the process of mortgage lending, like Rocket Mortgage.
If you have any experience with Better Mortgage or their products, please leave your reviews below.
You may also be interested in
Better Mortgage Customer Reviews

Errin A
Approved….but not really ….ha ha
Officially Pre Approved…send this letter to your real estate agent….JUST KIDDING….we cant' help you but James was kind enough to hang up on me when he said me sending it to my agent was not his problem! Now locked into a contract with Ernest money down and they throw up their hands and say TOO BAD..

Rykanda C
Very friendly, knowledgeable, and effecient
I worked with Jon Wojtowicz and it was a great experience. He was very attentive and efficient in providing me with the information I needed. He went over and beyond to answer all my questions. I would definitely recommend working with him

Todd
Hard to trust this company, many promises were broken
I had contacted Better being very straight and upfront with them as I have liens and judgements from the IRS. There is a process called Subordination where the IRS agrees to transfer to the new company, this is a common practice.
I had asked if this would be an issue, they said, nope, shouldn't be a problem, we know how to deal with it, and should be fine. So, stupid me, I trusted them and moved forward.
I had already done an appraisal with another company that didn't know about or aware of subordination, and tried to get that transferred - again, no problem, until it was. BUT, they were also running a special to waive the $550, sent them email and said, got it,

Matt
Gambling On A Waste Of Time
The fact that I signed up for an account just to write this review should probably be telling enough. As I told my Better Loan Officer right from the start, I am an honest man trying to get an honest rate... I will hide nothing from your company and be upfront about everything. Shall we begin this review?
Promised the world, delivered absolutely nothing. I really wanted to go with Better Mortgage via Fannie Mae and at first, I approached them, and got a loan estimate with an average market rate. I knew I could do better so I went to another company and got a much lower rate. I then came back to them, as they said they would take a look and beat the price by at least $1000 and they beat it by $1500 and over $50 a month! The reason for the low fees? No commission! Amazing. Almost seemed too good to be true! And that's all it was, just a dream rate.
The one condition they had for locking in that rate: I had to have exactly $6300 available in my bank account. So I pulled all my resources together and managed to come up with that amount. They also put in a request to update my Homeowners Insurance company with their clause before even being done with the loan estimate and we never even got to the Closing so I had to go into my Account and explain to my Homeowners Insurance company why it was changed.
Having all the paperwork from the other company already, I simply uploaded most of it. I was told that most of what I already had would do and the process would be quite simple. Instead, it was just task after task after task with relevant paperwork that wasn't ever good enough for them.
I found myself uploading duplicate files, trying to figure out what they were missing, even matching their bullet point requests, while also contacting my own mortgage and insurance company to find out information and make sure I wasn't going crazy which they could have easily found out themselves.
Using their "chat service" put me in touch with "associates" who claimed they were "in touch with my loan team" but proved mostly useless. I constantly had to enter my name to prove it was me, only for them to "pass on the message to the closing team".
The other mortgage company had a steady flow of regular questions but seemed to make the process so easy, while this one had question after question about things that weren't even relevant, and yet I managed to come up with document after document for them every time, even having my mortgage company write up a special document for them that they requested. It seemed that every time I logged in, there were just more tasks due to "wrong document uploaded". After almost 3 days of delays, I finally called my loan officer to understand what the issues were and it came down to just one.
Without getting too much into it for anonymity, I will say that I had an existing small loan against my current mortgage that I'd paid off recently, which I informed them about, with proof that it had been paid, providing full transactions from my mortgage company and my bank statements, and even a letter from my current mortgage company stating this additional loan was paid in full.
Even after showing transaction history of on-time payments, good credit history, and a "current" mortgage statement stating I was up to date on all payments, this proved to not be good enough for Better Mortgage and they said they would need me to make at least 3 additional monthly payments to prove I was making my payments on time, even though the transaction logs showed payments being made on the first of every month.
I told them I would gladly get my mortgage company on the phone for a three-way call to discuss any questions about my history of payments to prove I was a satisfactory borrower. I also offered to pay 3 months of my mortgage but they said it had to be over an actual 3-month period. I stated I could do this if they would guarantee my locked rate for the next 3 months, but they said they could make no guarantees after the rate expiration.
So the only thing I had to go on was the hope that they would give me that same low rate 3 months after I had done what they asked... I asked my loan officer if he could ask the underwriter if they'd be willing to make any exceptions, given my abundance of proof to them, but he came back to me to tell me they could no longer do business with me and deleted my application about 2 or 3 hours later.
They wasted a week of my time, were supplied with an overwhelming abundance of information, wanting me to come up with magical documents that didn't need to actually exist, only to shoot me down in the end and try to get me to continue chasing that dream rate.
I'm sure the other reviews are as honest as this one. This company doesn't care about these reviews as I'm sure they are getting plenty of business! However, do proceed at your own risk!

Frank
We wasted time and money working with Better.com and currently left in a limbo and finding our own way out. Writing this review to prevent more people getting stressed working with them.
These 1 star reviews are true!
For us, this is the worst experience we've ever had working on a loan! Better.com's service is inefficient, inaccurate and incapable! The "technology" is just a buzz word for them. Please expect mistakes, unaccountable services, unattentive communications, delays and especially non-deliveries!
You could not even find the "team" working on your loan and understand what is happening, it is 14th day after closing, no funds! we had to babysit the application process on a daily basis for over 50 days, had to resort to a higher rate as the closing date creeps in, and then finally no funds 14 days after signing! Loan agent stopped taking phone calls and responding to emails, and defaulting back to their "support" receptionist who have no clue either.
This company is a mess. Be warned and stay away!

unhappy b
Do not respect their customers
We went through the entire refi process at a favorable rate. The automated system walks you through what they want. BUT, we received numerous and ever-changing Closing Disclosures.
Their customer service is non-existent and they made inflexible decisions like requiring us to put up 14 mos. of real property taxes that put the "cash to close" significantly above what had been represented in the process that got us into the refi.
We have excellent credit and no need to refi, other than it would have saved us a few tenths of percentage points. Our "contact person" obviously knew little or nothing about the mortgage process and no effort was made to put us in touch with a person having real decision-making authority.
The cash-to-close increased significantly between "two days to close" and "one day to close". This is not our first time of financing/refinancing, so we know this is not the way the process should go.

Robert C
Do NOT trust these people - REALLY!
I do not trust these people whatsoever! I was referred to this company by Bankrate.com - I just wanted to see what rates are available. I had not decided to refinance for sure yet.
They have you fill out an application which has 14 or more things they need information wise. As you include information on each item it then closes and you move on to the next. One question was do you agree to having a credit check run for your loan? I answered yes, but I never submitted the application.
The next morning all my credit alerts I have on my accounts were all going crazy - even my cell phone had a dozen or so alerts!
Then my email inbox is full of all these people from Better.com emailing me to get 'my loan' moving! (My credit score, before they ran my credit, was 850 on Experian - as high as it goes. So now there are all these shark like people fighting to process my loan I guess.
Then some guy calls me and acts like we are best buddies - someone I have never talked to before and didn't call. But he is from Better.com he says and asks me for my birth date 'Just to make sure he is talking to the right person.' He was not anyone who had emailed me and I don't give out personal information over the phone.. I'm not stupid enough to give any information to a possible/probable scam artist. I ended the call.
I then get an email from the guy who had already emailed twice before and he says the guy who called works for him. (Hey, ho about an email that says the guy will be contacting me?!!)
He says I shouldn't be upset my credit report had been pulled because I had clicked the box on the application (that I never clicked on 'submit' to send it in for processing) and besides any mortgage company can now run my credit and it will only count as one hard hit on my credit report.
I was so mad that I called that guy back at the number he had left but the receptionist said he was very busy and could not talk to me. I explained I had five properties to possibly 'refinance' (some had no mortgage as I had paid them off) and why the heck would run my credit before anyone even spoke to me? She left a message for him explaining things and that I wanted that credit inquiry removed as I hadn't authorized it. No phone call or email back from anyone!
Ok, so my point to you is that I don't trust anyone that 'misleads' the customer. They believe they can do what ever they want so long as you have started an application with them, even if you never submit it to them. If you read other complaints on here you will find that these guys are not entirely honest. As for me, I will go with another TRUSTORTHY mortgage company.
I do not in any way recommend Better.com!

Mandi
I was pre-approved for my mortgage. We went to find a home and did a contract. Nine days before closing they said we did not have sufficient approval. This should have been addressed prior to 9 days for closing. Our dreams were crashed and we did not close on our home.
They are very disorganized and when you ask a question they just butter up everything and apologize for taking too long. I talked to the manager and he had the nerve to say "I am glad I am here for you to vent"!!!! Very unprofessional. Please do NOT use Better Mortgage.