BetaPollen Plus Reviews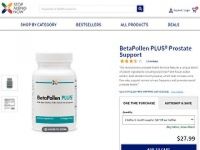 BetaPollen Plus, found online at StopAgingNow.com, is a new nutritional supplement designed for men who are suffering from age related prostate problems, like frequent urination.
How Does It Work?
According to their website, as many as 50% of men suffer from urinary issues related to their prostate health by the time they are age 60. By the age of 80, up to 90% of men will suffer from significant prostate issues. And though the symptoms of prostate problems can be frustrating, the reality is that if they are not treated they can eventually seriously affect your health.
The good news is that doctors in Europe have been using a combination of two all-natural ingredients to successfully improve prostate health while being safer than many prescription strength medications.
Stop Aging Now features these two ingredients in their supplement, BetaPollen Plus, which they promise has been shown in placebo controlled studies to increase urine flow, promote healthy prostate size, reduce nighttime trips to the bathroom, and more. Their website claims that users will experience an average improvement of 69% in their symptoms.
Ingredients and Side Effects
This website does not provide their customers with a full list of ingredients included in this product, but it does provide their two active ingredients: Graminex Flower Pollen and Beta Sitosterol.
Both of these ingredients have been shown in studies to be effective in treating the symptoms of prostatitis, though WebMD is clear that they have not been shown to actual the treat the size of an enlarged prostate.
Cost/Price Plans
Currently there are three different options for customers purchasing this supplement. First, a single bottle is priced at $24.95 and includes free shipping. Customers can also choose between two different volume options that include special bonuses. The first is a three bottle package priced at $79.80 and includes one free bottle, and the second is a six bottle package priced at $119.60 and includes two free bottles.
Refund Policy
This company offers their customers 365 days from the date of shipment for customers to return their purchases for a refund, "no questions asked." The website actually offers a detailed list of instructions and limitations in regards to their Return Policy, including such provisions as no refunds will be given for products which are not returned. Though refunds can only be issued on bottles that are actually returned, they will accept both open and empty bottles for return.
However, their Return Policy does say that Stop Aging Now reserves the right to deny a refund if they feel that their policy is being abused.
Customer Service Contact Info
Customers who would like to contact Customer Service with any questions, concerns, or complaints can do so by phone at 800-627-9721 or by submitting them directly to their website through the Contact Us link.
Reputation
While this company itself does not seem to have a long list of negative complaints, consumers should always look for reviews regarding the individual products they are personally considering purchasing. In addition, they do offer a Return Policy which includes being able to return supplements that have been opened and used, so customers may feel comfortable trying this product for themselves.
Competitors and Alternatives?
There are many other companies that formulate and manufacture supplements intended to improve prostate health and wellness, so customers who are looking for alternatives to this product should have a wide variety of choices that they can choose between.
If you have any experience with BetaPollen Plus or their products, please leave your reviews below.
You may also be interested in
BetaPollen Plus Customer Reviews