Best Deal Pet Supply Reviews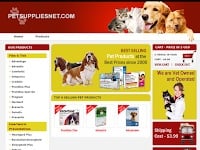 You may also be interested in
Best Deal Pet Supply Customer Reviews

Gary T
Great products, great service, great prices.
I ordered Simparica for my GS about a week before Christmas. After 2 weeks my order had not arrived and I had no order confirmation from the company. I reached out to them and received a reply immediately explaining the delay due to customs, the holidays and the pandemic all as contributing factors, which is completely understandable.
They told me when my package shipped and realistically when I should expect its delivery. The meds arrived the day they were expected and were administered to my dog that same day.
Within a day I could see a marked improvement and now, almost a week later he seems to be almost completely free of pests. I will DEFINITELY be ordering from them again and am glad to have a company I can depend on for prescription meds.
Thanks!!

Chibi
I buy my comfortis from this site
I have three small rescues (15-30 lbs. each) About 6 years ago, I took them to the vet for flea medication because they are infested in the summertime. The vet charges $95 for the smallest 6 month supply packet. Multiply that by 3 and that $285 for 6 months. That's just too much.
So I started buying from bestdealpetsupply 5 years ago. But I buy the 6 month supply of the 30-60kg packet and break each pill up into 3rds.
Now, I only pay $70 for a 6 month supply. Each batch I ordered comes from Thailand but they all have future expiration dates. My dogs have never suffered a bad reaction and the batches from bestdealpetsupply work just as well as the ones I bought from the vet.

Mary L
Buyer Beware!! Do Not Shop Here!!!
I emailed the manager carol several times because I was confused regarding which size comfortis to buy for my cats.
Although my guess was correct to buy the "Orange" to cover my biggest cat at 13 lbs. Carol assured me that was wrong because they have uk dosages and u.S. Dosages. Well she sent me the "Pink" box and it was for a much smaller cat. I have 6 cats--her answer was well you have enuf for 3 cats if you give them a double dose.
Are you kidding me? It's hard enuf to give a cat 1 pill much less 2 pills and I told her I have 6 cats not--- 3!!!!
So that was not a solution and I asked why doesn't she send me the correct dosage quickly, because I had waited 2 wks. For this package to arrive from Singapore!!!
She refused to send me a quicker correct shipment!!!
Do not deal with this ignorant overseas co!!!

Susan C
I had a question about my order and the customer service person got back to me promptly and answered my concerns completely and professionally!

William T
Order confirmation has a Thailand address
I just order Heartgard from them. The address on the order confirmation is:
Best Deal Pet Supply ,
Pet Vet Express Supply Co.Ltd ,
38/44 Mu 2. Phaholythin Rd ,
TaladbangkhenLaksi Bangkok ,
Thailand, 10210.
So, am a little suspicious the product may be a knockoff but hope not. Its strange that their website does not mention they are in Thailand.

sandi p
ordered comfortis again and again .love the way it works but when i try to use the coupon codes for discount ,they wont ever work

Pam W
I just placed my fifth order with Best Deal Pet Supply, and it is clearly the Best Deal for pet meds. I have 2 rescue dogs. One had heartworm when we bought him and we went through a complicated and costly treatment to get him over it. So we are quite cautious, and doubly so as we live in Florida where mosquitoes grow bigger than flies. Both of our dogs are on Heartgard and Comfortis and the drugs we get are legit. No knock offs. They work perfectly. It does seem to take a while in shipping which leads me to believe they may be coming from UK. I just order replacements when I administer the last pills to my dogs, which gives a month for the new meds to arrive. Works for me and keeps my babies happy and healthy.

Kathy I
Ordered comfortis for my dogs. I was very nervous. My dogs are battling fleas after I pulled a shelter dog that was INFESTED. One pill and a few hours later and we are flea less :) we will be ordering more!

Yuri
I ordered Heartgard from this site this summer. It was shipped very fast, and the product appeared to be identical to one I have used before many times. All labels/stamps/seals/dates were present, nothing would suggest it might be a counterfeit. Per label, made in the U.S. I administered it to my dog twice.
Both times he had a seizure shortly after that. I had used this product before many times, without any adverse effect. So after the first incident I had no clue that these two events might have anything in common. After the second one I am convinced the seizures are result of my dog taking the drug. I cannot say for sure if the product is counterfeit. If it is, it is a highly sophisticated one. It could be a manufacturer's problem, too.
I contacted Merial asking to investigate. They refused to disclose where the certain batch was sold to. They claimed they have no such ability. They also stated that this site is not on their list of approved distributors. They promised to report the event to FDA. Otherwise, they showed no interest to investigate the origins of the box. I requested this info from the seller and will post their reply - if and when I get one.

Peech
I ordered on June 30th, and my order was shipped from the UK the next day and arrived on July 11th. No problems and very satisfied with the service.

Kaitlyn
Ordered comfortis for my dogs. I was very nervous. My dogs are battling fleas after I pulled a shelter dog that was INFESTED. One pill and a few hours later and we are flea less :) we will be ordering more!

Linda L
I just ordered Comfortis from this site as a test. My receipt says they are based out of Bankok, Thailand. That does not inspire confidence. If it is a scam, my cc will protect me. If all goes well, I'll be back for an update.