BeatKidneyDisease.com Reviews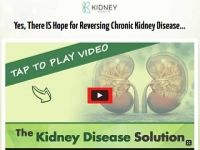 BeatKidneyDisease.com is a website from naturopath Duncan Capicchiano, who states that his Kidney Disease Solution is an all-in-one program that will reverse kidney disease and improve kidney function.
How Does It Work?
According to Duncan Capicchiano, doctors who work in conventional medicine will tell people that once their kidneys are damaged, there is no way to reverse this damage and bring them back to health.
Either your kidney function will continue to decline, or you will have to continue on medications, possibly dialysis, or even potential surgery.
BeatKidneyDisease.com claims this is not true and that the reality is that you can do things to protect your kidneys from further damage and degeneration, as well as even repair your kidneys and restore function.
The Kidney Disease Solution promises to give a step-by-step guide of what foods to eat and supplements to take to provide your body with all the nutrients it needs to heal the kidneys.
The website states that while some people will begin feeling better within days of beginning the program, almost everyone shows improved function within the first six to eight weeks, and everyone will appreciate benefits by the twelfth week of use.
In addition, they promise their customers will also be provided with email support from their knowledgeable staff, in order to help remove the confusion regarding whether one is following the program correctly.
Ingredients and Side Effects
BeatKidneyDisease.com does not actually publish the list of foods and supplements that their program will require, but they do promise that everything needed to follow their program is natural, and there is no feedback to their program detailing any negative side effects.
However, different people may have different reactions to certain foods and herbs, which is why you are always welcome to contact their support team if you are concerned that part of the program is not working for you.
In addition, the program also includes a list of foods and herbs to avoid if you are having any problems with kidney disease, as certain foods can make it worse.
Cost/Price Plans
The guide itself is currently priced at a one-time fee of $87.00, which includes the step-by-step guide, a variety of free bonuses which are automatically included, and the long term email support.
Refund Policy
This book is purchased through ClickBank, a digital marketplace that promises their customers a 60 day refund if they are unhappy with what they have received, or feel that it is different than it was advertised.
Customer Service Contact Info
Customers who would like to contact Customer Service with any questions, concerns, or complaints can do so by submitting them directly to their website through the Contact Us link located at the bottom of their web page.
Reputation
Unfortunately this product does not currently have any reviews online from their customers, only reviews available from partners and affiliate websites, which makes it impossible to tell how biased the reviews may be.
That being said, the idea of taking someone who is having problems with kidney function and telling them to discontinue their use of medication in favor of fixing their kidneys with diet and natural supplements is a bit intimidating – no one wants to make their circumstances worse.
Because of this, even the creator of this program says that users should contact their traditional physician before they begin using their program to make sure that they are making an informed decision about the treatment plan they're about to embark on.
Competitors and Alternatives?
Certainly there are many different approaches to treatments for all kinds of illnesses, including renal disease, so customers who are looking for an alternative treatment will be likely to find one.
However it's important that you always discuss any new treatments with your doctor before you begin them.
If you have any experience with BeatKidneyDisease.com, please leave your reviews below.
You may also be interested in
BeatKidneyDisease.com Customer Reviews

linda j
in 2010 my husband's kidneys began to fail. His creastinine was 19. We were told dialysis or death because his kidneys were not working. We found Dr. Duncan's system and followed it. My husband took himself off dialysis after 3 months and has been off for 8 years now. The system is easy to follow, has helpful follow up information and we are FREE from dialysis. The only draw back is that western sickness care (insurance companies) do not cover the herbal/vitamin/mineral supplements.Actually there is another drawback and that is needing to be strong when dealing with the medical establishment. They have the money, time and will fight you all the way until they are presented with the meracle
of your healing.