Battle Vision Sunglasses Reviews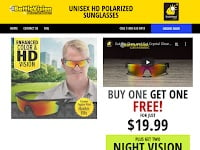 Battle Vision Sunglasses are a type of polarized sunglasses are marketed by Atomic Beam that are specially designed to be as durable as possible, while providing wearers with clear vision in the harshest of conditions.
Atomic Beam is a US based producer of a large range of tactical survival gadgets that are aimed at adventurers, explorers and folks operating in hostile environments, including the popular Battle Vision Storm Glasses.
Products
Battle Vision Sunglasses are marketed as polarized sunglasses that cut-down on glare and other bright lights, yet at the same time allow you to see objects with up to 10 times the normal clarity.
The ability to discern distant objects clearly is crucial if you are to remain both safe and comfortable, whether you're drilling for oil on a distant oil field, on a military operation, or even just driving along on an extra sunny day.
Hence, they are particularly made to keep wearers comfortable while improving vision, regardless of conditions.
Battle Vision Storm glasses are a similarly marketed product that the seller states significantly improve vision during bad weather buy utilizing light optimizing lenses that block blue rays.
These glasses are also unisex and are sold at at a nearly identical sales page at BattleVisionStorm.com.
How it Works
The polarized lenses and rugged design of the Battle Vision sunglasses offer good protection from glare and UV light, all while enhancing your vision.
Along with this, their durable design makes them exceptionally resistant to rough handling, or even drops and falls.
Cost and Price Plans
Each pair of Battle Vision sunglasses costs $19.99, with no additional charges incurred for shipping and handling costs.
Each pair of these sunglasses comes with a spare. In other words, you essentially get two sunglasses for the price of one.
Customer Service
If you are interested in a pair of sunglasses, or just looking to learn more, head over to www.buybattlevision.com. In their website, you will find their contact details such as their phone number and email.
On top of that, you are also given a 100% Satisfaction Guarantee.
As a matter of fact, if you are unhappy with the sunglasses you have received for some reason, then you also have the choice to send it back. Just makes sure to return it within 30 days and you will be refunded.
Online Review and Complaints
Overall, the Battle Vision sunglasses are regarded by most reviewers as an adequate performing pair that offers satisfactory protection from glare and U.V rays.
A large majority of reviewers have noted that the sunglasses work exactly as promised, meaning they significantly cut down on glare and improve vision.
Along with this, the sunglasses have been praised for their tough design, which makes them resistant to damage and thus, suitable for outdoor work.
Rather unfortunately, among some of the criticisms leveled with regards to these sunglasses have been attributed to their "insect-like" design, which can be rather unsuitable for some wearers.
In addition to that, reviewers noted that these polarized sunglasses are aesthetically unsuitable for indoor locations.
This is because the bold, shiny designs have a tendency to make the wearer appear rather strange.
Furthermore, the one-size fits all design was also criticized by some reviewers, citing that the sunglasses were uncomfortable to wear. That said, they were either too tight or too loose.
Overall, the Battle Vision sunglasses are a good choice for anyone working in an outdoor environment where style is usually secondary.
Before you buy, you have to be aware that the design of the sunglasses may not be suitable for all wearers.
Where to Buy?
Currently, there are two different ways you are able to buy Battle Vision sunglasses.
First, there's the Battle Vision website, BuyBattleVision.com. You are also able to purchase these sunglasses via the As Seen On TV website.
Competitors and Alternatives
If you like the idea of Battle Vision but you want other choices, then you're in luck, because there are many alternatives to this brand of sunglasses.
In fact, some are extremely similar to each other. That said, take a look at some of the other competitors that consumers have been talking about.
First of all, there's the Veithdia, which are polarized sunglasses with a more contemporary design. Next, there's ESS Eyewear, which has tactical-style, polarized eye shields.
And lastly, the Wiley X are also tactical-style polarized sunglasses with identical styling to ESS Eyewear and Battle Vision.
The Bottom Line
At the end of the day, if you're looking for a good pair of sunglasses that offer great utility while still being affordable, you can't go wrong with Battle Vision.
However, some users may be put off by the styling of these sunglasses. But if utility is what you're after, Battle Vision is definitely a great choice.
If you have any experience with the Battle Vision Sunglasses or the Battle Vision Storm Glasses, please leave your reviews below.
You may also be interested in
Battle Vision Sunglasses Customer Reviews

Victor S
Got BattleVision Wrap Arounds. At first, I liked it, it does provide a better contrast. But it's NOT a Wrap Around, just the opposite. It only gives you a forward vision, since it completely blocks your peripheral vision. It's very difficult when you're just walking, when you're driving it's downright dangerous. Bulbhead offered me $5 credit for this unusable piece of junk or I had to return the product at my own expense, which was not worth it.

Anthony L
My Personal Thought Any Products Bulbhead Sells Is Fraud
*this review should not be taken lightly*
! 1 star to just leave this review... take it as 0 stars people.
starting with its been a year and 4 pairs of glasses: 2 battle vision storm & 2 pairs battle vision night vision;
I have yet to receive. when i go to track my order the system responds back that no orders with information entered are found!, but i have an email with purchase confirmation and order number but their system says i dont exist as a customer with purchases paid and owed.
when i call during business hours the phone just rings.
when i email bulbhead with their customer support contact email i get an email delivering error with a list of system response sequences that the server delivering the email ran into which shows a goose-chase, meaning multiple re-attempts to communicate to server host failed.
DON'T TRUST A PRODUCT SOLD THROUGH BULBHEAD.
I PURCHASED MY ORDER on Dec. 30 2021 @ 10:31pm and its feb. 2023 cant get ahold of them and have not even received them. and still trying

David E
You get screwed if you buy anything from them.
My experience with this company should rate dead last not even one star. Their phone tree ordering system stinks. It takes over four weeks to receive the order (#19818719). Then the items ordered are not shipped correctly. If you return the order, You might be able to end up 410+ after you pay to ship the order back.

WK W

Bill J
Not what you get and not replaced by a Walmart buy
I bought two different pairs of these glasses from local Walmart and when cleaning the lenses the color came off and all I had was a pair of clear plastic glasses. Not worth what they are costing

Tony
I don't know about the product, but I have been waiting for 3 weeks to hear anything about them shipping or receive the glasses!

Tommy P
Battle Vision Sun Glasses
I like the glasses but, the frames are weak and no good, I have 4 pair and every frame broke, they broke above the lenses. If they got better frames they would be great. Will not buy any more, 4 pairs, all broke, that's enough.

Jim N
The outer lens finish comes off right away and they would not give me a refund because it was just over 30 days when I ask for it. Don't waste your money on these glasses.