BarxBuddy Reviews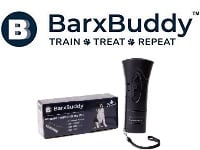 The BarxBuddy is a dog training device whose creators state work by using an ultrasonic whistle to allow users to teach their dogs to stop unwanted barking.
How Does BarxBuddy Work?
The handheld device is an ultrasonic dog whistle that has two settings and runs off of a 9-volt battery and comes with a remote.
The device's two settings are easy to operate - sound, as well as sound plus light. All you have to do to activate the settings is to click the "on" button.
Then, the device will emit an ultrasonic frequency of light and sound frequencies up to 49 feet away. You are supposed to click the sound option first, clicking the "on" button whenever your dog barks.
This will emit a whistle that you can't hear, but your dog can. It will instantly snap your dog's attention and, in theory, make him stop barking.
And if that doesn't work, you can try the sound combined with the light.
This product is meant to be used as a holistic dog trainer - if your dog responds by stopping his or her barking, you should give them a treat. If they don't, try again. You will need to use the system until all of the barking behavior stops.
If you're wondering, "Ok - but is BarxBuddy harmful to dogs?" Don't worry, it's not.
Since it's an ultrasonic device, it will not hurt your dog. Therefore, it is actually less cruel than other methods of behavior modification, like a bark collar.
Cost and Price Plans
If you decide to purchase the product, you will have several purchase options. You can buy one device for just $39.95 per device or you can buy in bulk, purchasing up to four devices for $114.95.
Shipping is free no matter what, taking just three to five days to arrive.
All purchases are backed by a 30-day guarantee that ensures your money back if you aren't satisfied. You will need to call the company or email them in order to initiate a return.
Online Customer Reviews & Complaints
There are several advantages of BarxBuddy, according to independent reviews. First, since it utilizes an ultrasonic device, it is better than a whistle - as a human, you can't hear it but your dog can.
Additionally, ultrasonic whistle noises tend to travel much further than other sounds. You won't have to worry about disturbing your neighbors yet you'll still have a much better range than just about any other device.
However, by itself, it's not a super-effective device. Unlike a bark collar, which can simply be placed around your dog's neck for almost instantaneous behavior modification, an ultrasonic whistle requires some work on your part.
You need to make sure you identify the situation that incites the bark and reward your dog with a treat if he or she does not bark.
This is where most of the complaints and negative reviews come in to play with the BarxBuddy - it's a lot of work.
You need to have a good understanding of how your dog operates you also need to be committed to rewarding your dog when they don't bark.
This can be really tough to control, especially if you're away from home a lot.
Customer Service
You can get ahold of support at BarxBuddy by filling out the customer service form on the website. There is no customer service phone number listed on the website.
The return policy is pretty straightforward - if you aren't completely satisfied, you can return it for a full refund.
The customer service has been heavily criticized in real reviews. Although the company's website shows nothing but glowing comments, some users have speculated that this product might actually be a scam.
While there are several third-party reviewers that claim that this product is, in fact, legit, there are some reasons to be wary.
First, there are several different URLs for the BarxBuddy product and it's unclear which is the official company webpage.
In addition, many customers complain that they took money out of their accounts for orders yet never shipped a device - and that customer service was not responsive.
The company is also not BBB accredited and does not have a rating or any reviews with the organization - so proceed with caution.
Where to Buy?
Unlike other dog modification devices like Modus, BarxBuddy is not available in stores.
You can only purchase it from the online storefront and not from Amazon, WalMart, or Petco.
Competitors and Alternatives
When you are shopping for viable alternatives to BarxBuddy, you might notice Modus and Pet Gentle pop up in your search. Although these are both popular options, they work a bit differently.
When comparing BarxBuddy vs. Modus, the first thing you might notice is that they both work via ultrasonic frequencies.
Modus can also work to help your dog stop other unwanted behaviors, like fighting or digging. It works well for all dogs and can be used outdoors.
It's also powered by batteries and requires you to work directly with your dog to stop unwanted behavior. It's less expensive than the BarxBuddy device.
PetGentle is about the same price as BB. However, when comparing BarxBuddy vs. PetGentle, keep in mind that shipping is not free with PetGentle. Otherwise, the two are virtually identical.
If you're in the market for an app, there are many products out there that can help you retrain your dog.
Some to consider include DOGO, TrainAway, and Puppr, all of which can be easier to use than an ultrasonic whistle - but still require some work on your part to implement.
The Bottom Line
Training your dog might not be as simple as clicking a device on and off - and BarxBuddy represents that challenge.
While the device can be helpful at getting your dog to quit barking, it presents no real advantage over using any other ultrasonic whistle.
In fact, it's quite a bit more expensive than these other whistles, too - plus it involves a great deal of commitment and time on your part.
Consider finding another way to modify your dog's barking - especially since BarxBuddy doesn't seem to have the most golden reputation among reviewers online.
If you have any experience with BarxBuddy or their products, please leave your reviews below.
You may also be interested in
BarxBuddy Customer Reviews

Delores A
Scares the hell out of dogs
I used once and now my dog is afraid of me...I hope she comes back around me I would not recomend to use on any dog my baby is tramatized

w. R
I paid two of these on December 6th and to date, January 11, I have not received them. I can not get in touch with anyone at the supplier, so I guess I will not get the opportunity to determine whether or not they really do work. I am sending a copy of my payment, the advertisement and my follow-up to date to the State of South Caroline Department of Justice as well the the Federal Bureau of Investigation as this clearly involves interstate commerce. Too bad you can not trust a firm to at least send out what you purchase

Alevtina (
I've just received this thing and it doesn't work.
I can't turn it on.
Either there is a battery problem or something else.

Jeff
I ordered this in October. After a month I tried to contact them. Googling their website directly or Googling "contact" only led me to "Safari unable to open." I'll bet they are overseas. So it's my bad for not checking that out first. I've been burned in the past and vowed never again. Point emphasized and reproved.

Walter T
Hi There
I ordered a Barx buddy from you which you have received the money for but not delivered. The order was made on the 6th August 21.
You have doubled the order for some reason and two payments have been made by me.
Invoice # 1286105 Transaction # 8H3446277M213434J / #47S94785WU595564K.
I need these items to be supplied or the money refunded asap.
Cheers
Walter Thompson

Tami L
If it works on your dog it is an amazing training tool, doesn't work on all dogs
I have a small dog that was a yapper. Barx Buddy changed her behavior immediately! I had friends give it a try with varying results so it doesn't work on all dogs. For me it has been a game-changer. My pet is a MUCH better behaved dog because of Barx Buddy.

Aaron S
U.S. Web companies take ad money and don't vet scammers
I think the Chinese are experts on paying for advertisements on popular U.S. websites, so the consumer assumes the company has a legitimate product. US companies need to stop taking scammers money to advertise, when they don't even vet the companies.
It's the ugliest of the Chinese government and the shame of American capitalists. It's the Almighty dollar, or yuan.
Get the money. To hell with the people.

Barb R
DO NOT WASTE YOUR MONEY ON THIS. We have a yapping Chihuahua mix and he just looks at me then keeps on barking. It does not work at all. So, when I tried emailing the company to see about a refund, they returned my email as "undeliverable".....so I waited to pursue this. They said they could not help me now, because it is one week over the 30 day guarantee time. Bad customer service, bad product!

Tracie A
This product sucks! It worked for 2 days. We got it 2 weeks ago and no longer works! This website sucks too. I would love to have my money back. I will be posting my review on facebook too. I can't believe that it only worked for 2 days! I've changed the battery and everything, but to no avail. The barx buddy does nothing now. Do not waste your money

Loretta R
I tried emailing their customer service support and my email was rejected, would not send. I just ordered this device and am not sure if I will receive it. I sure hope I do not have any problems.

see t
Sorry folks....simply doesnt work...this product has ZERO affect on our little yappy dog. Press a button, dog looks at you, as if to say, "what?"
.... and continues to bark. This is heavily advertised as effective, and simply not true. Nope. returned it. If you buy it, you will return it also.

Annette L
Awhile ago, I used the BarxBuddy on my dog. He was immediately terrified. Afterwards there were a group of teenage boys walking down a trail from school as they do often. All of a sudden, my dog ran inside, trembling. So,I thought maybe the boys did something to him to scare him. So, a couple of months later, while school was out, I decided to use it again. And again, he got terrified and ran inside. Then it dawned on me, it wasn't the boys who who scared her as I assumed because both of the events happened simultaneously, it was the BarxBuddy. Now, he won't even go outside unless I am with him. Something should be done about this. I don't know if it's something I can sue for because my dog is now, mentally damaged.How dare you sell such a horrible object. That is major abuse and cruelty. PLEASE WHOEVER READS THIS, DO NOT BUY IT.

E. K
The product made my dog bark louder!! BEWARE! We ordered Barxbuddy online and didn't realize we had to uncheck a box if we didn't want additional items. So we also received a brush