Babbel Reviews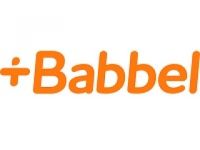 Babbel is a language learning company that states they want to give people a new language experience, where the learning is fun, easy, and effective.
How Does Babbel Work?
According to the website, the Babbel.com language program has been designed by a team of linguists, native speakers, authors, and translators who prepare all their course topics and content.
Once you've chosen the language course you are interested in, you will immediately begin learning vocabulary with intuitive grammar learning as you go along. All programs require learners to start speaking right from their very first lesson, and uses integrated speech recognition software to correct and improve your pronunciation.
All completed lessons will be saved in their cloud so that you can pick up lessons wherever you are, whenever you can, including from your smartphone or tablet.
Mobile Options
Currently the Babbel mobile application is available for both iOS and Android phones and tablets.
Cost/Price Plans
Customers can choose to pay membership each month, at $12.95 per month and they can cancel at any time. You can also pay quarterly, which is $26.85 every three months, twice a year, which is $44.70 every six months, or annually, which is $83.40 per year, and breaks down to $6.95 per month.
Refund Policy
Customers who decide they would like to cancel their subscription within the first 20 days they are enrolled can cancel their membership and receive a full refund of their subscription fees.
Customer Service Contact Info
Customers who would like to speak to their Customer Service team about their questions, concerns, or complaints can do so by email at [email protected]
Reputation
This product generally receives fairly positive reviews, though there are some criticisms that various language programs are better than others - no real details on which programs may be lacking, though Babbel says they are always improving and updating.
Competitors and Alternatives?
Computer programs for people who wish to learn a second language are extremely popular, and include a wide variety of options like Memrise, the Pimsleur Approach, Rosetta Stone, and many more.
If you have any experience with Babbel or their products, please leave your reviews below.
You may also be interested in
Babbel Customer Reviews

L L
They tried to charge my Visa without my permission
Three years ago I bought a One Year subscription from Babbel website using a Visa card.
Two days ago, I received a notification from my bank stating that my Visa card was charged by Babbel for CAD 119,88.
I tried to contact Babbel, between 2 PM and 4 PM, but a message announced that they are not available. I sent a message asking for explanations.
I also called my bank, and they told me that there were two attempts to take this money, but they declined.
The very interesting thing is that not only that I have not subscribed for more than 1 year, but my Visa card I used in 2020 expired, and I received a new Visa card with a different number, and somehow they tracked this new Visa card number.

Katiemegcz
Fraud. I canceled years ago after never using it and they charge every month and neither PayPal or my bank will allow me to dispute. Babble shows that I canceled.

Gadingledongle
Impossible to cancel subscription. This is a scam. I have been trying to cancel for a week. Beware...

Marjja
The problem with Babbel for Latin American Spanish is that the courses are very few. Since Berlin based Spain Spanish is a bit more courses. Babbel rep said they are just starting to do Latin American Spanish, are you kidding me?
What they don't tell you is the "live" portion is extra $$. And a rep told me this "conversational" Spanish not to be able to learn fluently, yeah I like the format when it works, half the time I can't even type in the answers, so how can you move on? You can't!
You have to close that section and go to another to start a different section. Amazing, Spanish learn English for free with ESL, but Americans can't learn Spanish for free when this country is turning Spanish. Just read any label or instructions, English/Spanish!

Rick B
Beware of horrible costs and cancellation policy.
Babbel is a ripoff of the worst nature. They are Berlin based and the majority of the live classes are centered around that time zone. West coast US customers have a very sparse selection of classes that fit normal hours and most are booked solid and unavailable.
Top that with an impossible cancellation policy and $180/month fees and it adds up to a truly crappy, ultra expensive and unresponsive program. None of this is disclosed in their advertising; very misleading.
One might think they are getting a four month program for $180, but the reality is you will be charged $720 for a handful of classes that you might be able to attend.