ASEA Redox Reviews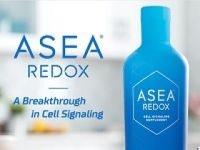 ASEA Redox, found online at ASEAGlobal.com, is a health and wellness drink which promises a way to rejuvenate health at the cellular level for overall wellness benefits.
How Does ASEA Redox Work?
Their website says that whenever people begin feeling like something in their body is "off", this means that actually you have been suffering issues at the cellular level for quite some time already.
ASEA Global states that they have developed the only technology that can create and stabilize active redox signaling molecules in a consumable form, which they call their ASEA Redox supplement.
ASEA says that our body's ability to stay healthy, have more energy, and greater vitality relies on how well our cells function, and the function of each cell relies on something they call "redox signaling—cellular messages."
The body's ability to produce and maintain these redox signaling molecules declines as we age, which is why people need something to help their cellular health.
With just four ounces of ASEA Redox Supplement each day their website says that customers will feel immediate benefits, since their product has the ability to "make positive shifts in blood serum biomarkers over a 24-hour period, beginning within the first 30 minutes."
And because the molecules in their product are native to the body, they promise a completely safe and nontoxic product.
Cost/Price Plans
Unfortunately this company does not actually publish any pricing information at this time.
As a multi-level marketing company, they do want their customers to work directly with their independent company representatives when it comes to purchasing any of their products and receiving any information regarding additional products and supplements that customers may want to try.
Refund Policy
As mentioned above, this company really wants their customers to work directly with their independent company representatives, so they actually do not provide any information regarding refunds or returns on their website at this time. It seems that the only option for customers who are interested in this product will be to contact a current representative and speak to them directly.
Customer Service Contact Info
Customers who would like to contact their Customer Service team with any questions, concerns, or complaints can do so by phone at 801-973-7499 or by email at [email protected]
Reputation
This product appears to have very mixed reviews which are extreme in nature – some people claim they could feel the benefits instantly, while others said they felt nothing, and still others claimed this product made them ill in a variety of ways.
The big concern with this health product is that they refuse to publish any ingredients whatsoever because their supplement relies on a "secret process" for its health benefits. This means that customers have no way to evaluate whether or not this product will actually work for their needs or includes ingredients that customers might have poor reactions to.
In addition, because this company will not publish its prices or its refund or return policies – if it has any – it seems as though customers should really look for alternative products that are more up front with their customers.
Competitors and Alternatives?
Certainly there are many different daily supplements that offer people the ability to revive their health on a cellular level, almost all of which have to do with raising the level of antioxidants people have in their daily diet.
If this is something you are interested in, the first place to start would be analyzing your diet to see how many of these antioxidants you get in your day-to-diet before you consider supplements or other health products.
If you have any experience with the ASEA Redox supplement, please leave your reviews below.
You may also be interested in
ASEA Redox Customer Reviews

Patty D
This product was an excellent find
This product was an excellent find and I am incredibly proud to be an Associate.

James T
I love how much energy it gives me! I'm really pleased!

paula m
LOVE ASEA. Their redox supplement has really helped to improve my overall wellness. My energy levels are rising. Thanks ASEA!