Apartments.com Reviews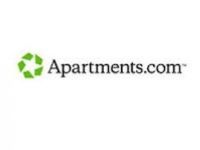 Apartments.com is a website that aims to helps users in the United States and in some international communities find available apartments, townhouses, and condos to rent.
How Does It Work?
According to their website, Apartments.com is currently the "#1 Apartment Listing Website."
They promise their potential customers that they have worked hard to simplify the process of finding a new apartment by offering their renters "the most comprehensive database including millions of detailed and accurate apartment listings across the United States."
In fact, their website states that they are using innovative search tool they call Polygon which gives their visitors the ability to define their own search areas on a map and a "Plan Commute" feature that helps users search for rentals in proximity to their office.
They also promise that their website is supported by the industry's largest professional search team, who have visited and photographed more than 400,000 properties nationwide.
This team collects and verifies information that is important to renters, including current availabilities, rental rates, pet policies, fees, leasing incentives, concessions, and more.
Mobile Options
Apartments.com says that they currently offer their customers a free downloadable application for both iOS and Android smartphones and tablets.
Cost & Price Plans
Customers who are using this website to find a new apartment available for rent will not be charged any fees, as all their search features are completely free of charge.
Instead, this website earns their money by charging fees to property managers who are looking for places to either list their available apartments or to advertise different rental spaces.
Refund Policy
Because this website does not actually charge their visitors for use of their services, there is no need for them to publish a Refund Policy.
Building and property owners that are paying monthly listing fees for apartments listed on this website and feel that they have experienced circumstances that justify a refund of their fees will need to contact their Customer Service team as soon as possible so that this company can address their concerns.
Customer Service Contact Info
Customers who would like to contact Customer Service with any questions, concerns, or complaints can do so by phone at 888-658-7368 ext. 2 or by email at [email protected]
Is Apartments.com Legit?
This website appears to have mixed reviews at this time, which isn't surprising given that different people have different expectations and requirements when they are looking for places to live.
Some customers believed that this was a good search tool with sufficient amounts of information regarding the apartments and apartment buildings and other people simply did not.
They felt that this website should have worked harder to give their users a better, more well-rounded understanding of the neighborhood that each apartment was located in, or at least be willing to link to other websites like Walkscore which would provide these neighborhood overviews.
In terms of changes that Apartments.com might be able to make when improving their website in the future, the input from these poor reviews might be well to take into consideration.
The truth is that many other apartment hunters are very familiar with the towns and neighborhoods where they are looking and don't need external resources to explain neighborhoods to them.
For these people, it appears that Apartments.com is a perfectly fine website.
Competitors and Alternatives?
There are many other websites which promise to help renters find local properties which are available, including Zillow.com, Rent.com, and many others.
If you have any experience with Apartments.com or their services, please leave your reviews below.
Apartments.com Customer Reviews

Corpho
If you look at a particular property listing, you'll notice that it shows a 5-star rating at the top of the page -- how delightful, I must know more about this Shangri-La! -- but if you scroll down and see the actual reviews, the majority tend to only have 1 star, with a lot of scary stories from frustrated tenants. Is it possible there's one disgruntled tenant with an axe to grind, setting up multiple fake accounts in order to ruin a property manager's/owner's life? Sure... but for every single property in the area your looking to move to? C'mon now.
Maybe I'm just being unfair and apartments.com were sold a bogus algorithm that magically averages a bunch of 1-star reviews into 5, but the much more likely explanation is apartments.com weighs heavily on the side of the proprietors, and not the tenants who've been locked into a minimum of a year's lease on a little slice of hell.
My advice is to give apartments.com as wide a berth as possible. (I mean run -- RUN!)

property m
Would appreciate verifying a tenant and if the tenant was evicted or not before allowing false negative remarks to be posted on listings