Angel Nexus Reviews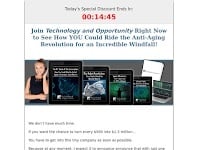 Angel Nexus, found online at AngelNexus.com, is a website and promotional video that claims to offer potential investors access to a financial newsletter that will help them tech investments with big payoffs.
How Does It Work?
The Angel Nexus website is claiming that they are going to give people the inside track on understanding the next big technology project from Jeff Bezos, the creator of Amazon.com, and that this project could eventually have a payoff in the millions of dollars.
This recommendation, along with many others just like it, will be provided to them in the Technology and Opportunity newsletter provided by Angel Publishing.
This newsletter will give customers a special report titled "The End of Google as We Know it: How You Can Profit Up to 12,284% from the Next Leap in AI," which will teach customers everything they need to know about the next company powering artificial intelligence and will give you easy-to-follow investment instructions.
In addition, every month's issue of Technology and Opportunity will provide information on the newest and most exciting technology companies on the planet, as well as their stock symbol, and specific instructions for investing in that company.
Cost/Price Plans
Angel Nexus says that customers who subscribe to their newsletter today will be given 12 Monthly Issues of Technology and Opportunity, Portfolio Updates, Flash Alerts, Weekly Curated Content, Unlimited Access to Members' Only Website, and a free subscription to Wealth Daily all for the sale price of $39.00, even though the regular price of this subscription is $249.
In addition, their website says that you will be given access to a discounted price at the end of 12 months when your subscription automatically renews, which will be $99 at that time and every year thereafter until you cancel.
Refund Policy
This company does not provide their customers with a copy of their legal Terms and Conditions, and they also do not provide them with a detailed explanation of their Refund Policy anywhere.
Their sales page does state that if customers are not "absolutely thrilled" with their subscription, they are welcome to contact their Customer Service team for a refund within the first 30 days from the date of purchase and they will be given one "no questions asked."
Unfortunately, since this policy is not detailed in a formal policy anywhere, it is not actually legally binding and concerned customers may want to contact Customer Service before subscribing just to clarify all the requirements of this policy.
Customer Service Contact Info
Customers who would like to contact Customer Service with any questions, concerns, or complaints can do so by phone at 877-303-4529 or email at [email protected]
Reputation
Unfortunately there are not many customer reviews for this product at this time which don't come from affiliate sites that are able to earn money from the sale of this product, making it impossible to tell how biased or unbiased these reviews may be.
That being said, the reality is that Angel Publishing, Technology and Opportunity, and their other financial newsletters are just the same as all other financial newsletters that customers find advertised online.
They are not a part of a registered investment firm and they do not take responsibility for any investment decisions their members and customers makes.
In fact, the fine print of their main page says that their readers should never invest in any product, company, or stock discussed in their newsletters unless they themselves have done their own research and spoken to their own broker about the investment.
Customers who decide to subscribe to this newsletter despite the warnings should follow this advice closely.
Competitors and Alternatives?
As mentioned above, there are many, many different financial newsletters and products on the market which promise to show people the best new stocks to invest in, but customers should approach all these financial newsletters with the same amount of caution and should always do their own personal due diligence before they invest in anything.
If you have any experience with Angel Nexus, please leave your reviews below.
You may also be interested in
Angel Nexus Customer Reviews

Mark H
Internet promo says Global Energy is skyrocketing, and a good future buy. A couple other charts I checked, Robinhood and MarketClub paint the opposite picture. But don't take my word, check em out!! Looks scamish and BS to me.