&Collar Reviews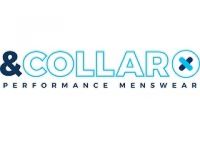 &Collar (andCollar) is a brand whose creators state markets comfortable apparel that not only looks good, but is also affordable.
The company also state that their products are made from sustainable and recycled materials, so customers can be confident that their purchase is not hurting the environment.
How Does It Work?
&Collar sells items like dress shirts, pants, shoes, socks, and ties. If you sign up for the &Collar newsletter, you can get a free tie.
If you have any questions about shirt care, washing instructions, or sizing, you can find the answers on their website.
Cost and Price Plans
The founder of &Collar set out to make high-quality apparel that would not break the bank. Below is a sampling of some of their product pricing to help you get an idea of cost:
Their solid-colored, sustainable, recycled shirts cost $35.00, while their patterned shirts are priced between $40.00-$65.00. &Collar sells their ties for $15.00.
Their socks are priced at $7.00 per pair. &Collar sells their dress shoes for $75.00 per pair.
Customer Service
For customer support, you can reach &Collar at their phone number 801 232 7072, or contact them via e-mail at [email protected]&Collar.com. &Collar offers customers free returns and exchanges and provides a 100% satisfaction guarantee.
You can find detailed information about their return policy process on their website.
Customer Reviews & Complaints
While we could not find tons of &Collar reviews, the ones we could find are positive. We suspect that one reason for the lack of reviews may be that andCollar is a relatively new company.
However, some satisfied customers have dropped by &Collar's Facebook page to praise the company.
Where to Buy?
You can order their products through their website or visit the website to discover retailers near you that carry &Collar products. &Collar is currently sold in stores like Mr. Mac, Called to Surf, Circle of Love, and Blissful Occasions.
The Bottom Line
Ben Perkins created &Collar to help men get comfortable items like dress shirts, pants, shoes, and more at affordable prices. Their products are designed to be stylish, durable, and good for the environment.
While AndCollar is a relatively new company and does not have a ton of satisfied customers just yet, we are confident that their sustainable practices and reasonable prices will soon catch the eye of ethically minded, price-conscious consumers like you.
If you have any experience with &Collar or their products, please leave your reviews below.
You may also be interested in
&Collar Customer Reviews

Al O
The pants are either mislabeled in terms of size or they are lying about the size. I ordered a 38/32 and they are easily 4" too small. Every pair of pants I own is a 38.

Michelle H
Make sure you MEASURE FIRST
Overall: The clothes are awesome.
I dislike that these shirts are based on a S/M/L scale instead of a collar size, but that's not a problem as long as you measure yourself and use their fit tool. Unfortunately, they don't have a tall or long-armed option. My husband is 6'2" and 195lbs with longer than usual arms. He normally wears a 16 1/2" collar with 34" sleeves, or a medium long t-shirt. The shirt size we ended up ordering was an XL Slim, which had a larger collar size than we wanted.
Well, the shirt came today, and the sleeve length and collar are great! My husband is thrilled.
Unfortunately, the pants did not go as well. First, my husband loves the material. If we could get these in a better-suited (hah! I'm so punny) fit, he might actually dance. As he was walking about the living room in them, he said "I imagine this is what yoga pants feel like. I could seriously go for a run in these."
Unfortunately, they're a bit tight and short. We ordered the 36x34 because that's what he normally wears, but I neglected to notice that the model was wearing them slim and high-hemmed, and my husband prefers a loser and longer fit. I would exchange them for a 38x36, but that size isn't even an option for any of the colors online. My husband could work with that (the fabric is sooooo stretchy and comfortable), but the pockets are just super shallow. He tried them on and said "I have women's pockets! I can't even fit my whole hand in here!" But I am seriously considering trying to find a suitable pocket fabric substitute so I (a novice seamstress at best) can make him some deeper pockets, because otherwise he LOVES these pants!