Alignable Reviews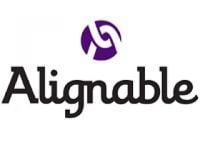 Alignable Review: Is it Legit?
Alignable is a Boston based company that states its aim is to connect the world's local businesses and organizations.
It's made up of a partnership between various companies and provides business owners with a technology that helps users effectively network within the local community.
Their services aim at improving business owners' search for customers.
Products

Greater Access
The connection created allows business owners to connect among themselves and share resources. Resources shared include business advice and recommendations. By doing this, the business economy is greatly enhanced.
Connected Communities
The large network formed connects various businesses in local communities. Through the community, the business owners can message one another about important updates.
They can also share information about events related to their lines of business, new products as well as recruit new employees.
Trusted Networks
The networks are formed by trusted business owners. From various locations and different industries, you get targeted customers depending on what you are looking for. Various opportunities are in place within the different industries.
Customers obtained through the network are from people that you can trust.
Business Owner Forum
Under the business owner forum, there are multiple answers to questions that you might have. There is a Q&A with Frequently Asked Questions as well as a business owner discussion forum.
The business owner discussions enable you to ask for and receive advice related to your line of work. You will receive suggestions from industry peers and the best solutions for any challenges you might be facing.
Cost & Price Plans
The cost of their price plans has two categories: a one-time payment or a subscription basis, which is regarded as Premium Services.
However, both require you to pay a fee. The premium services are subject to agreement and terms that you must adhere to.
This includes agreeing to Alignable storing your payment information and using it to charge the applicable fees for the Premium Services.
The fee payment continues until the end of your subscription period when you cancel your subscription.
In the event that you download or disseminate any information or violate the guidelines they have set, they will close or delete your account at the sole discretion of Alignable.
Customer Service
There is no actual phone number given on their website.
However, if you have questions or comments, you can get in touch with their customer service team by sending them an email at [email protected].
Alternatively, depending on the level of your issue, you can reach them via mail or courier as well.
Unfortunately, any payments already made are non-refundable. With that being said, you are free to close account or delete account anytime you want to.
Customer Reviews & Complaints
People that had initially tried LinkedIn, Facebook, Twitter and even Instagram couldn't compare them with Alignable.
When comparing Alignable vs LinkedIn, the former was able to deliver at satisfactory rates.
Several people were happy with the fast results, which could be seen only a few days after signing up. The Community Manager assigned helped many people, who found it a better way to connect with others.
On the other hand, there has been several complaints as well. Some customers states the company sends a larger volume of marketing emails that can be described as spam.
There have also been complaints about their business ethics, due to the agreement they ask the customer to sign.
Some customers were not comfortable with sharing their contact info, which they say they need in order to market to contacts.
Competitors and Alternatives
Other platforms that offer similar services include LinkedIn, Google Hire as well as Xing.
Xing offers a platform for job seekers where new job opportunities are sent to you - this is in line with many people's needs. It also updates articles in relation to the different industries.
On the platform, you can also receive updates on seminars and shows. LinkedIn offers a platform mostly for job seekers and business entrepreneurs to hire new talent for their businesses.
You can also invite other people, just like a social media platform.
Different business owners can come up and search for experienced people for their business as well as share their experience in the business sector. Job seekers can market their skills, enabling business owners to find the right pick.
Google Hire is a hiring platform for business owners looking for new employees. They can easily go into the platform and go through the applicant database to find the best candidate for an open position.
This makes the hiring process faster, especially when you are urgently searching for a replacement.
There are many other alternatives you can choose from when it comes to business network, so there's no need to worry if you feel like Alignable is not for you.
The Bottom Line
Alignable is a resourceful platform, especially for small business owners with a limited network of customers.
Locally stationed businesses get a chance to share ideas, create events, shows and seminars that enable them to grow their businesses.
Investors on the platform create an opportunity for businesses within the community to network. In other words, it is a wonderful and stable network of experienced entrepreneurs.
The software applications and newer technologies used on the platform make it easier for connections to message and share referrals. With reliable referrals, many small, local businesses can grow fast into large enterprises.
If you have any experience with Alignable or their services, please leave your reviews below.
You may also be interested in
Alignable Customer Reviews

BW
Total scam, this site is just phishing for business info and they are using companies' names to make it look like they are connecting or communicating to each other. When I tried to cancel it, there is no way to cancel, they automatically charge your account of at least $200. My advise is to Cancel your Credit Card right away! I hope they will get punished for doing this scam!

Pamela
Just a place to exchange information. The networking concept is weak at best. For 3 years I've been getting notices of potential customers who "viewed" me on Alignable but in order to identify those views I need to pay $30.00 a month. If they saw me on the site they also know that I have two paid web sites and lots of social media. The site has no value other than passing on information to potential new businesses looking for an opportunity to sell or promote their product or service. Members are not buying from members. The only service I used on Alignable never showed up for the job. However I did connect with one networking partner that I have a lot in common with. I would not recommend Alignable even though someone referred me.

Charles M
I have a free account with Alignable. I have been offered a premium account with the company. I even sponsored two communities with advertisements. I wanted to see their results before opening a premium account. To date I have not received any inquiries about my advertisements. I do receive notices of businesses that want to connect with me. None have responded to my connections. This is not a good route to expect a ROI.

MLC
The best site for mom & pops!
It's a great site if your purpose is to legitimately increase your business and learn from others how they are increasing theirs. It's not a job site. It's not for the self-absorbed like LinkedIn. And it is thank goodness, most definitely not Facebook!
Best thing about it is the basic freemium version is wonderful! As for the complainers here, don't pay attention. EVERYTHING on their platform is very clear and open. You just need the capability to read - which it seems these complainers lack.
If you have a small business, join it, take the time to understand it and be proactive! You WILL gain from it.

Wyatt R
Alignable is a great network to grow your small business and partner with other local business professionals.

Ligaya K
Best platform for small business networking!
I've had nothing but awesome experiences with this platform. I've met people from all over the US and Canada, get to attend - FOR FREE - master mind groups with the intent of helping each other grow and learn. I'm looking forward to all the amazing things that are going to happen in 2022.

Peg S
BIG Time Sucker and not worth it!
Horrible. That's the rating I would give it. If you have tons of time on your hands and nothing to do all day, love getting multiple emails from businesses who don't even know you or have no idea how you got their name, if you enjoy cold calling to random people, this app is for you. Don't expect to increase your business without a lot of wasted time and money. Even then, you may end up with zero profit. BNI or LinkedIn would be a much better use of your time.

Tom Y
Basically a robot hack. Will invade every contact on your list and send annoying an useless requests.

david w
I see who makes money on Alignable, it's Alignable .
It's like multi level marketing and they are all the levels They give you a relatively useless free taste
an every thing else costs you a little more $15 still about as useless, $30, $60,$90 up to over 1000 dollar newsletter ads, They hype you up with how great you are doing in the ratings but you have to pay to see it. They send you "connections and when you connect you are expected review that connection. I got great reviews from people I had a very brief e mail conversation with. Smells a lot like the fake paid endorsements on other platforms .

Steve C
Yes, Alignable is a scam.
Actually, No Stars if I could rate that way.
Yes, Alignable tried to scam me into joining by making their invitation to join look like it was coming from a friend with his own business. That friend never heard of them. Don't be a SUCKER!
Here is what the sender looks like:
" 'Friend's Name' via Alignable"

Very professionally done; but, even my GoDaddy spam filter caught it and sent it into "Bulk Mail". I usually sift through there to see if they have redirected one of my clients, which rarely happens, but...

James J
Alignable is a spam factory
Signed up, continuous stream of low quality contacts and endless nags to attach to all social media accounts. After about a week it had sent me 50 emails. Seems to take the volume over quality approach, not recommended.

Theresa J
I just read the previous review that states they HACK all my emails?? Wow, I knew I disliked this company, but now I hate them. What a waste of my time and energy it's been.

Bob L
They will hack all your Email contacts
This company needs to be shut down! But unfortunately for some of us, the damage is already done as they have all my Email contacts. One of my customers Emailed me today saying he has had about (50) Emails from Alignable within the past week! Very negative impact on my business!