AirTreks Reviews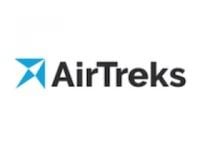 AirTreks Customer Reviews

Cheryl K
They will cheat you out of your money! DO NOT USE!
They would not refund our money with covid and made us take vouchers even though the airline offered full refunds and then they uncharged us when we rebooked! I had to do my own research as well. They should not be in business!

Kim P
F grade from better business bureau
Like others reviewing Air Treks, I would give a zero or minus if available. We were promised refund for trip to Greece cancelled due to COVID. After long delay, learned they could only do credit for a new trip (though I learned from Delta airtreks had rec'd full refund for our tickets).
Have requested credit tickets from Hawaii to Bozeman MT but every quote is double to triple what I can book for myself online and always requires me paying them additional funds. I will not give this company one dime more. Better Business Bureau gives them an F grade.
Looking to join in class action suit against them. Anyone interested?

Bubba B
Do Not Trust This Company!
Would give less than zero if I could. They lied to us, said that our flight tickets, which were cancelled due to COVID, could not be refunded because the airline was only issuing credit vouchers, and we MUST rebook using AirTreks. Just spent 4 hours on hold before speaking to the airline itself, they said they had issued a FULL REFUND to Air Treks last May 25th, 2021. Even when we had tried to rebook, they wanted to charge us DOUBLE what the currently posted air fare cost was on the airline they were quoting, claiming that the "fares have increased" since the original booking that was cancelled (never mind that this was a different flight, and I sent them a screenshot of the actual current pricing to show their lies).
UPDATE: April 6th, 2022--still waiting for AirTreks to do the right thing--emailed back and forth with multiple staff including Florencia and Maria, who state that their policies aren't the same as the airlines, even though their policies say refunds aren't possible in the case of "non-refundable tickets" from the airlines--but in fact these tickets WERE fully refunded to them by the airline last summer, and Air Treks could have sent that refund back to me. Florencia ignored this fact and got indignant that I "threatened" them with the Better Business Bureau because I filed a complaint with the BBB two weeks ago. Of course, AirTreks has NOT responded to the BBB. This company DOES NOT care about anything except keeping your money. RUN FAR AWAY FROM THESE PEOPLE!!!

John C
Airtrek told me that they were getting my refund from Delta for my extensive trip to Asia just as covid hit. The process took a long time and when I did get a response from Airtrek they lied and said the airline only refunded a portion, approx 1/2 of the money, Now in trying to use that half refund on a new ticket I find that AirTrek is trying to charge me far more than the same flights on google.
Next they will not accept any credit or debit cards, only wire type transfers, with no protections in place for you. Last I just asked for my refund and they refused. They will not refund the over $1000 they did agree to credit me. This company is on the verge of criminal. I WILL NEVER USE THEM AGAIN! USE THEM AT YOUR OWN RISK!

Delia M
Airtrek told me that they were getting my refund from Alitalia for my pre covid trip to Europe. The process took a long time and I asked my credit card company for a chargeback. Airtrek lied and said the airline only refunded a portion of the money, turns out Airtrek challenged my chargeback and only refunded me a half of my nearly $2000. I WILL NEVER USE THEM AGAIN!

Alan G
AIRTREK REFUSED TO REFUND CANCELLED TRIP
We arranged a trip to Africa through this company and when the flight was cancelled by the airline (Covid) the airline refunded 100% to Airtrek and Airtrek only offered a 60% refund. They held over $4000.00 back for "costs" when they got ALL of the money back from the airline. TERRIBLE company with crooked policies I suggest avoiding them completely. Had we booked directly with airline, there would have been no problems.

FML
unprofessional and desperate
If you're just there to ask for prices, use a temporary email address. I emailed them asking for a simple price quote. I made it clear that I was only looking for price estimations at the moment and nothing more. Received a clear quote, great. And then for the next 2 months, I keep receiving these passive aggressive emails from them asking for my reply. Soon after, I started receiving spam mail from random websites. Obviously they don't have enough business to keep themselves busy and will harass you to no end.