Ageless Glow Reviews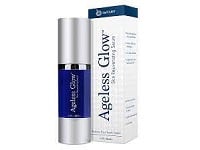 Ageless Glow is a skin serum from BioTrust intended to reduce signs of aging and promote healthier looking and younger skin on the face.
The product is marketed by BioTRUST, a nutrition products and health supplements company founded by a pair of healthy life promoters, Josh Bezoni and Joel Marion.
Products
Among all the products this company offers, there is one which aims towards preserving and improving your skin's health, moisture and elasticity, making it look younger.
The product in question is Ageless Glow, skin rejuvenating serum. Its primary purpose is to be used on face areas where there are many fine lines and wrinkles.
However, it is as safe to use on any other part of your body that you wish to make look youthful. For instance, some people usually use it on their hands, chest and neck.
The ingredients used for this serum are all-natural and cruelty-free. This means that only safe and healthy herbal components are mixed into an extremely effective blend and packed for you.
No artificial preservatives in the form of parabens as well as additives in the form of phthalates and sulfates are included in any part of the production process. In other words, you will be safe from any health hazards.
Although this is not an aggressive chemical blend, you will see all the desired effects from using it.
You may also enjoy the pleasant mild natural scent of the orange peel oil, jojoba leaf oil and a few other completely natural scents.
How Does Ageless Glow Work?
BioTrust states that behind everything they produce stands a scientific team and that each product is sent to a third-party testing facility for additional analyses.
This is done so that the users can be sure of the safety and effectiveness of what they eat and put on their skin.
Ageless Glow is no exception to this and it produces great results if applied regularly.
The recommended dosage is twice a day and in about a month, you should be able to see some improvement of your skin's condition.
Of course, since everybody's skin is different and responds differently to treatment, the results may vary.
The ideal effects would include the following:


Moisturizing
Reducing lines and wrinkles
Making the sagging skin tighter and more elastic
Supplying the skin with necessary nutrients so that the age-caused thinning is reduced
Removing sunlight-caused spots


The company's website also claims that this serum is appropriate for all skin types and that it works great, no matter whether your skin is dry or oily.
The only explanation for this is that the formula is so mild that it won't cause major skin reactions.
Customer Reviews & Complaints
Ageless Glow customers have been quite satisfied with the product so far, especially with the all-natural formula and the precise ingredients list.
The fact that the company pays a lot of attention to careful and thorough testing of the product both in-house and by third parties is also appreciated.
On top of that, they see the one-year guarantee as a pretty convenient and fair option.
However, there have been some complaints regarding the responsiveness of their customer service and the performance of the product itself.
Still, as previously said, everyone's skin is different, so the results will vary from consumer to consumer.
Customer Service
BioTrust is prepared for any type of feedback from the customers and this is why they have a one-year money-back guarantee available on all their products.
If you happen to be dissatisfied with its performance, you are able to send your containers back to them – full or empty – and you'll get a refund of what you've spent on them.
Additionally, if you subscribe but later decide you don't want the subscription after all, you are able to opt out at any time.
In case you have any questions regarding the purchase, usage, or cancellation of orders, are able to contact their customer service via telephone.
For callers from the US and Canada, the contact phone number is 1-800-766-5086 and +1-512-721-0026 for international customers.
The Bottom Line
If you have already decided you want to use as many natural products as possible, BioTrust Ageless Glow can be a good option.
Both the ingredients list and the tests used to make sure the end product is of top quality seem convincing and reliable.
You are also able to return your order if you happen to find the results dissatisfying, so it really seems to be a win-win situation.
If you have any experience with BioTrust Ageless Glow, please leave your reviews below.
You may also be interested in
Ageless Glow Customer Reviews

claire h
I just got my sample through the post and used straightaway I LOVE IT my wrinkles feel like they melted.Lovely smooth feel. Just looking to order some more.

Kathleen C
still questioning Ageless Glow after more than 3 weeks use
I ordered the sample of this product to use especially on the "cross hatched" skin of my upper eyelids. After 3 weeks of consistent use, I see almost no change on the cross hatching, and perhaps some increase of puffiness in the eyelids. I also used it on the under eye "packed bags" with no significant't change. I was hoping for some tightening of the skin under my eyes. So I am giving it only a 2 star rating for ineffectiveness in the areas I was looking for change.