AeroGarden Reviews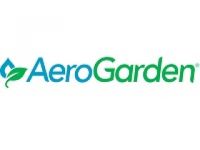 AeroGarden, found online at AeroGarden.com, is a type of dirt-free, self-contained indoor garden people can use to meet a variety of gardening needs they otherwise wouldn't be able to.
How Does AeroGarden Work?
AeroGardens describe themselves as "foolproof" indoor gardens that are so easy to use that "anyone can grow lush, beautiful gardens, all year round." In order to simplify the indoor gardening process, this product relies on the science of aeroponics.
Their website describes aeroponics as a growing technology that gives plant roots direct access to air, and the AeroGarden specifically uses Ein Gedi Aeroponics, which has the plant roots grow outward into the air, then down into a highly oxygenated nutrient solution.
This growing process provides some clear advantages to traditional gardening, including there never being a need for dirt nor a need for electricity – unlike other indoor gardens, the AeroGarden can survive for days without requiring power.
In addition, the AeroGarden is perfectly suited to people who worry they won't be good at gardening, as it will alert whenever it is time to add water or nutrients, and even when to turn the lights on and off, all without any need for dirt or for mess.
This product is described as being perfect for keeping fresh herbs year round, starting seeds indoors and then transplanting them, growing fresh flowers for your home, and simply having a plant around for purifying the air in your home or office.
Cost & Price Plans
The Miracle Gro AeroGarden has such a wide variety of indoor gardens at this time that the prices will range widely, depending on the size of the garden you would like to buy and the features you would like your garden to have.
At this time, it appears that their gardens range in price from as low as $59.95 to as high as $300.00.
Refund Policy
The Miracle Gro website says that they will accept returns for any products ordered from AeroGrow within 30 days of receipt for a full refund, minus the original shipping cost.
In order to initiate your return, you will need to contact their Customer Service team by phone to get your Return Merchandise Authorization number, which is necessary for successfully completing your return.
If you do not get your RMA number before returning your package, it may not be accepted for return, or if it is accepted, it will be subject to a 10% restocking fee.
Customer Service Contact Info
Customers who would like to speak to their Customer Service team about their questions, concerns, or complaints can do so by phone at 800-476-9669 or by submitting them directly to their website through their Email Us link.
Reputation
Unfortunately there are not many reviews available for this website at this time, which is not uncommon as it is simply a free listing service to people looking for rental properties and therefore not likely to motivate many people to write reviews.
That being said, of the few reviews which do appear to be available – mostly from iTunes and Google Play – the reviews are mostly positive about the features of this app and its usefulness to renters looking for a new property.
Competitors and Alternatives?
Indoor gardens are actually quite popular for their convenience and ease of use throughout the year, despite the season, and include competing brands like Click and Grow, Tower Garden, and the Prepara Power Plant Pro.
If you have any experience with AeroGarden or their products, please leave your reviews below.
AeroGarden Customer Reviews