6pm.com Reviews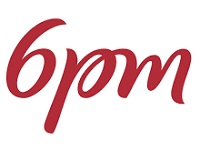 6pm.com is an internet retailer that describe themselves as an "amazing online outlet" for discount shoes, clearance clothing, sale bags, affordable accessories, and more.
This website is a far more specialized online retailer than other websites like Amazon, because this one works hard to do well in the clothing and accessories market, more like Zappos. Their categories include Shoes, Bags, Clothing, and Accessories for Women, Men, and Children.
But 6pm works hard to emphasize that they provide brand names at great discount prices, giving their customers savings of up to 75%, and this company offers free ground shipping on every order, regardless of weight.
Frequent customers may want to join the 6pm Brandaholics, their rewards program. This program allows you to earn points with every purchase you make and also be rewarded with bonuses.
Every dollar you earn will be translated into one point; so a $10 purchase would give you ten points. Earning 400 points results in a 10% off coupon, as well as other potential rewards. Coupon codes must be used within 90 days, however, or they will expire.
Products purchased with gift cards will earn points, but no points will be given for tax and shipping costs, and points will be deducted when you return items.
In addition, this website provides a wide variety of resources for buying these types of items online. Perhaps the best possible tool they provide is an online measurement guide.
This helps customers conduct measurements in the correct way to appropriate match their size guide so they will be far more accurate in ordering items that will successfully fit once they arrive.
Items that don't fit, or if there is any other reason that you are unhappy with your order, you may return it within 30 days of purchase as long as it is still unworn and in the original packaging.
If you have any experience with 6pm.com or their products, please leave your reviews below.
You may also be interested in
6pm.com Customer Reviews

Kelly O
Although 6pm may offer great deals, buyers should seriously consider their return policy before making a purchase. The customer is responsible for the shipping on returns and this can be a costly endeavor if the items don't meet expectations either by fit, comfort and/or description. I ordered three pairs of shoes that were not comfortable but in order to return them, I will have to pay the equivalent of one of the pairs of shoes! I now have to decide if I keep them and try to sell them myself either on letgo or ebay or pay to return them - the first solution is a gamble, the second is a loss of $45.00!! Either way, a lesson has been learned that purchasing from 6pm just isn't worth it to me.

Smile
Not a Huge Selection, But Great Prices
This site is (I believe) owned by Amazon. Rumor has it that everything that doesn't sell after 6pm on Amazon is shuttled over to this site. (I would imagine there is only some truth to this).
I have bought some shoes & boots from www.6pm.com and I was pleasantly surprised by their quality. They were designer shoes & boots and out of season, so I scored a great deal!
I like a lot of the clothing they had to offer too, but I am short and they didn't have much in 'petite small' for me. 'Average' height people would probably have no problem finding clothing for a steal.