5miles Reviews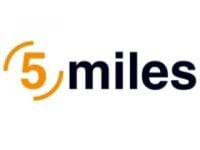 5Miles.com is a mobile application and digital marketplace that says their goal is to help create "the best experience for local buying and selling online."
How Does It Work?
According to their website, the creators of the 5miles App realized that other online marketplaces were hard to browse, often charged expensive listing fees, and had boards that were full spam and fake items. Their goal was to create a "simple, secure environment where buyers and sellers can easily trade goods" just using their phones.
Sellers are told that all they have to do is take a photo of the item they would like to sell, enter a short description, and then post it live where it is accessible to thousands of buyers within just seconds.
Buyers are able to use their phone's location feature to find all the items that are available for sale within their local area. To make an offer for an item, all you have to do is send an online chat through the 5miles App.
This app emphasizes how seriously they take the safety and security of their users as well, saying that allow their users to provide feedback ratings of sellers and their app verifies identities by either phone or Facebook, so customers know that they are dealing with a real person.
Mobile Options
Currently this application is available for both iOS and Android smartphones and tablets, and can be used through your computer as well.
Cost/Price Plans
This mobile application is free to use, both as a buyer and seller. Sellers of items are welcome to post whatever price they want for the item they are selling; buyers and sellers are welcome to discuss via online chat whether or not the price is negotiable.
It appears that the ultimate goal of 5miles App will be to place paid advertisements for items customers can purchase via their app which aren't sold by independent sellers but by professional companies and organizations – these ads will be paid for, and that is how this company will earn their money. This method of earning keeps this service free for all their independent users.
Refund Policy
Because the 5miles App does not actually take money from its customers nor do they facilitate the person-to-person sales that are arranged through their application, they do not provide a Refund Policy for their customers at this time. All understandings of refunds must be arranged directly between seller and buyer, preferably previous to the sale being completed.
Customer Service Contact Info
Customers who wish to contact Customer Service with questions, concerns, or complaints can do so by email at [email protected]
Reputation
There are not that many user reviews available at this time, but there are reviews written by technology blogs and websites, all of which rate this website very highly for their free marketplace and the features and actions they take to promote the safety and security of their users.
Competitors and Alternatives?
There are other mobile applications that work to provide people with alternative marketplaces for buying and selling used or pre-owned items, including Wallapop, Craigslist, LetGo App, OfferUp, and many more.
If you have any experience with this company or their products, please leave your 5miles App reviews below.
You may also be interested in
5miles Customer Reviews

shannon b