4wd.com Reviews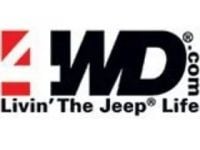 4wd.com is the online home of 4Wheel Drive Hardware, a company that describes themselves as the leading mail order and internet distributor of Jeep parts accessories or, as they say, "Jeepers helping Jeepers."
How Does It Work?
According to their website, this company was created in 1977 by a Jeep owner that was tired of having difficulty finding the important parts and accessories he wanted for his Jeep vehicle. He wanted to make it convenient and easy for people to find everything they needed.
4wd.com says they pride themselves on providing "innovative and unique parts," sourced from vendors and manufacturers from all around the world. In addition they promise their customers the best possible Customer Service throughout the entire order and delivery process.
In addition, the website says that as the industry has changed from mostly mail order to being more web and mobile based, they have adapted and evolved their business policies as well, though they promise that their main goal will always be meeting the needs of their fellow Jeep owners. &nbsp
&nbsp
Cost/Price Plans
Obviously, the cost of your products will vary widely depending on what your personal needs are – products like tires or major engine parts will likely be priced much higher than smaller parts or accessories.
Refund Policy
The website does say that they provide a Refund Policy for their customers who are looking to return products within the first 30 days from the date of receipt, as long as the item has not been installed or modified, and is still in complete, new condition. Merchandise returned after 31 days will have a 15% - 30% restocking fee applied and a store credit will be offered instead of a refund. No returns on any merchandise will be accepted after 90 days.
If you are conducting a standard return or exchange, all you need to do is download and print a Return Goods Authorization Form, and follow their instructions to complete your return. Customers are welcome to return their purchases by mail or to one of their local stores, regardless of how the item was initially purchased.
They also offer their customers a Rapid Xchange program, where customers who simply want to exchange a part or product can call their Sales Team and order their new merchandise immediately and have it shipped right away. You will be charged for that order, but your return will be flagged and your refund for the original purchase will be put through as soon as possible.
Customer Service Contact Info
Customers who wish to speak with Customer Service about their questions, concerns, or complaints can do so by phone at 800-555-3353 or by submitting them directly to their website through their Contact Us link.
Reputation
Unfortunately it appears as though this company generally has mostly mixed reviews for their services. Many customers detail positive reviews and satisfaction with both their service and the products they received, but others had more problematic experiences.
Most of the complaints were regarding two different issues. The first was delayed shipping or backordered products, saying that they were led to believe that products would be delivered within a certain time frame, only to be informed later that they were backordered or would be delivered significantly later than originally estimated.
The second issue people had was with incorrect or incomplete orders which were received. They claimed that getting assistance with fixing these problems – which were the fault of the company – was very difficult and often a long and complicated process.
Competitors and Alternatives?
There are many, many different companies that are happy to supply you with the auto parts and supplies you may need, for a variety of different vehicles, including AutoAnything.com, PartsGeek.com, TheAutoPartsShop.com, and many others.
If you have experience with this company or their products, please leave your 4wd.com reviews below.
You may also be interested in
4wd.com Customer Reviews

Bastos R
False Advertisements- File with State Consumer Attorney General
Product purchase:
2007-2018 Jeep Wrangler Cargo Security cover.
Item description and pictures provided sufficient information about product.
Product arrival: Not as described or pictured. Product identification did match product listing.
Returned for reason:
False advertisement - Not exact item . (Example : An advertisement of a roll cage for full price, you may get just the bolt. Which is what they "Claim to advertise.")
They got the returned product based on their return policy and procedure. Its been 3 week now and a 3rd request for refund status has still not been answered.
I am now exercising my Attorney, in contact with State Consumer Attorney General, and have reported them to Better Business Bureau. No one should have to take legal actions to obtain their full refund.
Anyone making an online purchase should not have to worry about refund issues or purchase issues. For this company, I highly recommend to stay clear from them. They do not deserve to be in business!
If you are having issues with this company, I highly recommend contacting their State Consumer Attorney General to have the issue resolved immediately.

Brannon I
Starting to suspect fraud
Hard top arrived damaged but was rejected. Part stayed on the truck, but now there's no sign of it. I received a new invoice the same day acknowledging that delivery was rejected. They said I would get refunded when it returned to the warehouse. It's been over 7 weeks and I have no refund because they can't even find the thing.

Bruce W
they have done me wrong, only gave back a part of my money. i have all documents to prove.

Paul M
Warn plow mount order took 4 months
I purchased a plow mount for my atv which the website stated part was in stock which pushed me to order from company.... well to my surprise they did not have the part in stock and had to order it from manufacturer! A total of 4 months the part was going to take to arrive since it was on back order! I contacted customer service all they would do is offer to cancel order and refund my money after I had already waited 2 months and would not work with me at all!
Please head my warning and do not order from this horrible company!!!!!

FFC58178 .
They will steel your money
So I placed an order the week before mothers day for about $1700. My card was charged that moment I clicked submit. Got an email a few days later that said that the parts would have to come from the manufacture and that they will update me in 2-3. Never happened. After speaking with other suppliers I found out that the lift kit I ordered was on backorder for more than a month so I cancelled my order, so I thought... I called on May 11th to cancel the entire order. The woman I spoke with even asked if I wanted to cancel the order for the lift kit too and I told her yes. Refund showed up on the 13th but it was not for the full amount. Called on the 14th and was told that it "should" have all been refunded and that someone will be in touch later that day. Next day no word and when I called back was told that the refund has been processed and I should have it back by Monday. Wait until Friday the 22nd and still no refund. Called that morning and still couldn't get an answer for why. I called back and was moved up to the supervisor Marko Cruse at extension 5913. That's was when I was told that the reason I was not refunded all of my money was that THEY decided to hold on to it and try to see if they could get a sales person to call and see if I wanted to replace the lift kit with something else. The time line for all this is that on the 11th I asked for a full refund for an order that I have not received any part of. They took it upon themselves to instead hold on to my money for no reason. On the 18th when I called back asking for the rest of my money they AGAIN decided to not refund my money for items that I never was sent and assigned me to the sales department that was suppose to get in touch with me an never did but I was told that I would be receiving the rest of my refund. On to the 22nd and I have had enough of the "I don't knows" and "we will be in touch" and finally was moved to a supervisor Marko Cruse Ext. 5913. Only when I spent the better part of an hour asking questions and demanding answers was I told of the events and how everything was handled on there end. I kept asking who decided for me to go against my requests for a refund and keep my money and I just got the run around. According to Mr. Cruse Ext. 5913 the problem was with the sales department and was told that I have to talk to a Joe Nevaro Ext. 5127 and he can explain why. I tried to call Mr. Nevaro and have yet to be called back. Why couldn't I have a refund for items they don't have an I didn't receive? Who decided to keep my money so I can pay interest om it? I can keep going but the long a short is just don't ever buy anything from these crooks. Please please please just don't.

tim g
Tom Kennedy started this business and was rated A
My friend Tom Kennedy started this 4 wheel drive company and had the best fiberglass bodies in the business. In 1980 I started selling his bodies in Michigan and made a ton. Years later Tom died of cancer and the company was bought out. Too bad where its gone to now.

mike m
Purchased from 4WD many times. Bought a lift kit, winch for 95 YJ. No problems. Bought misc. parts for 83Waggy no problems. Bought misc. parts for 81 CJ8. No problems. Always good service, prompt customer service and call backs. No problems. Product always arrived in reasonable time. AND always what I ordered.

Mackenzie L
Ordered tires in june. Still haven't received. Was billed for them. Its august, still no tires.

Mike H
Worst experience I've ever had when purchasing parts. When you email a problem ( they don't answer the phone) they create a ticket and tell you a name. What a joke, it's been over a month now and finally heard from one of them yesterday. Told me the same thing they told me a month ago. I ordered 4 parts, one was damaged and I sent them a picture the day the parts were delivered. I will not make the same mistake twice. If you need parts, please read the reviews and save yourself some frustration. BUY FROM SOMEONE ELSE.

Alex R
stay away from this site, i pay 300 for a new battery and they send me a used one

Simmons J
Sold me a set off wheels and tires with the wrong center caps, lied to me said they would send the correct ones, 4 weeks later no caps called them again and they told me they don't make center caps for my 96 ford F350 just have to run them without center caps, Have a nice day. Horrible Company will never do business with them again.

Colleen O
Takes your money states that the product is in stock when it's not even on a backorder. Lying deceitful predatorial company just robbed us of about 3 Grand Plus

Bruce S
BUYERS BEWARE!!! one star is way to generous in my experience with this company. Ordered a set of 4 tires and received 3 of the right size and one completely different brand and size... I was told to send the wrong tire back and they would send me the tire I ordered as soon as they received their screw up tire back... I'm like no... how about you send me the tire I payed for today so I can put the tires on my truck and I'll send your screw up tire back when I get what I ordered? Not company policy I was told... OK send me the right tire and charge me for it today so I can put tires on my truck and when you get your screw up back credit me...was told they would do that but not charge me unless they don't get the screw up tire back...screw up tires been sitting on my porch for 3 days waiting for ups and the promised tire hasn't shipped and won't till they receive their screw up back. Flat out lied to me. Customer service blows

Linda B
Customer Service is non existent
Placed an order 2 weeks ago. Received part of the order only. No information at all given about the rest of my order. They don't answer the phone or return emails!