4WD.com Reviews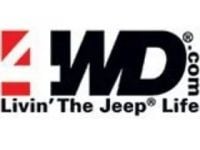 4WD.com is the online home of 4Wheel Drive Hardware, a company that describes themselves as the leading mail order and internet distributor of Jeep parts accessories.
How Does It Work?
According to their website, this company was created in 1977 by a Jeep owner that was tired of having difficulty finding the important parts and accessories he wanted for his Jeep vehicle.
4WD.com states they pride themselves on providing innovative and unique parts, sourced from vendors and manufacturers from all around the world.
In addition, they promise their customers the best possible Customer Service throughout the entire order and delivery process.
In addition, the website says that as the industry has changed from mostly mail order to being more web and mobile based, they have adapted and evolved their business policies as well, though they promise that their main goal will always be meeting the needs of their fellow Jeep owners.
Cost/Price Plans
Obviously, the cost of your products will vary widely depending on what your personal needs are – products like tires or major engine parts will likely be priced much higher than smaller parts or accessories.
Refund Policy
The website does say that they provide a Refund Policy for their customers who are looking to return products within the first 30 days from the date of receipt, as long as the item has not been installed or modified, and is still in complete, new condition.
Merchandise returned after 31 days will have a 15% - 30% restocking fee applied and a store credit will be offered instead of a refund. No returns on any merchandise will be accepted after 90 days.
If you are conducting a standard return or exchange, all you need to do is download and print a Return Goods Authorization Form, and follow their instructions to complete your return.
Customers are welcome to return their purchases by mail or to one of their local stores, regardless of how the item was initially purchased.
They also offer their customers a Rapid Xchange program, where customers who simply want to exchange a part or product can call their Sales Team and order their new merchandise immediately and have it shipped right away.
You will be charged for that order, but your return will be flagged and your refund for the original purchase will be put through as soon as possible.
Customer Service Contact Info
Customers who wish to speak with Customer Service about their questions, concerns, or complaints can do so by phone at 800-555-3353 or by submitting them directly to their website through their Contact Us link.
Reputation
Unfortunately it appears as though this company generally has mostly mixed reviews for their services.
Many customers detail positive reviews and satisfaction with both their service and the products they received, but others had more problematic experiences.
Most of the complaints were regarding two different issues.
The first was delayed shipping or backordered products, saying that they were led to believe that products would be delivered within a certain time frame, only to be informed later that they were backordered or would be delivered significantly later than originally estimated.
The second issue people had was with incorrect or incomplete orders which were received.
They claimed that getting assistance with fixing these problems – which were the fault of the company – was very difficult and often a long and complicated process.
Competitors and Alternatives?
There are many, many different companies that are happy to supply you with the auto parts and supplies you may need, for a variety of different vehicles, including AutoAnything.com, PartsGeek.com, TheAutoPartsShop.com, and many others.
If you have any experience with 4WD.com or their products, please leave your reviews below.
You may also be interested in
4WD.com Customer Reviews